National Enforcement Investigations Center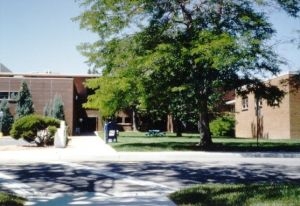 114,083 rentable square feet (RSF)
Energy Intensity:
FY 2019: 191,027 Btu per RSF
Water Intensity:
FY 2019: 6.28 gallons per RSF
Denver, Colorado
The Office of Compliance and Enforcement's National Enforcement Investigations Center (NEIC) is located in Building 25 of the Denver Federal Center in Denver, Colorado. The laboratory provides technical support for EPA enforcement and compliance assurance programs nationwide. NEIC is the first environmental forensic center in the country to be accredited by the National Forensic Science Technology Center for its environmental measurement activities in field measurements and monitoring, field sampling and laboratory measurements.
Building 25 also hosts EPA's Region 8 Laboratory, which performs physical, chemical, biological and microbiological analyses of water, soil, air, plant and tissue samples to support restoration of contaminated ecosystems. The Region 8 Laboratory was previously located in Golden, Colorado.
Sustainable Features
NEIC conducted a two-year laboratory module recommissioning project to: evaluate and modify the laboratory's heating, ventilation, and air-conditioning system; rebalance the facility's air flow; and recertify all of its fume hoods.
EPA installed an onsite metering system, which allows the Agency to verify the facility's actual energy use.
For contact information, visit the NEIC website or the EPA Facility Contact List.