Region 10 Office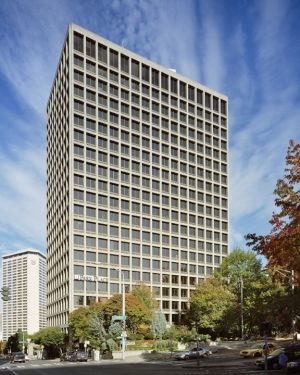 rentable square feet (RSF)
Energy Intensity:
FY 2019: 79,528 Btu per RSF
Water Intensity:
FY 2019: 12.50 gallons per RSF
Seattle, Washington
EPA's Pacific Northwest Regional Office covers Alaska, Idaho, Oregon, Washington and Pacific Northwest Indian Country. Environmental focus areas include air quality, ecosystems, Superfund, water quality and waste and chemical management.
Sustainable Features
The building the Region 10 Office occupies received U.S. Green Building Council's LEED® Platinum for Existing Buildings (version 2.0) in November 2009. The building also received LEED Platinum for Existing Buildings (version 2009) certification in June 2014.
EPA also renovated its office space and achieved LEED Gold for Commercial Interiors (version 2009) certification in October 2015. Redesigned floor plans, lighting controls upgrades and sustainable products further reduced the building's energy, water and materials use.
In October 2004, the building received the ENERGY STAR® with a score of 81, in 2008 with a score of 86, in 2010 with a score of 90 and in 2013 with a score of 85.
A satellite-controlled irrigation system utilizes 50 percent less water than a conventional system.
Plumbing upgrades reduced water use.
The building has a green roof covering the parking garage and on the rooftop, which combined capture more than 50 percent of annual rainfall.
A sophisticated Web interface allows tenants, building staff and Seattle citizens to see the operation of the building in real time, including water capture and reuse, as well as all lighting, general purpose and heating, ventilation and air-conditioning loads.
All building operation and maintenance staff receive at least 24 hours of high quality and relevant building operation and maintenance (O&M) education on building and building systems operation, maintenance and sustainable building performance.
For more information, visit the Region 10 website or the EPA Facility Contact List.