Region 3 Office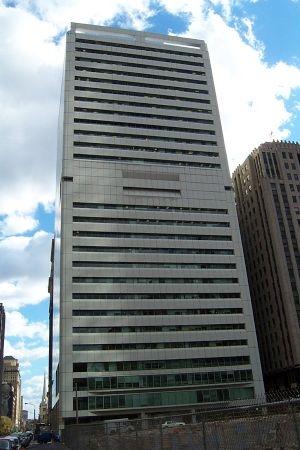 307,847 rentable square feet (RSF)
Energy Intensity:
FY 2019: 83,899 Btu per RSF
Water Intensity:
FY 2019: 9.83 gallons per RSF
Philadelphia, Pennsylvania
EPA's Region 3 Office covers Delaware, Maryland, Pennsylvania, Virginia, West Virginia and Washington, D.C. The region's major program divisions are Air Protection, Environmental Assessment and Innovation, Hazardous Site Cleanup, Waste and Chemicals Management, Water Protection and the Chesapeake Bay Program.
Sustainable Features
Region 3 received the U.S. Green Building Council's LEED® Gold for Existing Buildings (version 2009) certification in December 2016.
The building in which the Region 3 Office is located has earned the ENERGY STAR® annually since 2008, most recently in 2018 with a score of 83.
Energy-saving features include solar shades on the east, west and southern exposures; full-height glass on the northern exposure; occupancy sensors for floor lighting; and a central chiller and steam plant with a building automation system and air-side free cooling.
For more information, visit the Region 3 website or the EPA Facility Contact List.