Competitive Green Power Products
The following links exit the site Exit
What are Competitive Green Power Products?
Competitive Green Power Products are a product offering available to customers in competitive retail electricity markets to procure bundled electricity and RECs from a competitive electricity supplier, who is not their default utility supplier. Participating customers pay for their renewable electricity via their monthly bill from their utility company, who then passes the payment through to the competitive electricity supplier. Participating customers usually pay a per-kilowatt-hour premium through an additional line item on their monthly electric utility bill. Prices for competitive green power products are generally higher than prices for traditionally-sourced competitive products since the product includes both the REC and the electricity, bundled together.
Eighteen states and Washington D.C. have introduced retail choice, which allows residential and/or commercial consumers to choose their own electricity provider and generation options, including renewable energy.  In these competitive markets, municipally-owned utilities may not offer their customers retail choice. It is important to note that the market is not always divided clearly between traditionally regulated markets and competitive market states. Some states, like California, are partially restructured markets and only permit certain consumers to engage in retail choice.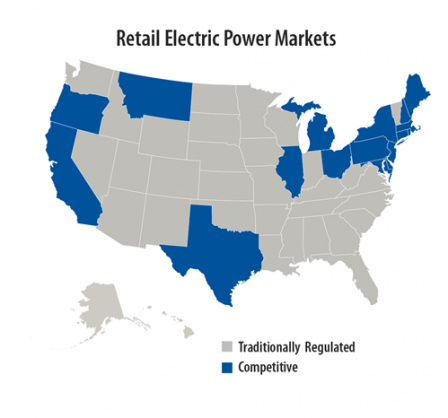 How do Competitive Green Power Products work?
In a competitive retail electricity market, customers get the option to choose to purchase from various electric supply companies, each of which might offer different renewable electricity packages. These products could differ in their percentage of renewable energy (eg. 30%, 50%, 100%), in their resource mix (eg. wind, solar, biogas), and the geographic locations from which the renewable electricity is sourced. In most states, the utility still provides monopoly transmission services to deliver the electricity through established power lines. This means that when a customer chooses a competitive green power product, the renewable electricity will be supplied by the company of choice, but the default utility is still responsible for the delivery of the power and billing. Competitive green power products are generally purchased through short term contracts, 6 to 24 months long.
How do I find Competitive Green Power Products?
Depending on where you live, there may be several competitive green power products available to you. Many states have consumer information websites to help their residents and businesses to compare green power products and to make informed decisions about their electricity supplier. Below is a list of resources offered by states with a competitive retail electricity market:The following links exit the site Exit
Advantages and Challenges of Competitive Green Power Products
Advantages:
Easy procurement transaction requiring little expertise
Consumers can shop around and find products matching their preferences
High flexibility, as most contracts are short term
Competition between utilities and other suppliers should improve service and drive down the price of electricity
Some suppliers may offer innovative value-added services, such as advanced virtual net metering for apartments, electric vehicle charging, and sophisticated energy efficiency/energy management services.
Challenges:
Consumer awareness – many consumers do not realize they have choice and remain with default service provider
May be difficult for customers to evaluate and compare products without guidance
Price premiums are generally higher than buying unbundled RECs
What are some organizations that have used Competitive Green Power Products?
Over 500 Green Power Partners are purchasing competitive green power products as of November 2017. These organizations include Apple, Boeing, Rackspace, Netflix, the University of California system, and the State of Delaware. The City of Houston, TX purchases the largest amount of competitive green power out of any Partner, at 965,886,000 kWh of renewable electricity in 2017.
Additional Resources: