Green Power Partnership Program Updates Issue 55
Issue 55, February 2018
Top Partner Lists and College & University Challenge Updates Posted
On January 22, GPP released updates to its Top Partner Rankings, which feature leading organizations from the Partnership using green power. Below are a few highlights:
National Top 100 Partners: Our first update of 2018 brings big changes with Microsoft taking over the number one spot on the Top 100 list with its annual green power use of 4.5 billion kilowatt-hours (kWh). Intel, ranked number two, increased its green power use by more than 300 million kWh. Appearing on the list for the first time is Johnson & Johnson at number 28; new Partner, Church & Dwight Co., at number 53; and the Hartford Financial Services Group at spot 98.
Top 30 K-12: In addition to the big changes on the National Top 100 list, two Partners make appearances on the Top 30 K-12 for the first time. New Partner, Gann Academy, debuts on the list at number 19, while the Empower School increased its green power use and appears at number 29 on the list.
To see what else changed on the Top Partner Rankings this quarter, visit www.epa.gov/greenpower/green-power-partnership-top-partner-rankings.
GPP's Green Power Communities list, which was also updated, represents towns, villages, cities, counties, or tribal governments in which the local government, businesses, and residents collectively use green power in amounts that meet or exceed EPA's Green Power Community usage requirements. As of January 2018, there are 68 Green Power Communities partnering with EPA.
GPP also made its second of three updates to the 2017-18 College and University Green Power Challenge, which encourages higher education institutions to increase their use of green power. In April 2018, EPA will conclude the Green Power Challenge and recognize a Champion Green Power Conference, as well as the largest single green power users within each participating conference. All participating schools must report green power use to EPA no later than April 4 to be listed on the final update. More on the College & University Green Power Challenge and how to participate: www.epa.gov/greenpower/college-and-university-challenge.
Application Period Now Open! Apply for a 2018 Green Power Leadership Award

The application period for the 2018 Green Power Leadership Awards opened on February 5 and will close on April 6, 2018.
The annual Green Power Leadership Awards are competitive awards that recognize outstanding commitments and achievements in the green power marketplace. EPA's Green Power Leadership Awards recognize the country's leading organizations that—through their green power procurement, innovation, and overall strategy—have helped advance the green power market. You can learn more about award categories, eligibility, and criteria on GPP's website here.
EPA and awards co-presenter, the Center for Resource Solutions, will hold a webinar on March 7 from 2:00 to 3:00 PM Eastern time to provide an overview of the Green Power Leadership Awards, as well as information related to eligibility, evaluation criteria, and application content for each of the award categories. There will be a question and answer session at the end of the webinar. If you're interested in attending, please register for the webinar now.
The awards will be presented in conjunction with the Renewable Energy Markets Conference hosted by the Center for Resource Solutions. The conference will take place October 9-11, 2018 in Houston, Texas. For more information on the conference, visit www.renewableenergymarkets.com/.
For more information about the awards, visit the EPA Green Power Leadership Awards web page or contact Christopher Kent at kent.christopher@epa.gov or 202-343-9046.
California Energy Commission Proposed Power Source and Emissions Disclosure Regulations in California
On January 17, 2018, the California Energy Commission (CEC) released its second proposal for power source and emissions disclosure. This proposal has ramifications for the voluntary purchasing of renewable energy within California. Buyers in California, and anyone sourcing from WECC facilities that are supplying California, could be directly affected. The proposal could limit the use of renewable energy certificates (RECs) for electricity purchaser greenhouse gas claims and reporting. Possible green power supply options impacted by the proposal may include:
Contracts for bundled renewable electricity (e.g., physical PPAs) from California suppliers that report under the power source disclosure.
Financial power purchase agreements with facilities in California or serving California load.
Retail green power products including utility green pricing products and community choice aggregation programs that are comprised of any RECs that are sourced separately and bundled with local system power.
Unbundled REC purchases from California.
Self-supplied green power where the REC is retained by the system owner, but the power is purchased or otherwise consumed by a California supplier.
Partners may choose to submit comments until February 23 through the CEC's Comments page. More information is available at CEC's AB 1110 Implementation Rulemaking - Workshops, Notices, and Documents. Center for Resource Solutions (CRS), a non-profit organization that administers the Green-e certification program for voluntary renewable energy, has recently issued a market advisory related to the California Energy Commission Power Source Disclosure proposal.
2017 GPLA Winner Spotlight – City of Houston, Texas
Houston is the most populous city in the state of Texas and the fourth-most populous city in the United States.
In 2016, the City of Houston increased its purchase of wind renewable energy certificates (RECs) from 75 to 80 percent of the city's annual power use. Houston also entered into a physical power purchase agreement (PPA) that will supply the city with the output from 50 megawatts (MW) of solar power generated at a facility in Alpine, Texas. The 20-year PPA enables Houston to access renewable electricity without a capital outlay, in exchange for a long-term contract at a competitive, fixed price with no price escalations or inflation adjustments. Houston's solar deal is expected to save consumers more than $1.9 million per year over the 20-year term. In addition to its purchase of green power, the city has on-site solar arrays that generate more than 125,000 kilowatt-hours (kWh) annually at municipal buildings. Combined, these projects represent more than a billion kWh of green power and account for more than 89 percent of the city's municipal power needs. This makes Houston the largest municipal user of green power in the Green Power Partnership.
Houston became an EPA Green Power Partner in 2008 and won Green Power Purchasing awards in 2008 and 2014 as well as 2017.
Photo of the Month
This month's photo comes courtesy of 2017 GPLA winner, the City of Houston. This solar field in Alpine, Texas (shown below) will supply the city with 50 megawatts of solar power via a physical power purchase agreement.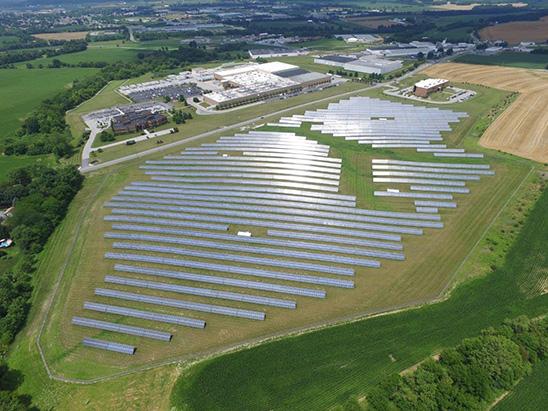 New Resource: Green Power Supply Options Screening Tool Helps Users Decide Between Green Power Supply Options More Easily
There are many ways to purchase green power, and sorting through the different supply options can be difficult. EPA has released a new Green Power Supply Options Screening Tool to help organizations determine which purchasing methods might be most suitable. Just answer a few simple questions about your organization, and the tool will describe which supply options—for instance, green tariffs, competitive green power products, off-site power purchase agreements, etc.—might be most feasible, according to the relevant federal, state, and utility policies. You can find the new tool here.
2017 – Another Year of Banner Growth for GPP
2017 was another strong year of growth for GPP. Overall, Partners' annual green power use increased to more than 45 billion kWh, which is a 25 percent increase from 2016. Looking at specific supply options, off-site power purchase agreements (PPAs) realized the most robust growth at 47 percent. All other supply options grew by just over 20 percent. The chart below illustrates programmatic growth in 2017.
Growth of Green Power Supply Options from 2014-2017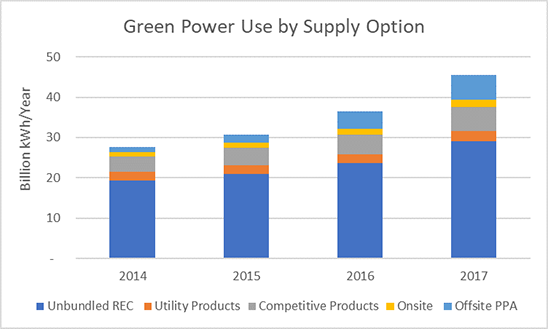 Ready to learn more? Register for and attend our "State of the Voluntary Green Power Market" webinar scheduled for February 21. Details below.
February GPP Webinar: State of the Voluntary Green Power Market
On February 21, GPP will host a webinar examining the state of the green power market within the United States.
This annual webinar focuses primarily on the voluntary market, through which consumers and institutions voluntarily procure renewable energy for all or part of their electricity needs. The webinar will review:
Green power product options
Where these products are available
Resource and pricing information
Up-to-date statistics and trends in green power purchasing
Developments in new green power procurement options (i.e., power purchase agreements (PPAs), community solar programs, community choice aggregations)
Spotlight on large green power customers
The presentations will draw heavily on the National Renewable Energy Laboratory's recently published Status and Trends in the U.S. Voluntary Green Power Market (PDF) (63 pp, 6.8MB) as well as the Green Power Partnership's program data.
Speakers & Presentations
Christopher Kent, Program Manager, U.S. EPA's Green Power Partnership
Eric O'Shaughnessy, Renewable Energy Analyst, National Renewable Energy Laboratory
ICYMI: January Webinar--Renewable Energy Certificate (REC) Arbitrage Process
On January 17, EPA hosted a webinar explaining the process of renewable energy certificate (REC) arbitrage. REC arbitrage is a green power procurement strategy used to decrease the cost of renewable electricity use, while still allowing the organization to substantiate renewable electricity use and improve their environmental metrics. Electricity consumers often use this strategy when installing self-financed renewable electricity projects or purchasing renewable electricity directly from a project through a power purchase agreement (PPA). This webinar explained REC arbitrage and presented two case studies.
If you missed the webinar, you can review the presentations on the GPP website:
Christopher Kent, Program Manager, U.S. EPA's Green Power Partnership
Kevin Hagen, Director Corporate Responsibility, Iron Mountain
Jeremy King, Director of Sustainability & Campus Improvement, Denison University
Learn from Clif Bar's Innovative Supply Chain Leadership
EPA's Center for Corporate Climate Leadership has released a case study exploring key lessons learned from long-time Green Power Partner Clif Bar & Company's 15 years of supply chain engagement. Company-wide, Clif Bar treats energy like an ingredient, or a key asset to be conserved. Committed to net-zero emissions, they promote sustainable sourcing throughout their supply chain by funding independent renewable energy experts to provide technical assistance to Clif Bar suppliers. They also "walk the talk," running their own facilities at the standards they require from suppliers. In 2017, Clif Bar won a Climate Leadership Award for Supply Chain Leadership, recognizing this innovative work. Read the full case study to learn more about how your organization could apply some of Clif Bar's supply chain engagement techniques.