Green Power Partnership Program Updates Issue 57
Issue 57, April 2018
EPA Concludes the 2017-18 College and University Green Power Challenge
For the twelfth year in a row, the 2017-18 College and University Green Power Challenge has been a great success, encouraging institutions across the country to use green power. On April 25, EPA announced the winners of the 2017-18 Challenge--out of the 38 competing conferences, the Big Ten is again this year's Collective Conference Champion, using more than 496 million kilowatt-hours (kWh) of green power annually. Participating schools from the Big Ten Conference include The Ohio State University, Northwestern University, the University of Maryland, the University of Wisconsin, the University of Minnesota, the University of Illinois at Urbana-Champaign, Michigan State University, and the University of Iowa (listed in order by green power procurement size). The Big Ten collectively increased its green power use over last year's total by nearly 60 million kWh, largely boosted by the University of Minnesota and Michigan State University becoming Partners and joining the challenge.
Additional Conference Champions include University of Tennessee, Knoxville (Southeastern Conference), University at Buffalo, the State University of New York (Mid-American Conference), Stanford University (Pac-12 Conference), University of Oklahoma (Big 12 Conference), and the University of Pennsylvania (Ivy League).
Learn more about the 2017-18 College and University Green Power Challenge Conference Champions, including all the Individual Conference Champions for each of the competing conferences.
Tweet this fact: The 109 schools in @EPA's #EPAGreenPower 2017-18 College & University Challenge used nearly 3.6 billion kWh green power this year! bit.ly/20IUY97
April 2018 Top Partner List Updates Posted
Also on April 25, GPP released updates to its Top Partner Rankings, which feature leading Partner organizations that use green power. In total, the Partners featured on the Top 100 list use more than 41 billion kWh of green power.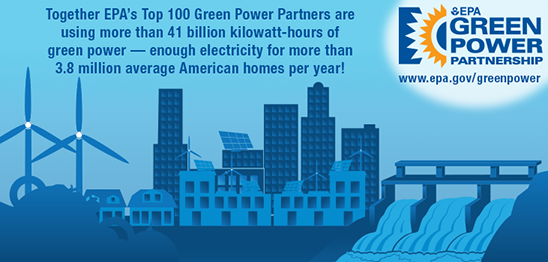 The National Top 100 Partners list saw a lot of movement in the first quarter of 2018. While the top three spots on the national rankings remained stable, upsells by Apple and Equinix helped both companies move up to the No. 4 and No. 5 spots, respectively. Additionally, two new Partners—Anheuser-Busch Companies and T-Mobile—appear on the list for the first time and are also ranked in the Top 20. Also making its inaugural appearance on the list is George Washington University (No. 97).
Several other Top 100 Partners increased their green power use and national rankings, including Procter & Gamble (No. 14), the University of California (No. 48), Netflix (No. 57), and SC Johnson & Son (No. 71).
To see what else changed on the Top Partner Rankings this quarter, visit www.epa.gov/greenpower/green-power-partnership-top-partner-rankings.
GPP's Green Power Communities list, which was also updated, represents towns, villages, cities, counties, or tribal governments in which the local government, businesses, and residents collectively use green power in amounts that meet or exceed EPA's Green Power Community usage requirements. As of April 2018, there are 67 Green Power Communities partnering with EPA.
2017 Green Power Leadership Award Winner Spotlight – Stanford University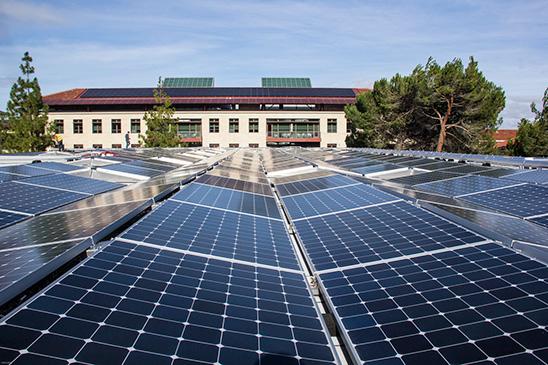 PV panels were installed on 15 campus locations, including some very visible locations such as the Science and Engineering quad (shown here) and Maples Pavilion, where home basketball games are played. Credit: Linda Cicero.Located in Stanford, California, Stanford University is one of the world's leading teaching and research universities.
As part of its comprehensive and long-range Energy and Climate Action plan, Stanford developed the cutting-edge energy supply system known as the Stanford Energy System Innovations (SESI) project. SESI includes a new central energy facility with district-level heat-recovery and 72 megawatts (MW) of solar PV - including 5 MW on-site and 67 MW off-site solar PV. Stanford entered into 25-year power purchase agreements with SunPower to complete the solar projects. The 67 MW of SESI located offsite features single axis tracking technology. These systems generate more than 150 million kilowatt-hours (kWh) of solar electricity and meet more than 50 percent of the university's electricity needs. As a result, the systems help lower Stanford's long-term costs, stabilize its operating budgets, and contribute to the reduction in the university's emissions footprint.
Stanford joined the Green Power Partnership in 2017. As of April 2018, the university uses more than 157 million kWh of green power and is ranked in the sixth spot on the Top 30 College & University list. The institution also led the Pac-12 Conference in green power procurement for the 2017-18 College and University Green Power Challenge.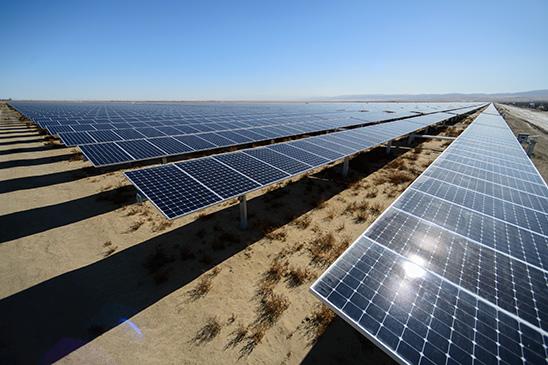 The Stanford Solar Generating Station uses SunPower's single-axis tracking technology to maximize solar insolation throughout the day. Approximately 20 million solar cells cover 200 acres.
Photo of the Month – Johnson & Johnson
Johnson & Johnson is a founding Green Power Partner and has won several Green Power Leadership Awards. The company recently promoted its partnership with EPA and leading green power use on Twitter (see below). Johnson & Johnson uses more than 326 million kWh of green power sourced from a combination of biogas, solar, and wind.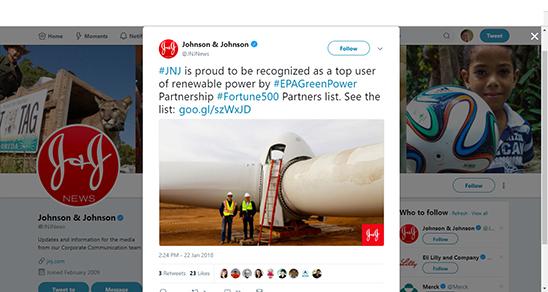 New GPP Resource!
Green Power Supply Options Screening Tool: This table helps those looking to procure green power to identify and compare different supply options that offer certain benefits and characteristics. The table is divided between retail and project-specific green power supply options and details characteristics like ease of purchase or transaction, cost savings, length of commitment, availability, location of generation, and impact on the creation of new green power supply.
Organizations that are just starting out in the green power market or who are unfamiliar with the benefits of different supply options can use this table to evolve their portfolio of green power use to better meet their objectives and goals.
You can find the tool here.
ICYMI: Introduction to the Local Government Solar Project Portal Webinar
On April 25, EPA held a webinar to learn more about resources focused on municipalities developing solar photovoltaic projects! EPA is working with the Department of Energy (DOE) and the National Renewable Energy Laboratory to support local governments in meeting their environmental and energy goals through greater utilization of solar energy projects that serve municipal operations. If your local government is considering developing solar projects over the next two years, view this webinar to learn about how your municipality can take advantage of the resources that EPA will offer, how to participate in peer exchanges and workshops featuring experienced local government officials and industry experts, and how to be recognized by sharing your own project development experiences.
EPA also introduced the new Local Government Solar Project Portal which serves as a hub for accessing resources and recognizing municipal government progress towards developing solar projects through each step of the project development pathway.
You can access the presentations here.
New NREL Training Resources for Local Governments
EPA's new Local Government Solar Project Portal provides solar project development tools and resources to aid local governments through each step of solar project development pathway.
NREL is developing training resources for municipalities seeking to deploy solar technologies on their facilities.
EPA will be helping disseminate these NREL training resources to local governments. Local governments seeking to build solar projects to serve their municipal operations can find these training assistance videos as well as many other targeted resources to help local governments achieve their environmental, energy and economic goals related to solar project development through EPA's Local Government Solar Project Portal.
NREL will also be posting these resources for local governments to its website. The tentative schedule for posting materials is:
Interested organizations can review the resources and learn more here: https://www.nrel.gov/state-local-tribal/.
Report: Companies signed deals for 1,731 MW of renewables in Q1
Large companies announced deals for at least 1,731 megawatts of capacity in renewable power during the first quarter of this year, in a sign of continued strong corporate demand for renewable energy.
The amount of renewable energy that businesses contracted for during the first three months of 2018 was more than half the amount that companies agreed to buy during all of last year, according to figures compiled by GreenBiz Research and the Rocky Mountain Institute's Business Renewables Center.