Green Power Partnership Program Updates Issue 58
Issue 58, June 2018
Renewable Energy Markets 2018 – Registration Now Open
Registration for Renewable Energy Markets (REM) 2018 is now open.
The lowest rates are now available—register today and save nearly $500 on REM 2018. This year's conference, in Houston from October 9 -11, will explore best practices in renewable energy procurement, and emerging trends in policy, technology, and market innovation. The conference will also feature the 2018 Green Power Leadership Awards ceremony.
Join innovative thought leaders from across the country and around the world to inform, collaborate, network, and stay ahead. No other conference brings you this depth of knowledge and as diverse a crowd of professionals working in today's renewable energy markets.
Register today. Rates increase on June 15.
GPLA 2017 Winner Highlight – Clif Bar & Company
Clif Bar & Company is a family-and employee-owned organic food company headquartered in Emeryville, California. Clif Bar states that it runs the company according to a five-aspiration business model that works to sustain the planet, communities, people, business, and brands.
Since 2003, Clif Bar has worked to maintain its goal of sourcing 100 percent green power for all its owned and operated facilities, which now includes its headquarters, a warehouse, Innovation Center, an office in Arkansas, and two large-scale bakeries in Idaho and Indiana. This goal is reached through a combination of on-site solar and the purchase of renewable energy certificates (RECs). Clif Bar has a 500 kilowatt (kW) rooftop solar array at the company's Emeryville, California headquarters that generates, on average, more than 80 percent of the site's electricity needs. In 2016, Clif Bar procured nearly 16 million kilowatt-hours (kWh) of RECs. After increasing its use of green power and purchasing offsets, Clif Bar's business operations have maintained net-zero GHG emissions since 2003.
In addition to addressing the company's operational footprint, Clif Bar has developed innovative programs to support green power for its supply chain and employees. To drive green power within its supply chain, Clif Bar launched a program called 50/50 by 2020 with a goal of 50 key supply chain facilities transitioning to 50 percent or more green power for the electricity used on Clif Bar's behalf by 2020. For employees, Clif Bar's Cool Home benefit provides financial support toward energy efficiency improvements and the purchase of home solar installations. To date, the company has helped support the installation of 25 home solar arrays and hundreds of home energy efficiency upgrades.
Clif Bar became an EPA Green Power Partner in 2003. The company won a Green Power Purchasing Award in 2003, a Green Power Partner of the Year award in 2004, and an Excellence in Green Power Use Award in 2017.
WRI Report: Describing Purchaser Impact in U.S. Voluntary Renewable Energy Markets
Since at least 2015, green power buyers have increasingly used the confusing term "additionality" to describe their goals and impacts, or mark themselves as leaders. World Resources Institute issued a new report proposing a simple descriptive framework to complement existing renewable electricity and GHG reporting standards. This framework provides organizations with transparent, supplemental language to describe the impact that they are having in terms of energy and GHG reductions. It highlights the environmental benefits of purchases, as well as the attribution of corporate influence in making positive impacts happen.
Webinar: Setting a Renewable Energy Goal for Local Governments - June 27, 2018
Setting clear renewable energy goals and defining priorities is an important step in developing solar projects.  On Wednesday June 27, 2018 at 2 PM Eastern, the U.S. EPA will host a webinar for the Local Government Solar Project Portal (www.epa.gov/repowertoolbox/local-government-solar-project-portal) on how to set a renewable energy goal and the key considerations and benefits of doing so. This webinar will provide an overview of a new EPA guidance document for local governments on setting renewable energy goals and present two case studies from the City of Ashland, OR and the City of Orlando, FL. These local governments will share their experiences with other municipalities who are also on a similar journey.
Local Government Partners - Check out the Solar Project Portal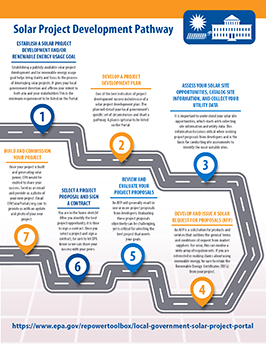 In April, EPA launched the new Local Government Solar Project Portal which serves as a hub for accessing resources and recognizing municipal government progress towards developing solar projects. The resources page details the major steps along the project development pathway and each step includes resources and tools to assist you with that step. More information about the Portal and project development can be found in this helpful roadmap.
If you are interested in having your municipality added to the Portal's Solar Project List, simply email evidence of your municipality's publicly available renewable energy goal or commitment to EPASolarPortal@erg.com (contractor email in support of EPA). For municipalities that have already joined, be sure to check out the Guidance for Submitting Solar Project Progress Spreadsheet (XLSX)(1 pg, 19 K) (19K) to share your achievements with EPA.
New GPP Resource! Green Power Equivalency Calculator
GPP's helpful Equivalency Calculator is back by popular demand! With the release of the WRI Scope 2 Guidance protocol, EPA recommends that Partners no longer use avoided emissions claims. However, quantifying the impact of organizational green power use can be challenging. The updated Equivalency Calculator is designed to help those who use green power translate their green power use from kilowatt-hours (kWh) to more concrete, familiar examples. After entering your annual green power use in the calculator, it will show the equivalencies of your green power use—the number of American homes' electricity use for one year, miles driven by electric car, wind turbines installed, and football fields covered with solar panels. The calculator is located here.
Partners In the News—Recent Press on the Green Power Partnership
Green Power Partners have received quite a bit of press recently, especially in conjunction with April's Top Partner Rankings updates and the culmination of the 2017-18 College and University Challenge.
The quotes below highlight what a few of our Partners are saying about being recognized for their green power efforts:
University at Buffalo, the State University of New York on winning its conference in the 2017-18 College and University Green Power Challenge:
"UB is honored to be recognized by the EPA as a conference leader in using clean, renewable energy," said Laura Hubbard, UB's vice president for finance and administration. "April is Sustainability Month at the university, but our commitment to making UB a more sustainable campus is a year-round effort that encompasses a variety of green power initiatives." (April 25 Niagara Frontier Publications)
SC Johnson and Son on its presence on the National Top 100 list:
"Through our efforts to eliminate and reduce waste at our global facilities, to finding ways to recycle our Ziploc brand bags, we have consistently worked to improve the environment," said Kelly M. Semrau, Senior Vice President – Global Corporate Affairs, Communication and Sustainability at SC Johnson. "SC Johnson is committed to making life better for future generations, and reducing our emissions footprint through the use of green power is just one of the ways we are meeting that commitment. We are proud to be recognized by the U.S. Environmental Protection Agency for being a leader in the green power market." (April 26 Wind Power Engineering)
Many partners also took to Twitter to share their accomplishments.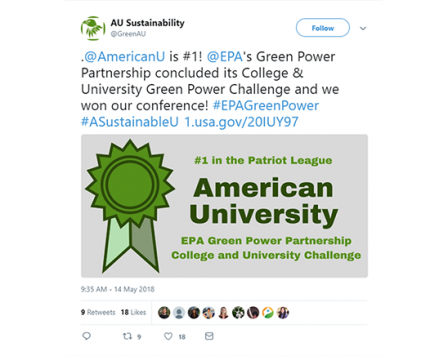 American University shared the news about winning the Patriot League Conference in the 2017–18 College and University Challenge.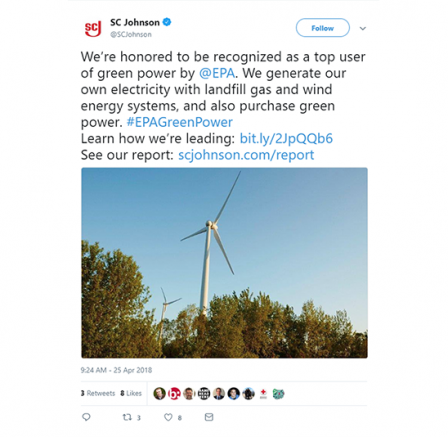 SC Johnson touted its appearances on GPP's Top Partner Rankings.
National Renewable Energy Laboratory (NREL) Releases 2017 Rankings for Top 10 Utility Green Pricing Programs
Utility green pricing programs allow homes and businesses to procure green power through their electric utility. Since 2000, NREL has compiled data on these utility green pricing programs and released annual "Top 10" lists to recognize outstanding programs. Rankings for calendar year 2017 are now available at NREL's Voluntary Green Power page. This year's Top 10 programs sold more than 6.3 million megawatt-hours (MWh) of green power to more than 626,000 customers. NREL estimates green pricing programs nationwide sold more than 8 million MWh of green power to more than 800,000 customers. Review the rankings (PDF) (68 pp, 746K).
Green Power and Renewables in the News
Renewables continue to gain traction in 2018, seeing significant growth from continued corporate demand and organizational innovation. Some recent articles are featured below: