Green Power Partnership Program Updates Issue 59
Issue 59, July 2018
July 2018 Top Partner List Updates Posted
On Twitter? Help congratulate GPP Partners on their achievements!
The National Top 100 continues to see changes in 2018. With this update, Bank of America jumped to the fifth spot to make it into the top five for the first time. Increases in green power use by Danone North America and Colgate-Palmolive also resulted in movement up the list to the No. 26 and No. 43 spots, respectively. Additionally, General Motors/GMVM Arlington's large increase in green power use landed the facility on the list for the first time at No. 76.
Finally, new Green Power Partner HP Inc. made a big splash in its debut—the company lands in spot 35 and uses more than 275 million kWh of green power.
In total, the Partners featured on the Top 100 list use nearly 42 billion kWh of green power.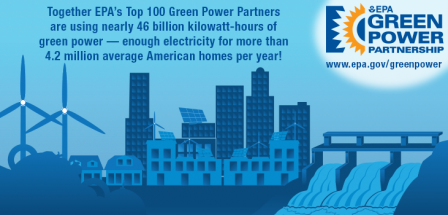 The Green Power Partnership (GPP) also updated its list of Green Power Communities, which represents towns, villages, cities, counties, or tribal governments in which the local government, businesses, and residents collectively use green power in amounts that meet or exceed EPA's Green Power Community usage requirements. As of July 2018, there are 66 Green Power Communities partnering with EPA.
July marked the debut of Cincinnati, Ohio on the GPC list (No. 4) as well as on the Top 30 Local Government list (No. 17). The city's municipal green power use combined with renewable energy use throughout the community totals more than 680 million kWh, or about 13 percent of the community's electricity needs.
See what else changed on the Top Partner Rankings this quarter.
Reminder – Registration Open for Renewable Energy Markets 2018
Lower registration rates are still available—register today and save on Renewable Energy Markets (REM) 2018. This year's conference, in Houston from October 9 -11, will explore best practices in renewable energy procurement and emerging trends in policy, technology, and market innovation. The conference will also feature the 2018 Green Power Leadership Awards ceremony.
Join innovative thought leaders from across the country and around the world to inform, collaborate, network, and stay ahead. No other conference brings you this depth of knowledge and as diverse a crowd of professionals working in today's renewable energy markets.
Register today. Rates increase after August 31.
Upcoming GPP Webinar: Introduction to Green Power Supply Options
Wednesday, August 15, 2018
1:00 PM-2:00 PM EDT
A variety of green power supply options are available to consumers in today's market. This webinar will provide a high-level review of each option, detail to whom and where the option is available, and discuss each option's benefits and drawbacks. Attendees will learn about the following green power supply options: unbundled renewable energy certificates, competitive electricity products, utility green power products, community choice aggregation, self-supply, green tariffs, shared renewables, and power purchase agreements.
The webinar will also provide a tutorial on EPA's Green Power Supply Options Screening Tool. This free tool helps non-profit and for-profit organizations decide which supply options might work for them. Based on answers to a few simple questions, the tool returns easy-to-understand guidance about which green power supply options are available in their state.
GPLA 2017 Winner Highlight – Iron Mountain Information Management
Headquartered in Boston, Massachusetts, Iron Mountain provides information management services to more than 170,000 organizations in 37 countries.
As a new Green Power Partner in 2016, Iron Mountain fulfilled its commitment to the program by purchasing more than 8 million kilowatt-hours (kWh) of wind power coupled with a 15-year financial power purchase agreement (PPA) for the output of 26.6 megawatts (MW) from Ringer Hill Wind Farm. The PPA is expected to deliver 84 million kWh annually of wind power through 2032. Iron Mountain's offtake agreement allowed the project to be financed and built, thus enabling the development of new renewable generation on the grid in the Mid-Atlantic region, an area that has not seen as much wind development as some other regions of the country. When the company applied for this award, Iron Mountain's combined green power use accounted for 40 percent of its power requirements (its green power use now accounts for 55 percent of its power requirements).
Iron Mountain became an EPA Green Power Partner in 2016 and won a Direct Project Engagement Award in 2017.
NYSERDA Inquiry: Financing Solutions for the Energy Efficiency and Renewable Energy Sectors
New York State Energy Research & Development Authority (NYSERDA) Financing Solutions Group is exploring financing solutions for the energy efficiency and renewable energy sectors. NYSERDA officials are interested in speaking with the following business sectors:
Lenders/Investors/Financiers
If your business model includes financing, lending, or investments in the energy efficiency and renewable energy sectors, NYSERDA is interested in your input on developing ideas with community & regional banks, credit unions, specialty lenders, non-profit, manufacturers, CDFI, impact investors, ESCO, program related investments, and philanthropies, among others.
Contractors/Developers
If your business model needs financing, lending, or investments for energy efficiency and renewable energy projects, NYSERDA is looking for recommended firms you are working with or firms you are familiar with to explore various business models, including 3rd party ownership, loans, leasing, PPA, ESCO, community-based, LMI, and others.
To share any insights or schedule a call for a follow-up, please contact John Joshi, Director, Financing Solutions at NYSERDA at John.Joshi@nyserda.ny.gov or (212) 971-5342 x3636.
Renewable Energy News
Photo of the Month: Raytheon Company
Since 2008, Raytheon's facility in Tucson, Arizona has been using solar as an energy source. The campus has implemented 11 solar projects thus far, the largest of which is a solar PV system at one of the site's entrances. The 55-kilowatt solar system (below) was installed in 2012 and optimizes the sun's power.

News Release: 2016 Data Book Shows Continued Growth of Renewable Electricity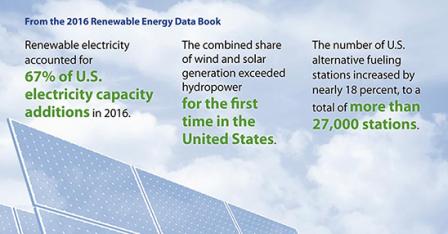 The 2016 Renewable Energy Data Book shows that the U.S. renewable electricity grew to 18.3 percent of total installed capacity and 15.6 percent of total electricity generation in 2016. Published annually by the National Renewable Energy Laboratory (NREL) on behalf of the U.S. Department of Energy's Office of Energy Efficiency and Renewable Energy, the Renewable Energy Data Book presents U.S. and global energy statistics compiled from numerous data sources, and includes renewable electricity generation, renewable energy development, clean energy investments, and technology-specific data. Learn more.