Green Power Partnership Program Updates Issue 60
Issue 60, September 2018
Register Now for Renewable Energy Markets 2018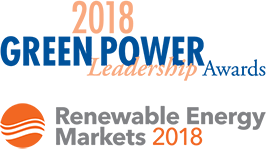 Renewable Energy Markets (REM) 2018 is just a few weeks away! Register now to attend this year's conference in Houston from October 9 -11 and the 2018 Green Power Leadership Awards ceremony on October 10. The conference will explore best practices in renewable energy procurement and emerging trends in policy, technology, and market innovation.
Join innovative thought leaders from across the country and around the world to inform, collaborate, network, and stay ahead.
Data Deadline for Top Lists
The Green Power Partnership is updating the rankings to our quarterly Top Partner Lists. Please submit your updated data by October 4, 2018 to ensure that your green power usage information is the most up to date when posted at the end of the month.
Revised Guide to Purchasing Green Power Released by EPA, CRS, DOE FEMP, NREL, and WRI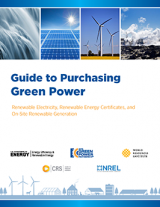 On August 14, a major revision to the Guide to Purchasing Green Power was released. EPA's Green Power Partnership led the overall effort to revise the Guide, which is jointly authored by EPA, the U.S. Department of Energy's Federal Energy Management Program (FEMP), World Resources Institute (WRI), Center for Resource Solutions (CRS), and the National Renewable Energy Laboratory (NREL). The Guide was written for a broad audience of organizations that want to diversify their energy supply and reduce the environmental impact of their electricity use. First published in 2004, the second revision represents a major update and includes new market information and terminology, updated statistics, new case studies, information on evolving purchasing methods, and new resources on planning self-generation renewable projects or purchasing green power.
Download the Guide to Purchasing Green Power.
2018-19 College and University Green Power Challenge
In addition to publishing the updated Top Partner Lists, GPP will launch its annual College and University Challenge in October. Throughout the 2018-19 academic year, GPP will track the collegiate athletic conferences with the highest combined green power usage in the nation. The College and University Green Power Challenge is open to any collegiate athletic conference in the United States.
EPA will conclude the Green Power Challenge in April 2019 and recognize the Champion Green Power Conference, as well as the largest single green power users within each participating conference.
Interested in joining the 2018-19 Green Power Challenge? Check out our Steps to Join Green Power Partnership page for more information. To be listed, a conference must have at least two Green Power Partners and an aggregate green power purchase of at least 10 million kilowatt-hours (kWh) across the conference. Be sure to submit your data by October 4!
GPP Partners on Twitter
Our Partners are taking to Twitter to promote GPP's Top Partner rankings. Check out some recent posts: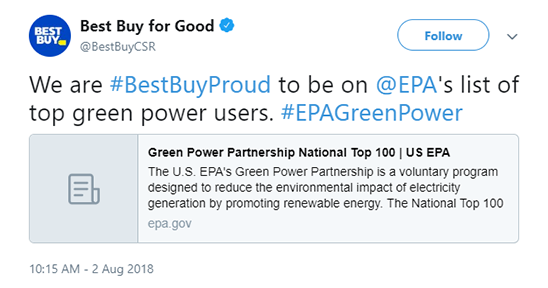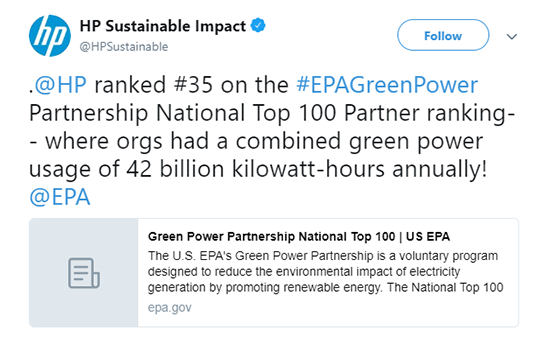 Green Power Leadership Award 2017 Winner Spotlight – Victor Valley Wastewater Reclamation Authority (VVWRA)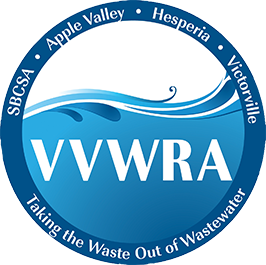 The Victor Valley Wastewater Reclamation Authority (VVWRA) is a resource recovery facility that provides services for a community of nearly 400,000 residents in the High Desert region of Southern California.
In 2016, VVWRA produced nearly 7.5 million kilowatt-hours (kWh) of green power on-site representing 74 percent of its own electricity. VVWRA developed an innovative Biogas-to-Energy Program, which uses the biogas produced in its anaerobic digesters to power two 800 kilowatt (kW) generators. The generators produce clean power while meeting some of the nation's strictest air quality standards. The Biogas-to-Energy program was funded entirely through a power purchase agreement (PPA) that allowed the Authority to lock in low electricity rates for 20 years without raising costs to its customers. The switch to biogas-sourced green power has enabled VVWRA to dramatically reduce its use of natural gas, saving it more than $400,000 per year. Moving forward, VVWRA will be installing a flow-cell battery storage and microgrid system at its facility through a California Energy Commission grant. VVWRA is committed to not only producing 100 percent of its energy on-site, but to becoming an exporter of green power in the future.
VVWRA became an EPA Green Power Partner in 2015.
New and Updated GPP Resources
New Resource: Guidance for Setting a Renewable Energy Goal
The document provides a framework for why and how to set a renewable energy goal (Step 1 of the Solar Project Development Pathway) and discusses key considerations for doing so. Topics covered include the benefits of different types of goals, which technologies to include, how to spur local economic growth through the project development process, and how state policies might affect goal-setting decisions. The information provided will help local governments determine their primary motivations for using renewable energy, which will inform the list of viable project options down the road. The document also walks municipalities through the logistics of successful internal and external stakeholder engagement. At the end of the document, there is a four-page worksheet to help municipalities take actionable steps toward setting a renewable energy goal.
Updated Resource: Green Power Equivalency Calculator
Quantifying the impact of organizational green power use can be challenging. In May, the GPP released a revamped version of the Green Power Equivalency Calculator, which is designed to help translate kilowatt-hours (kWh) to concrete, familiar examples to better communicate your green power use to interested stakeholders. After entering your annual green power use in the calculator, it will show the equivalencies of your green power use—the number of American homes' electricity use for one year, miles driven by electric car, wind turbines installed, and football fields covered with solar panels.
Webinar: Green Banking Strategies for Local Governments
Monday, October 1 from 1:00-2:30 PM Eastern Time
Local governments are pursuing innovative financing to support energy efficiency, renewable energy and other clean energy investments in their operations and communities. Join the U.S. EPA State and Local Energy and Environment Program to learn about exciting advancements in green banking in the United States and how these strategies can help local governments pursue their environmental, energy, and economic priorities. The speakers will provide an overview of green banks, the services and benefits they offer, other types of green banking opportunities, and important considerations for local governments interested in engaging in green banking. As part of this webinar, you will hear about experiences from the Connecticut Green Bank, which has worked extensively with local governments and is leading innovations in the field of clean energy finance, and the Montgomery County Green Bank in Maryland, the first U.S. green bank administered by a local government.
Speakers:
Jeff Schub, Executive Director, Coalition for Green Capital
Bryan Garcia, President and CEO, Connecticut Green Bank
Tom Deyo, CEO, Montgomery County Green Bank
Register today.
GPP Webinar Recap: Introduction to Green Power Supply Options
A variety of green power supply options are available to consumers in today's market. This webinar provided a high-level review of each option, detailed to whom and where the option is available, and discussed each option's benefits and drawbacks. Attendees learned about the following green power supply options: unbundled renewable energy certificates, competitive electricity products, utility green power products, community choice aggregation, self-supply, green tariffs, shared renewables, and power purchase agreements.
The webinar also provided a tutorial on EPA's Green Power Supply Options Screening Tool, which helps non-profit and for-profit organizations decide which supply options might work for them. Based on answers to a few simple questions, the tool returns easy-to-understand guidance about which green power supply options are available in their state.
Green Power Highlights
Below are recent reports, news items, and videos highlighting green power use across the country.
ASHRAE Releases a New Guide, Building Our New Energy Future
A new publication from the American Society of Heating, Refrigerating and Air-Conditioning Engineers (ASHRAE) aims to help building professionals prepare for the opportunities and challenges brought by the changing energy sector when designing efficient and grid-responsive buildings. Topics explored in the guide include distributed energy resources (DERs), electric vehicles and buildings, the Internet of Things (IoT), the future of utilities, high-performance building design, and strategies to communicate about prioritizing loads and advances in renewable energy. The guide was developed in collaboration with the American Institute of Architects (AIA), the National Institute of Building Sciences (NIBS), and the U.S. Department of Energy's National Renewable Energy Laboratory (NREL). View the publication (PDF) (24 pp, 1.3MB).
U.S. Department of Energy Releases 2017 Wind Technologies Market Report
The U.S. Department of Energy's (DOE's) Office of Energy Efficiency and Renewable Energy has released its 2017 Wind Technologies Market Report (PDF) (98 pp, 2.4MB), which provides an annual overview of trends in the U.S. wind power market. Highlights from this year's report include wind power capacity additions continued at a rapid pace, larger turbines are enhancing wind project performance, and diversity of domestic supply chain for wind equipment. Regarding cost, low wind turbine pricing continues to push down installed project costs and, in general, wind energy prices remain low. The report predicts continued strong growth in wind capacity in the near term, while federal tax incentives are still available. View the report.
U.S. Department of Energy's Berkeley Laboratory Releases Annual Tracking the Sun Report
The Berkeley Lab released the latest edition of its annual Tracking the Sun report. The report describes installed prices and other trends among distributed photovoltaic (PV) systems in the United States, based on an underlying dataset of more than 1.3 million PV systems (with transaction prices for 770,000 systems). This latest edition focuses primarily on trends through year-end 2017, with preliminary data for the first half of 2018.
The report, along with an accompanying slide deck and a public version of the underlying dataset, can be downloaded via trackingthesun.lbl.gov. A webinar summarizing key findings from the report will be held on October 4th at 1:00 pm Eastern: register here.
GPP in the News
Hillsboro, Oregon, Green Power Use Featured on KATU News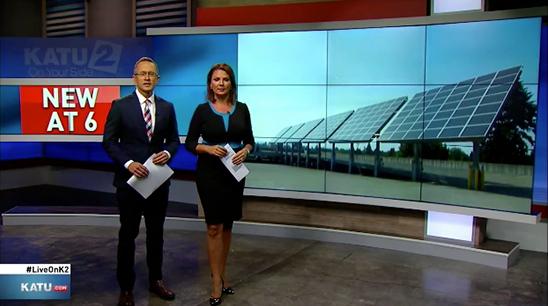 The community of Hillsboro, Oregon was featured in a KATU News segment in August! This top-ranked Green Power Partnership's Green Power Community has procured 1.73 billion kWh of green power from wind, solar, and geothermal resources through on-site solar arrays, utility green power products, and REC contracts. Currently at 65 percent green power, Hillsboro aims to achieve 75 percent green power by 2035. In addition to purchasing green power, the city is focused on reducing energy consumption across the city's facilities portfolio and has achieved a 26 percent reduction since 2009. Watch the news clip and read the article.
Dickinson College Video Highlights On-Site Solar Array Built by Tesla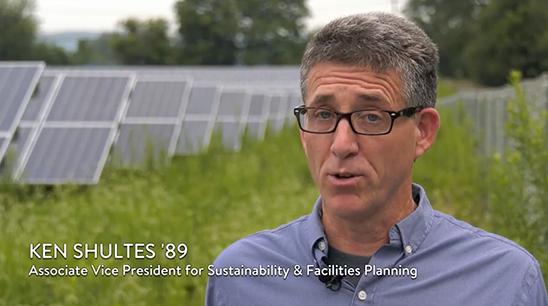 Dickinson College has a goal to achieve net-zero greenhouse gas emissions by 2020. To help meet its goal, the college signed a 25-year power purchase agreement (PPA) with Tesla. As part of the PPA, Tesla built and will operate a 3 megawatt (MW) solar field covering 14 acres of the school's property that will generate 5 million kilowatt-hours (kWh) of electricity per year, which is about 30 percent of the school's electric load. Dickinson will retain the renewable energy certificates (RECs) from the array, which contains 12,400 individual panels, or nearly six panels per student. The college organic farm will manage the landscape around the solar array with sheep. For more information, access the video.
Green Power in the News