Green Power Partnership Program Updates Issue 61
Issue 61, November 2018
2018 Green Power Leadership Award Winners Announced

On October 10, the U.S. Environmental Protection Agency (EPA) announced its 18th annual Green Power Leadership Awards, recognizing 10 Green Power Partners across the country.
"The 2018 Green Power Leadership Award winners have proven real leadership, demonstrating to American businesses that through their investments they can together not only grow America's renewable energy market, but also reduce air emissions and protect the environment," said EPA Assistant Administrator for Air and Radiation Bill Wehrum.
The award winners are being recognized for their efforts in advancing the nation's voluntary green power market. From using enough green power to meet 100 percent of electricity needs to signing long-term contracts that enable new green power project development, these organizations are demonstrating leadership by furthering the case for accessible, affordable green power use.
The winners for each of the three award categories are:
Green Power Partner of the Year
Direct Project Engagement
Jackson Family Wines
Michigan State University
The Procter & Gamble Company
T-Mobile US, Inc.
University of California
Excellence in Green Power Use
Anheuser-Busch
Equinix, Inc.
Google Inc.
Starbucks Coffee Company
The Green Power Leadership Awards are sponsored by EPA's Green Power Partnership Program in collaboration with the Center for Resource Solutions.
Learn more about the EPA 2018 Green Power Leadership Award winners and read the EPA press release.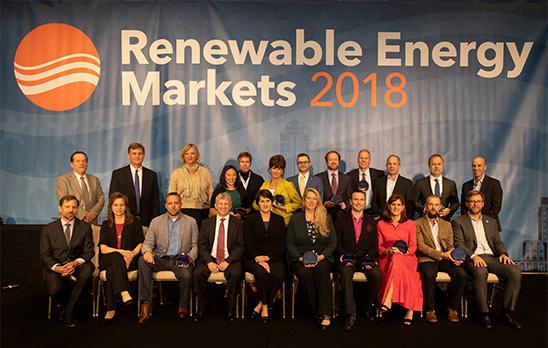 2018 EPA and CRS Green Power Leadership Award Winners
Top Partner Rankings & Green Power Communities List Updated October 29
On October 29, GPP released updates to its Top Partner Rankings, which feature Partner organizations leading the way with their use of green power.
The October update of the Top Partner Rankings resulted in big changes to the lists. On the National Top 100 list, Samsung Electronics and Semiconductors jumped to the No. 7 spot (from No. 59 in July) with its nearly 1.2 billion kilowatt-hours (kWh) of annual green power use. Kimberly-Clark Corporation also now appears as No. 15 on the National Top 100, along with new Partners, General Mills (No. 32) and QTS (No. 59).
In total, the Partners featured on the Top 100 list use nearly 46 billion kWh of green power.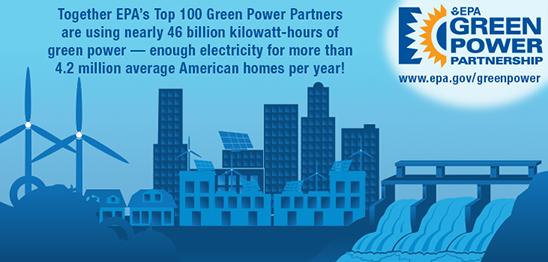 The October update ushered in several new Green Power Communities—towns, villages, cities, counties, or tribal governments in which the local government, businesses, and residents collectively use green power in amounts that meet or exceed EPA's Green Power Community usage requirements. As of October 2018, 72 Green Power Communities are partnering with EPA.
Several Illinois communities debuted on the GPC list in October after joining the Partnership, including Tinley Park; Oswego; South Elgin; Village of La Grange Park; Clarendon Hills; South Barrington; and Palos Park.
See what else changed on the Top Partner Rankings this quarter.
GPP Kicks Off 2018-19 College & University Challenge
EPA kicked off its 2018-19 College and University Green Power Challenge on October 29, which encourages higher education institutions to increase their use of green power. Throughout the 2018-19 academic year, EPA's Green Power Partnership will track the collegiate athletic conferences with the highest combined green power usage in the nation. The Challenge is open to any collegiate athletic conference that has at least two Green Power Partners and an aggregate green power usage of at least 10 million kilowatt-hours (kWh) across the conference.
There are currently 107 schools from 37 athletic conferences participating in the 2018-19 Challenge. The Big Ten, which was the 2017-18 Collective Conference Champion, enters as the top-ranked conference. Together, the Big Ten's participating schools use nearly 494 million kWh of green power annually—equal to the electricity use of nearly 46,000 average American homes. The University of Tennessee, Knoxville enters this year's Challenge as the top individual school, procuring more than 250 million kWh of green power annually.
Your school can be listed on the scheduled update on January 28, 2019! You simply need to report your institution's green power use information to EPA no later than January 3, 2019. More on the College & University Green Power Challenge and how to participate: https://19january2021snapshot.epa.gov/greenpower/college-and-university-challenge.
Partner Spotlight – Bank of America

Our Partner Spotlight this month features Bank of America. Beth Wytiaz, SVP, Environmental Operations Manager, answered some questions about the company's green power use.
What motivated your organization to use green power?
Bank of America is committed to accelerating the transition to a low-carbon, sustainable economy. This commitment runs throughout our business, such as with our environmental business goal to deploy $125 billion in low-carbon, sustainable finance by 2025, and within our direct operations. That is why in 2016 we committed to purchasing 100 percent renewable electricity and achieving carbon neutrality by 2020, as well as enhance our existing environmental operations goals. We made this decision with feedback from external stakeholders such as our National Community Advisory Council and internal stakeholders like our Global Environment, Social and Governance Committee, which is led by our Vice Chair, Anne Finucane, and reports to our CEO and Board of Directors.
In 2017, Bank of America procured more than 1.6 billion kilowatt-hours (kWh) of electricity from renewable sources, which represents 89 percent of our U.S. operations' electricity use. At this time, most of our procurement of renewable electricity is mainly done through renewable energy credits (RECs), all of which are Green-e certified. In the future, we anticipate including more onsite solar as well as power purchase agreements in our low-carbon energy strategy.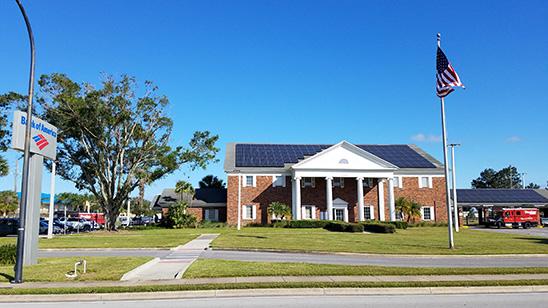 A solar photovoltaic system installed on a Bank of America financial center in Kissimmee, Florida.
What do you see as the benefits of using green power and what role does it currently play in your organization's broader business and environmental strategy?
Using green power helps Bank of America be a responsible steward of the environment while contributing to our efforts to meet our 2020 operational goals of 1) achieving carbon neutrality for Scope 1 and 2 emissions and 2) purchasing 100 percent renewable electricity. From 2010 to 2017 we reduced market-based greenhouse gas (GHG) emissions by 86 percent, and by year-end 2017, 83 percent of our electricity across our global operations came from renewable sources.
Additionally, as we work with customers and clients to explore how they can be more sustainable, it is important to demonstrate how a company can successfully transition to a low-carbon business while realizing revenue growth.
Does your organization have a green power or GHG emissions reduction goal? If so, what is it and how do you plan to achieve it?
In addition to our 100 percent renewable electricity goal, Bank of America's operational goals include:
achieving carbon neutrality for Scope 1 and Scope 2 emissions by 2020;
reducing location-based GHG emissions 50 percent by 2020 from a 2010 baseline; and
reducing energy use 40 percent by 2020 from a 2010 baseline.
For our full suite of goals, which include commitments on LEED-certified office space, reductions in water and paper consumption and waste sent to landfill, and vendor engagement, please see our operational goals website.
How do you communicate your green power use to consumers, employees, and other stakeholders?
Our National Community Advisory Council focuses on community development, consumer policy, as well as environmental, social, and governance issues, and allows us to communicate our green power and other environmental progress directly to key stakeholders.
We speak about our commitments and progress in external forums, like Climate Week in New York City, Bloomberg New Energy Finance Summits, and United Nations Framework Convention on Climate Change Conference of the Parties (COP) meetings. We communicate our environmental commitments through our Annual Report (PDF) (214 pp, 4.7MB), ESG Report (PDF) (17 pp, 305K), CDP filings, our environmental website, and in social media.
We communicate about our goals to our employees and discuss how they can contribute to meeting them, and our My Environment® program engages employees to help them act as better environmental stewards at work, at home, and in the community. Currently, more than 23,000 employees across 30 countries participate in the My Environment employee program.
How has being an EPA Green Power Partner benefited your organization?
Being an EPA Green Power Partner has helped keep our company accountable while allowing us to learn from peers in the business community that have made similar commitments. GPP is a great resource for information about the renewable energy markets and how to communicate our efforts in this space. It is also a great way to collaborate or share best practices with other companies that also seek to accelerate the transition to a low-carbon, sustainable economy.
Green Power Partners in the News
Green Power Partners have a lot to brag about these days, and they didn't hesitate to do so in October. Check out the articles and press releases below that highlight recent news.
GPP Featured on Twitter
Our Partners are taking to Twitter to promote their Green Power Leadership Awards. Check out some recent posts: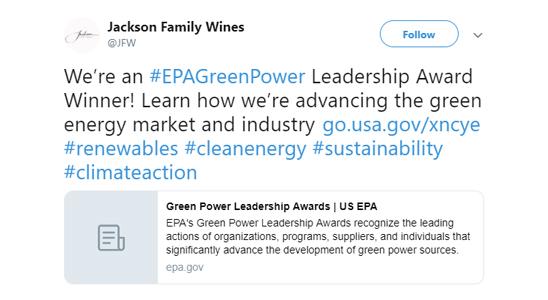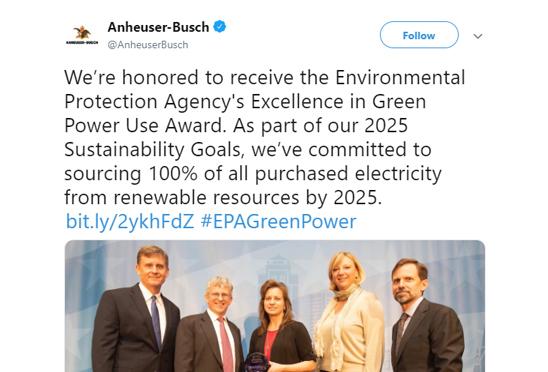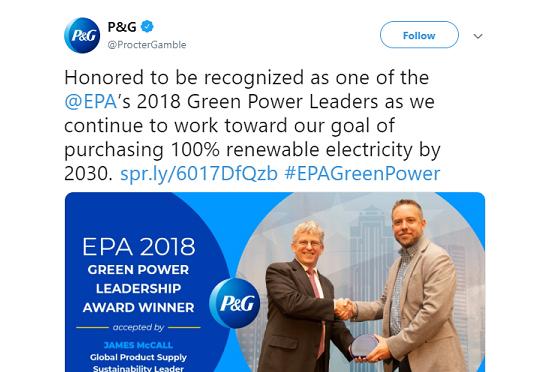 NEW – Solar Project Portal Video for Local Governments
EPA recently released a video to help new users learn more about its recently launched Local Government Project Portal. EPA launched the new Project Portal in April to serve as a hub for accessing resources and recognizing municipal government progress towards developing solar projects. The Resources section details the major steps along the project development pathway and resources and tools to assist you with each step.
If you are interested in having your municipality added to the Portal's Solar Project List, simply email evidence of your municipality's publicly available renewable energy goal or commitment to EPASolarPortal@erg.com (contractor email in support of EPA). For municipalities that have already joined, be sure to check out the Guidance for Submitting Solar Project Progress Spreadsheet (XLSX) to share your achievements with EPA.
Webinar: Solar Project Site Assessment for Local Governments
Wednesday November 28, 2018
1:00 – 2:00 PM Eastern
Understanding solar site opportunities starts with collecting site information and utility data. This information is important when seeking project proposals from developers and is the basis for conducting site assessments to identify the most suitable sites.
EPA developed a training video that explains the basic steps for assessing potential solar project sites; describes how to pre-screen the potential sites on your initial list; and explains how to conduct a more in-depth site evaluation of key locations. This webinar will feature guest speakers from several municipalities who will provide real-world examples of the steps they took as well as lessons learned from the experience.
Speakers:
Risa Edelman, U.S. EPA Green Power Partnership program
Mandy La Brier, Director of Energy Management, City of Chicago
Ned Noel, Associate Planner, City of Eau Claire
Scott R. Tess, Environmental Sustainability Manager, City of Urbana
NREL Releases Status and Trends Report on Voluntary Green Power Market
In October, the National Renewable Energy Laboratory (NREL) released its latest Status and Trends in the U.S. Voluntary Green Power Market (PDF) (60 pp, 3.3MB) report, which uses 2017 data to provide a snapshot of the market. The report reveals that, in 2017, about 5.5 million retail electricity customers procured about 112 million megawatt-hours (MWh) of green power, representing approximately 26 percent of all renewable energy sales (excluding large hydropower) in the United States.
Key findings highlighted in the report include: Utility green pricing programs, which have generally relied on wind, are increasing their procurement of solar energy, especially among the 10 largest programs.
Unbundled renewable energy certificates—which are primarily purchased by large nonresidential customers—continue to account for the majority of voluntary green power sales (about 46%).
Green power sales through power purchase agreements exhibited the strongest year-over-year growth in absolute terms, increasing by about 12.7 million MWh from 2016 to 2017.
Community choice aggregations—which primarily serve residential and small commercial customers—account for about half of green power customers.
National Scorecard Reports How States Stack Up on Shared Renewable Energy Programs
In October, the independent Interstate Renewable Energy Council (IREC) released a national scorecard that grades state shared renewable energy programs, some of which convey the renewable energy certificates (RECs) to the end user and some of which do not. IREC's National Shared Renewables Scorecard uses specific criteria to evaluate how each program stacks up to national best practices and one another.
The scorecard grades 17 active shared renewables programs in 13 states plus Washington, D.C. Three additional states—Illinois, New Jersey, and Oregon—are in the process of implementing new programs and are not yet graded.