Green Power Partnership Program Updates Issue 63
Issue 63, March 2019
Renewable Energy Markets 2019 Conference: Call for Abstracts
The Renewable Energy Markets (REM) Conference provides an opportunity for the industry's leading renewable energy and green power stakeholders to convene and guide the clean energy marketplace. This year's conference will be held September 4-6 in San Diego, California.
Renewable Energy Markets 2019 is seeking abstracts for presentations and panels that are timely, unique, and informative. Presentations and sessions should be discussion-oriented and feature new data or ideas, consideration of important issues, and fresh and informed thinking about where renewable energy markets are headed.
Abstracts are due Thursday, April 4 at 5:00 PM Pacific Time. Visit the REM website to learn more.
Data Deadline for Top Lists and College & University Challenge
The Green Power Partnership is updating the rankings for its quarterly Top Partner Lists, as well as making the final update for the 2018-19 College & University Challenge. Please submit your updated data by April 3, 2019 to ensure that your green power use information is the most current when posted at the end of the month.
Green Power Partners in the News & Social Media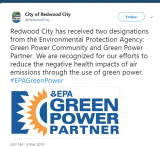 Check out the latest articles, press releases, and social media posts below that highlight Green Power Partners!
Want More Renewable Energy? It's Easy, Just Ask GM (#CleanTechnica Interview), Clean Technica
Wells Fargo Named to EPA's National Top 100 List of Largest Green Power Users, Windpower Engineering & Development
2018 Green Power Leadership Award Winner Spotlight – Microsoft Corporation
A Green Power Partner since 2012, Microsoft Corporation won EPA's 2018 Green Power Partner of the Year Award for its innovation and leadership by:
Earning the top spot on the Green Power Partnership's National Top 100 Partners list for the first time, at more than 4.5 billion kilowatt-hours of green power use annually.
Using 100 percent green power since 2013. Microsoft's volume of green power use also increased by 36 percent in the past year.
Setting a goal to increase the number of Microsoft data centers powered by local, directly connected renewable generation facilities—up to 50 percent of their facilities by the end of 2018.
Working to create green power supply options that other companies can then replicate, such as the green tariff that Microsoft created with Black Hills in Wyoming.
Establishing an innovative internal carbon fee to fund green power purchases.
Microsoft previously was recognized as EPA Green Power Partner of the Year in 2012, 2013, and 2015, and also won a 2017 Excellence in Green Power Use Award.
Upcoming GPP Webinar: Guide to Purchasing Green Power
Wednesday, April 24, 2019
1:00 PM-2:00 PM EDT
Register
This past fall, a major revision to the Guide to Purchasing Green Power was released. The Guide was authored through the contributions of multiple organizations including EPA's Green Power Partnership, World Resources Institute (WRI), Center for Resource Solutions (CRS), U.S. Department of Energy as well as selected content from the National Renewable Energy Laboratory (NREL). It is intended for organizations that are considering the merits of green power use or that are seeking information regarding the process of or range of options available for purchasing it.
This webinar will provide an overview of the Guide and the most recent updates, which include new market information and terminology, updated market statistics, new content on direct project engagement procurement options, as well as new examples on capturing and communicating benefits.
Speakers:
James Critchfield, Program Director, U.S. EPA, Green Power Partnership
Todd Jones, Director of Policy and Climate Change Programs, Center for Resource Solutions
Webinar Recap: State of the Voluntary Market
On March 13, GPP hosted a webinar examining the state of the green power market within the United States. This annual webinar focused primarily on the voluntary market, through which consumers and institutions voluntarily procure and use renewable energy for all or part of their electricity needs. The webinar reviewed:
The various green power product options with information on their trends in green power purchasing
The continued growth of new green power procurement options, including power purchase agreements (PPAs), community solar programs, and community choice aggregations
Trends of GPP partners green power use and diversification
The presentations draw heavily on the National Renewable Energy Laboratory's recently published Status and Trends in the U.S. Voluntary Green Power Market (PDF) (60 pp, 3.2 MB) as well as the Green Power Partnership's program data.
Speakers:
Christopher Kent, Program Manager, U.S. EPA, Green Power Partnership
Eric O'Shaughnessy, Renewable Energy Analyst, National Renewable Energy Laboratory