Green Power Partnership Program Updates Issue 65
Issue 65, May 2020
Coronavirus (COVID-19)
This is an emerging, rapidly evolving situation and the Centers for Disease Control and Prevention will provide updated information as it becomes available, in addition to updated guidance.
EPA has a resource directory that provides key EPA resources on the coronavirus disease (COVID-19) including information on disinfectants, drinking water and wastewater, and EPA-related COVID-19 updates.
Upcoming Webinars & Events
Green Power Partnership Webinar
Local Government Clean Energy Trends and Resources
July 8, 2020
1:00 - 2:00 PM ET
Cities are a core driver of climate change, accounting for more than 70% of global greenhouse gas emissions and over two-thirds of energy consumption. Because of this, cities have the opportunity to be on the forefront of tackling climate change by leading the charge to renewable energy. In fact, more and more U.S. cities have set and started acting upon their own clean energy goals.
The American Cities Climate Challenge Renewables Accelerator, co-led by the World Resources Institute (WRI) and Rocky Mountain Institute (RMI) and supported by Bloomberg Philanthropies, is a program that helps U.S. cities meet – or beat – their near-term carbon reduction goals with cutting-edge technical support and resources. One of these resources is a new tool that tracks renewable energy transactions and engagement efforts made by local governments since 2015.
This webinar will highlight local government clean energy trends across the U.S. and showcase the Renewables Accelerator's Local Government Renewables Action Tracker along with other tools and resources to help cities move forward on procuring clean energy themselves. Representatives from WRI and RMI, alongside guest speakers from local governments, will discuss how the Renewables Accelerator is helping local governments explore and access their available green power supply options.
ENERGY STAR® Webinar: Renewable Energy Options for Small Businesses and Congregations
Thursday, May 21, 2020 2:00-3:00 PM ET
Electricity use is often the single largest source of an organization's emissions and air pollution footprint, not to mention being a significant expense. Making the simple choice to use renewable energy can offer environmental, economic and community benefits. On this webinar, you will learn about the various options available in the market to buy green power through retail purchase, self-generation and direct purchase from a renewable project. You will learn about how to align your desired energy and environmental outcomes to specific green power supply options. You will also learn about the role of renewable energy certificates and how they can support your organization meeting its renewable energy and carbon footprint reduction goals.
Speaker:
James Critchfield, Program Manager, EPA Green Power Partnership
Learn more and register for this webinar.
The 2020 Better Buildings, Better Plants Virtual Leadership Symposium, June 8 – 11

The 2020 Better Buildings, Better Plants Summit is transitioning to a virtual leadership symposium from June 8-11. The Virtual Leadership Symposium will feature a series of timely webinars and peer exchanges beginning with an Opening Plenary on Monday, June 8. View the full schedule here.
Register today to sign up for individual sessions, meet-ups, and workshops! All are free to attend. If you have any additional questions, please view the following FAQ or contact the event organizers.
New Resources from the Center for Corporate Climate Leadership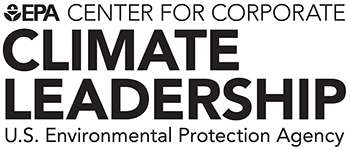 Recently the Center for Corporate Climate Leadership (the Center) released several new resources. Learn more below.
Updated Emission Factors Hub
In March 2020, the Center released an update to the GHG Emission Factors Hub, which provides corporate sustainability professionals with a regularly updated and easy-to-use set of default emission factors for corporate GHG accounting and management. It is highly valued and frequently downloaded. The March 2020 version includes updated emission factors for onsite, mobile combustion, and other factors derived from the U.S. GHG Inventory; business travel and product transport; and purchased electricity emission factors from EPA's Emissions & Generation Resource Integrated Database (eGRID). This version also includes new emission factors for waste generated in operations and from sold goods and services, which will support Scope 3 accounting.
Updated Profiles on F-GHG Emissions Reductions for Flat Panel Display Suppliers
In March 2020, the Center published its F‐GHG Emissions Reduction Efforts: FY2018 Supplier Profiles that tracks fluorinated greenhouse gas (F-GHG) emissions associated with manufacturing flat panel displays (e.g., LCD panels) that are used for many consumer products (e.g., TVs, computer monitors, smartphones). The profiles, now published for the eighth year, provide key insights to stakeholders and manufacturers in the electronics sector that engage suppliers to reduce embodied emissions from consumer products.
Corporate GHG Inventorying and Target Setting Self-Assessment
In April 2020, the Center released a Corporate GHG Inventorying and Target Setting Self-Assessment. This technical resource is designed to help companies evaluate their approaches to GHG inventorying and target-setting. It can be used as an internal communication and management resource and as a high-level benchmarking assessment.
Entry-level: Companies just beginning to address their GHG emissions can use this resource to identify inventorying and target-setting actions that reflect today's common business practices, and to create a roadmap for developing their own inventories and targets.
Intermediate: Companies that are further along can use this self-assessment to validate more advanced inventorying and target-setting behaviors that can help position them for more cost-effective GHG emission reductions.
Advanced: Leading companies can use this resource to validate their efforts and to explore implementing more innovative GHG management efforts.
An appendix detailing the data and methodology used for developing the overall insights and the self-assessment is also available on the Center's website.
Top Partner Rankings Updated April 27
On April 27, GPP released updates to its Top Partner Rankings, which feature Partner organizations leading the way with their use of green power.
With this update, Google holds onto the No. 1 spot on the National Top 100 with its green power use of nearly 7.5 billion kilowatt-hours (kWh). The four other Partners in the top five—Microsoft, Intel, Equinix, and Bank of America—also increased their overall green power use. New to the Top 100 list this quarter is Target Corporation. In total, the Partners featured on the Top 100 list use more than 58 billion kWh of green power annually. This amount of green power is enough to power more than 5.3 million American homes for one year and would require nearly 52,000 football fields covered with solar panels operating for a year to produce an equivalent amount of power.
Rochester Institute of Technology and City Colleges of Chicago appear on the Top 30 College & University list for the first time at No. 21 and 27, respectively. Arizona State University made a jump up the rankings, appearing on the Top 100 list at No. 46 and No. 2 on the Top 30 College & University list. General Motors also increased its rank on the Top 100 list to No. 12, and Unibail-Rodamco-Westfield appears for the first time on the Top 100 list at No. 74.
See what else changed on the Top Partner Rankings this quarter.
Green Power Partners in the News
Green Power Partners are helping to drive the expansion of the renewables market. Check out the articles and press releases below that highlight recent news.
GPP on Twitter
Our Partners are taking to Twitter to promote their green power use. Check out some recent posts: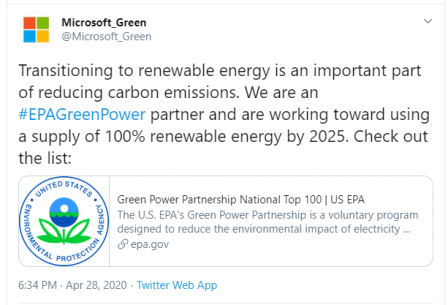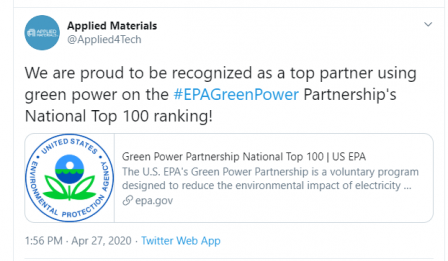 EPA at 50: Celebrating Green Power Partners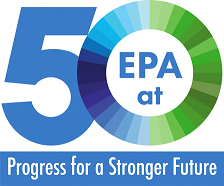 Did you know that this year is EPA's 50th birthday? Founded in December 1970, EPA is marking its 50th birthday with a year-long celebration. In June, EPA is honoring the partners across the country that make the Agency great. To celebrate, we are shining a spotlight on the Green Power Partnership's Founding Partners that joined in 2001 and have continued their commitment to using green power, increasing their green power use and winning Green Power Leadership Awards along the way.
3M / Austin, Texas Facilities
Batdorf & Bronson Coffee Roasters
City of Portland, Oregon
City of Santa Monica, California
Fetzer Vineyards
Interface, Inc.
Johnson & Johnson
National Renewable Energy Laboratory (NREL)
New Belgium Brewing Company
Steelcase Inc.
Special thanks to these Partners – the Green Power Partnership would not be here without you!
Welcome Rebecca Taylor to the GPP!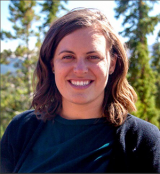 The Green Power Partnership is happy to announce that Rebecca Taylor has joined the team. Rebecca will oversee activities related to program communications and the Green Power Leadership Awards.
Rebecca came to the GPP after a stint in the Peace Corps in China and Liberia and earning her Master's Degree in Corporate & Marketing Communication. Please join us in welcoming her to the Green Power Partnership!