Power Partnership Program Updates Issue 66
Issue 66, October 2020
2020 Green Power Leadership Awards Announced
On September 22, the U.S. Environmental Protection Agency (EPA) announced its 20th annual Green Power Leadership Awards, recognizing 12 Green Power Partners across the country. This year's recipients are using approximately 11.7 billion kWh of green power, enough to power nearly 1.1 million average American homes for a year.
"The 2020 Green Power Leadership Award winners are leaders in spurring innovation and promoting growth in the U.S. renewable energy market," said Anne L. Austin, Principal Deputy Assistant Administrator of EPA's Office of Air and Radiation. "We commend their efforts, which help protect our environment and improve our air quality."
The award winners are being recognized for their efforts in advancing the nation's voluntary green power market. From using enough green power to meet 100 percent of electricity needs to signing long-term contracts that enable new green power project development, these organizations are demonstrating leadership by furthering the case for accessible, affordable green power use.
The winners for each of the four award categories are:
Sustained Excellence in Green Power Use
Partner of the Year
Excellence in Green Power Use
Direct Project Engagement
The Green Power Leadership Awards are sponsored by EPA's Green Power Partnership Program in collaboration with the Center for Resource Solutions.
Learn more about the EPA 2020 Green Power Leadership Award winners and read the EPA press release.
Green Power Partners in the News
Green Power Partners have a lot to brag about these days, and haven't hesitated to do so recently. Check out the articles below highlighting recent news.
GPP Featured on Social Media
Check out some social media posts celebrating our Award Winners!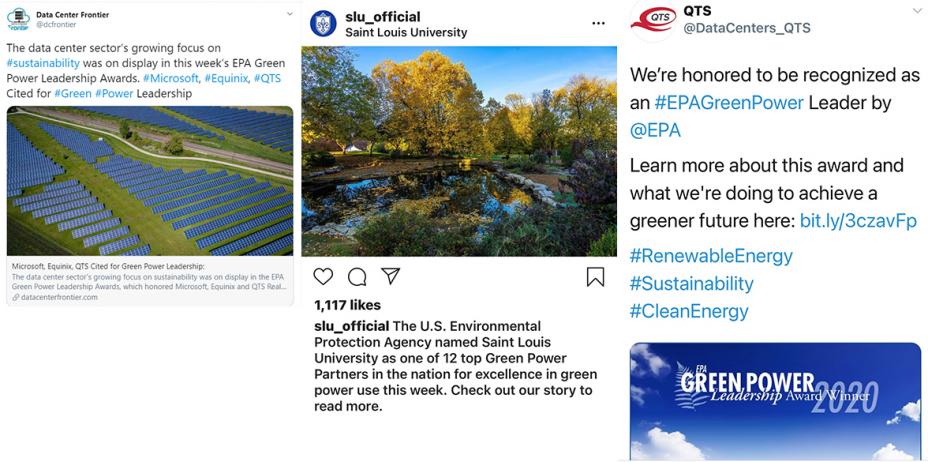 Renewable Energy Markets 2020
The 2020 Renewable Energy Markets (REM) held its virtual conference September 21-24 with more than 30 sessions, speakers, and focused breakouts sessions. REM™, celebrating its 25th anniversary, is the clean energy industry's annual event focused on the organizations, and households that choose clean, renewable electricity every day. EPA announced its 2020 Green Power Leadership awardees during the conference.
The agenda of the conference is located online and presentations from the event will be posted online. Plans are already underway for the Renewable Energy Markets 2021, scheduled September 26–28, 2021 at the Hyatt Regency Seattle.
Top Partner Rankings Updated
On October 19, GPP released updates to its Top Partner Rankings, which feature leading Partner organizations that use green power.
The October update of the Top Partner Rankings resulted in a few shake ups to the lists. On the National Top 100 list, BD climbed to the No. 34 spot (from No. 79 previously) with its more than 410 million kilowatt-hours (kWh) of annual green power use. Dell Technologies also jumped up the rankings, rising 12 spots to No. 36 on the National Top 100 list. New to the list are eBay, Inc. (No. 54), the County of Santa Clara, CA (No. 79), Brown-Forman Corporation (No. 82), and Novozymes / Headquarters and Franklinton, NC Production Facility (No. 84).
In total, the Partners featured on the Top 100 list use more than 61 billion kWh of green power.
See what else changed on the Top Partner Rankings in October.
EPA will update the Top Partner Rankings and Green Power Communities list again in January 2021.
Green Power Equivalency Calculator Updated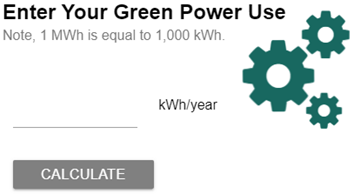 EPA recently updated its online Green Power Equivalency Calculator. The calculator can help you to better communicate your green power use to interested stakeholders by translating it from kilowatt-hours (kWh) into more understandable terms and concrete examples, such as the equivalent number of American homes' electricity use for one year. For more information on the calculations used to convert your green power electricity into various types of equivalencies, please see the calculations and references page.
Enter your total annual green power use (kWh) to see your results!
College & University Renewable Energy Leaders Highlighted in New Report
As schools kickoff another academic year, a new report by the Environment America Research & Policy Center highlights America's top colleges for renewable energy use in 2020. The report finds that the leading campuses across the nation are setting a strong example for other colleges- as well as other organizations- when it comes to clean energy and transitioning to 100 percent renewable energy. The report ranks campuses in three categories: shifting to renewable energy, improving energy efficiency, and adopting electric vehicles. The Green Power Partnership provided the majority of the metrics used to assess campus renewable electricity use.
Highlights of the report include:
Of 127 colleges that reported data to the GPP, an impressive 42 are now meeting at least 100 percent of their electricity needs with renewable energy generated by the university or purchased through power purchase agreements (PPAs) or renewable energy certificates (RECs).
More than 40 colleges and universities now obtain 100 percent or more of their electricity from renewable energy sources.
Seventy-six colleges are getting at least 50 percent of their energy from renewables.
Butte College was the first college campus in the country to become "grid positive" back in 2011, generating more electricity than it used, in large part thanks to the 25,000 solar panels that it operates.
Is your school ready to join EPA's Green Power Partnership?
Check out some of EPA's Partners:
See the EPA's Top 30 College & University Green Power Partners.
Upcoming Events
Renewable Thermal Collaborative Summit – November 9-10, 2020
The Renewable Thermal Collaborative is convening the first annual RTC Summit, the premier event dedicated to renewable thermal solutions. To be held virtually from November 9-10, 2020, the Summit is a unique opportunity to engage with RTC members and sponsors, and stakeholders from across the corporate, technology, finance, innovation, and policy sectors.
The conference will include a variety of panels featuring top experts and virtual networking opportunities to engage with other industry leaders. Highlights from the agenda will include in-depth discussions on:
The state of the renewable thermal market, including barriers and opportunities
The federal policy landscape and what still needs to be done
Current and emerging technologies, featuring various case studies from industry leaders
RTC site: https://www.renewablethermal.org/
Event site: https://web.cvent.com/event/bc7bd811-3e10-44e0-b5f0-326f20851224/summary
---
Green Power: Datacenter Supplier & Customer Opportunities
Join the U.S. Environmental Protection Agency (EPA) on November 12th, 2020 to learn about how data center providers and their customers are changing how the Internet of Things is powered!
This webinar will focus on the supplier and customer relationship in a Dallas-Fort Worth data center facility.
Learn from QTS Realty Trust, a leading data center solutions provider, about its experience developing renewable energy projects through innovative financing approaches (e.g., VPPA) to deliver zero emissions green power to its Dallas-Fort Worth data center.
Hear from IBM regarding its experience as a customer of data center services and how IBM is working closely with its data center service providers through innovative green leasing agreements to meet its company's goals to reduce the environmental impact of its data center operations.
Attendees will learn the following:
What is the opportunity that data center providers can play using green power?
How are companies working together in the data center industry to meet the collective goals of data center consumers?
What role does innovative project financing play in providing clean green power to both data center suppliers and customers alike?
Where is the market headed, and what can we expect from leaders in the datacenter space moving forward?
Speakers:
James Critchfield, Director- U.S. EPA, Green Power Partnership
Travis Wright, VP of Energy and Sustainability -QTS
Andres Rodriguez, Program Manager, Energy and Climate - IBM
New Report! ENERGY STAR® Commercial Buildings and Onsite Renewable Energy Report Now Available
Check out ENERGY STAR's new report, Commercial Buildings and Onsite Renewable Energy, the latest in its Portfolio Manager DataTrends series. It examines the use of onsite renewable energy among commercial buildings using Portfolio Manager—including their type, location, and energy performance—as well as how things have changed over the past decade.
In the report, EPA shares the results of an analysis of the data from more than 2,400 buildings who reported the used of onsite renewable energy in Portfolio Manager—EPA's online tool used by more than 300,000 commercial buildings to measure and track energy performance.
Key findings include:
The number of buildings reporting onsite renewable energy has increased nearly ten-fold in the past decade, now making up nearly 1% of all buildings benchmarking in EPA's tool.
They are spread around the country, most commonly in California, Colorado, New York, and New Jersey.
They are found on a range of building types, most commonly on retail stores, K-12 schools, and office buildings.
K-12 school buildings and worship facilities have the highest proportion of those with onsite renewable energy, at 2.4% of all such properties.
The majority of buildings meet 25% or less of their electricity needs from their onsite systems, although some, like warehouses, get more (50%) while others, like hospitals, get less (7%).
Most building owners and managers are interested in claiming the environmental benefits from their onsite renewable energy systems.
Read the report: www.energystar.gov/RenewablesReport.
A recent article in Church Executive highlighted the information from the report about the increased use of onsite renewables by worship facilities.
National Renewable Energy Laboratory Releases List of Top 10 Utility Green Pricing Programs
In September, the National Renewable Energy Lab (NREL) released its annual "Top 10" list (PDF) (69 pp, 900K) recognizing outstanding utility green pricing programs. Using information provided by utilities, NREL has developed "Top 10" rankings of utility green pricing programs for 2019 in the following categories: total sales, total number of customer participants, and participation rate (the percentage of utility customers that participated in green pricing programs).
More information about NREL's green power market research is available at: http://www.nrel.gov/analysis/green-power.html.