Interested in Promoting Green Vehicles?
Whether you're a private company, non-profit, state or local government, or just a citizen interested in promoting green vehicles, we encourage you to take a look at some of the initiatives and materials below. Perhaps you'll find some inspiration.
Together, we can make a difference by encouraging cleaner, more efficient transportation
Implement an Incentive Program
One easy, low cost way to encourage the purchase of more efficient cars and trucks is to provide an incentive to people who buy SmartWay vehicles. Take a look at a few incentive programs at work around the country:
Universities and Non-Profits –

Massachusetts Institute of TechnologyExitprovides parking permit discounts to students and employees who drive SmartWay Elite vehicles.
University of MontanaExithas a "Go Green" permit program that offers parking discounts to students driving SmartWay Elite vehicles.
The Cleveland Clinic provides financial and parking incentives to employees who purchase SmartWay vehicles for their personal use.

Municipalities – The City of Miami Beach provides discounts on parking permits for residents and at city garages for those who commute into the city if you drive a SmartWay vehicle.
Private Sector – Many companies have "greened their fleet" by requiring that the majority of company cars be SmartWay certified.
Lenders – City National Bank Exitand many credit unions like Tinker Federal Credit Union Exit offer a "Green Auto Loan" discount if you choose to buy a SmartWay vehicle.
Inspired? Contact us for advice or let us know if you start an incentive program. We appreciate your help spreading the word. You may even find your program on this page!
Educate Consumers
Promote Green Vehicles on Social Media or the Web
Provide bits of information from our Green Vehicle Guide website on social media postings or on your organization's website, along with these dynamic images (GIFs). Each image contains a link to related information on our website. Copy, post, pin, or link—Let consumers know the Green Vehicle Guide is here to help them!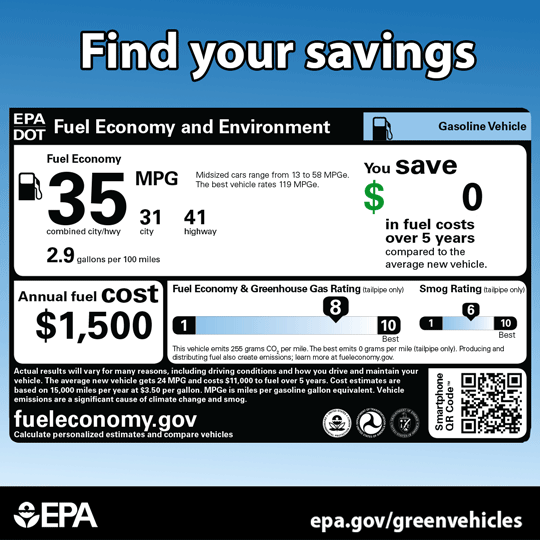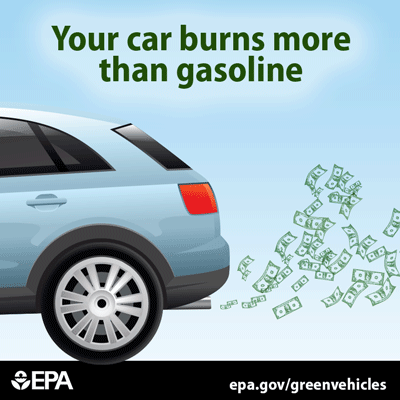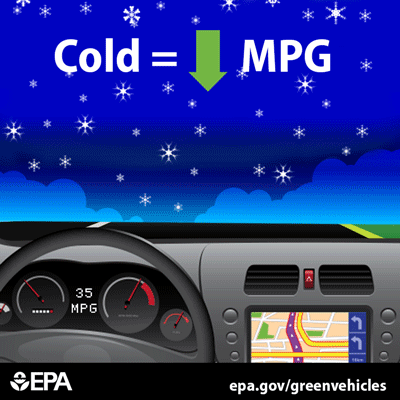 Develop Public Service Ad Campaigns
Our public service ad (PSA) campaigns encourage viewers to visit the Green Vehicle Guide to learn more about SmartWay vehicles and other cleaner, more efficient ways to get around.
Feel free to use these downloadable posters, which are suitable for use in newspapers, journals, magazines, websites, blogs, and other outlets.
Use Our Promotional Materials
We also have PSA print ads, radio/audio messages, brochures, fact sheets, bookmarks, and multimedia widgets. Go to our promotional materials page for details. 
PSAs in Action: Connecticut Leading the Way
Promoting SmartWay  vehicles and the Green Vehicle Guide are an important part of Connecticut's 2013 Energy Strategy. They include SmartWay content and links on their climate change web page, and also display SmartWay posters at DMV offices, as well as driving schools across the state.