Learn About Green Vehicles
What Makes a Vehicle Green?
EPA developed the Green Vehicle Guide to help you find information on vehicles that are more efficient and less polluting.
Vehicles that operate primarily on gasoline or diesel have historically accounted for over 99% of cars and passenger truck sales. However, sales of cars that operate on other fuels — particularly electricity — are growing. New models of both electric vehicles and plug-in hybrid electric vehicles are entering the market in increasing numbers each year. Other alternative fuel vehicles include those that run on compressed natural gas (CNG) or E85 (a mixture of about 85% ethanol and 15% gasoline).
Many alternative fuels "burn" cleaner than gasoline or diesel so there are fewer tailpipe emissions. The amount of greenhouse gases (GHG) emitted when the fuel is produced depends on the source of the fuel — see GHG Emissions for more information. These fuels can also be produced domestically, reducing our dependence on imported petroleum. In addition, reducing vehicle emissions and increasing your fuel economy helps the environment and your wallet.
What Are My Options?
Curious about the new vehicle technologies and fuels available today? Click on the tabs below to learn more about the different fuels that power cars.
---
*The sources displayed above are not intended to cover all possible feedstocks, or sources, nor do they reflect equal fractions of fuel production.
---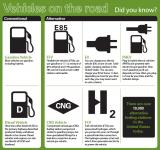 Download a vehicle fuels infographic
Text-only version of vehicle fuels infographic
GHG Emissions
Beyond Tailpipe Emissions Calculator
Many of these fuels, depending on how they are produced, reduce overall emissions of CO2 into the atmosphere relative to gasoline. In fact, operating a vehicle exclusively on electricity or hydrogen releases no harmful GHG emissions from your vehicle's tailpipe! The amount of GHGs emitted when the fuel is produced depends on the source of the fuel. For example, generating electricity from coal creates far more emissions than electricity generated from renewable sources like wind. Learn more about emissions associated with electric vehicles.
Want to Know More?
DOE's Alternative Fuels Data Center provides information on the basics, benefits and considerations, station locators, compatible vehicles, and financial incentives for various fuels.
Visit Alternative Fuels and E85 for more information about alternative fuels and vehicles.
For basic fact sheets on E85 and biodiesel, see:
Renewable Fuel Standard (RFS)
EPA is responsible for developing and implementing regulations to ensure that transportation fuel sold in the U.S. contains a minimum volume of renewable fuel. Visit EPA's Renewable Fuels Standard site for more information.
Learn More