Shared Mobility
The world of transportation is changing quickly! With the advent of smartphones, many new mobility options have emerged. These new transportation options fall under the "shared mobility" category, which means that (as you may have already guessed) the transportation service is shared among users. Public transit and traditional carpooling and vanpooling are the original forms of shared mobility. Some of today's new shared mobility options are carsharing, ridesourcing, and microtransit, as well as micromobility (transportation modes smaller than a car), such as bikesharing and shared scooters. Reservations, access (e.g., unlocking/locking a shared bike), real-time location tracking, and payment can all be done via apps on your smartphone or computer.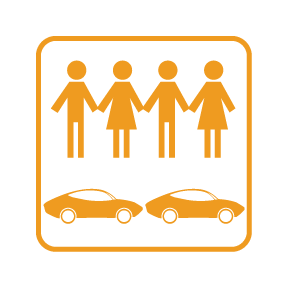 Carsharing is a service that allows you to rent a car for hours to days. Some companies allow only roundtrips, in which you must pick up and return the car at the same spot, while others allow one-way trips. You usually will pay a fee to rent the car (and often an annual membership fee), and the carsharing operator will cover gas, insurance, maintenance, and parking (if the car needs to be picked up from or returned to a garage). Typically, carsharing vehicles are scattered throughout a city, rather than being in one centralized area like a rental car service.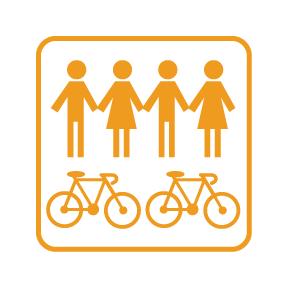 Micromobility is a category of transportation modes smaller than a car, like bikes and electric scooters. Like carsharing, bikesharing is a short-term rental service, typically for periods of an hour or less. Bikesharing services are either docked, which means you pick up a bicycle at a specific station and return it to another (or the same) station, or free-floating (a.k.a. dockless), which allows you to park the bicycle anywhere safe and legal. Shared scooters operate similarly and are generally free-floating.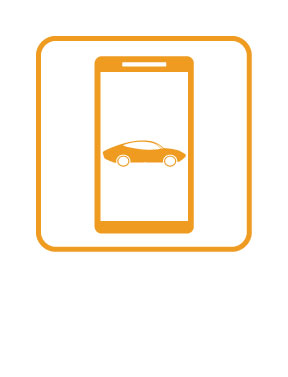 Ridesourcing (a.k.a. ridehailing) is one of the most common types of shared mobility. You request a ride through an online platform, typically a phone app, which then pairs you with a driver; payments and feedback also occur through the online platform. Companies providing these services are sometimes called transportation network companies (TNCs). Ridesourcing also may include ridesplitting (a.k.a. pooling), in which you can choose to share your ride with other customers going in the same general direction, at a reduced cost. Often, drivers use their own personal vehicles, but some companies provide vehicles for drivers to rent. Some taxi services also have ridesourcing apps.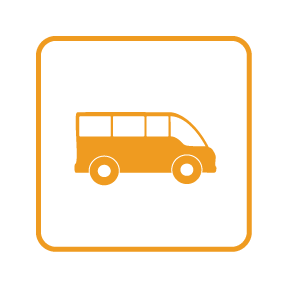 Microtransit may not be a term you've heard yet, but it's gaining in popularity. Rides are shared with other passengers in large SUVs, vans, or shuttle buses, and can have either fixed routes and schedules or flexible, dynamic routes and on-demand scheduling. Such rides are usually limited to a fixed service area. Even with flexible routes, however, you may be required to walk a short distance both to a nearby pickup point and from the drop-off point to your destination.
Shared mobility is changing how people get around, but the environmental impact of many of these new trends remains uncertain. EPA is engaged in shared mobility research, and in tracking the impacts of state and local policies and regulations, to better understand what contributes to a cleaner transportation system.