This Memorandum of Understanding on Reducing Lead Levels in Drinking Water in Schools and Child Care Facilities represents an unprecedented partnership to focus attention on testing for lead in drinking water for schools and child care facilities between:
and
The signatories have agreed to encourage schools and child care facilities to take action. Actions include testing drinking water for lead; disseminating results; and taking appropriate and necessary steps to correct problems. The signatories also agree to encourage PWSs to assist schools and child care facilities in understanding and reducing lead exposure from drinking water.
"The Trump Administration is prioritizing efforts to identify and reduce lead contamination while ensuring children impacted by lead exposure are getting the support and care they need," said EPA Administrator Andrew Wheeler. "This MOU supports our Lead Action Plan and shows our commitment to work with federal and non-federal partners to 'get the lead out' of drinking water to the greatest extent possible."
"CDC is committed to preventing childhood lead exposure before harm occurs. Partnership is critical in our commitment to help address the ongoing threat of lead in the environment and improving health outcomes for our nation's most vulnerable citizens – our children." - Patrick Breysse, PhD, CIH, Director of the CDC's National Center for Environmental Health
"My priority is for our BIE students to receive a quality education and study in safe facilities and environments, one critical environmental factor is safe drinking water. Indian Affairs is actively working to ensure that children in our schools are provided with safe drinking water." - Tara Sweeney, Assistant Secretary- Indian Affairs    
"ASDWA's members will be on the front lines in working with state public health and education agencies on lead testing in schools and child care centers, which is the first step to reducing lead exposure in these facilities. ASDWA, whose role it is to convene state drinking water agencies together to tackle common drinking water issues is well qualified and positioned to help, and we're very eager to get started." - Alan Roberson, Executive Director, Association of State Drinking Water Administrators (ASDWA)
"The American Water Works Association continues to be committed to assisting schools and childcare facilities in protecting children from the risk of lead in drinking water. We are pleased to collaborate with U.S. EPA and the many partners in this MOU to encourage strong protections today as we work for a future when lead is no longer in contact with water in our communities." - David LaFrance, CEO, American Water Works Association (AWWA)
"Water is sacred in all forms and especially with regard to the water we provide to our children. By collaborating with federal agencies and nonprofit organizations, we will maximize our efforts toward bringing safe drinking water to schools nationwide," stated Maria Dadgar, Executive Director, Inter Tribal Council of Arizona (ITCA),"It is a necessary and honorable objective to work on this initiative. We look forward to having access to resources and tools for improving water quality for American Indian and Alaska Native children and beyond."
"Children are precious and are the future of our people, carrying with them the prayers and hopes of seven generations. Their safety and well-being are paramount to our continued perseverance as a people. Accordingly, we are committed to support our USET member Tribal nations to eliminate lead exposure from all sources, considering that there is no known level of lead exposure that is considered safe. We understand that young children are especially vulnerable to the toxic effects of lead and can suffer profound and permanent adverse health effects.  We are pleased to partner with many agencies and organizations to reduce children's exposure to lead from drinking water at schools and child care facilities."- Chief Kirk Francis, Penobscot Indian Nation, President of United South Eastern Tribes (USET)
"American Metropolitan Water Agencies (AMWA) is proud to be a partner in finding creative solutions to reducing lead exposure from drinking water in our schools and childcare facilities." - Diane VanDe Hei, Chief Executive Officer, Association of Metropolitan Water Agencies (AMWA)
"The Rural Community Assistance Partnership (RCAP) is honored to be a part of the MOU focused on Reducing Leading Levels in Drinking Water in Schools and Child Care Facilities," said RCAP, CEO Nathan Ohle. "RCAP partners across the country see the impact this work has on children in rural communities across the country and are dedicated to working with our rural communities to encourage lead testing, disseminate information to stakeholders, and overall reduce children's exposure to lead in their drinking water."
"While America's drinking water is very safe and the occurrence of lead in drinking water is rare, we want to stay vigilant in protecting the children in our schools and child care facilities from any potential occurrence of lead in drinking water," National Rural Water Association (NRWA) Deputy CEO Matthew Holmes stated. "Rural and small communities are committed to collaborate with our federal partners, especially the U.S. Environmental Protection Agency and USDA Rural Development, to implement the national 3Ts initiative to help empower the public on exactly how to protect schools and child care facilities from possible drinking water lead contamination.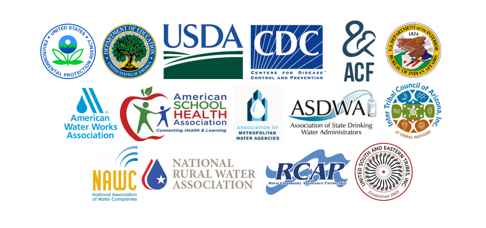 You may need a PDF reader to view some of the files on this page. See EPA's About PDF page to learn more.