EPA Lead (Pb) Research: Protecting Children's Health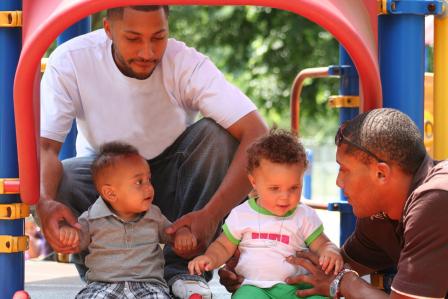 Reducing lead exposure to children has been a top EPA priority since its establishment in 1970, and the Agency's research program has played a critical role providing the scientific foundation for actions that have dramatically lowered blood levels in children. But that work is not complete. Agency researchers continue to partner with those working to reduce lead wherever children may encounter it in their environment. Examples of how EPA research helps protect the health of children around the nation are highlighted below.
Research to Support Federal Lead Action Plan
EPA, the Department of Health and Human Services (HHS), and the Department of Housing and Urban Development (HUD), are the primary federal agencies responsible for implementing Goal 4 of the Federal Action Plan to Reduce Childhood Lead Exposures and Associated Health Impacts: Supporting and Conducting Critical Research to Inform Efforts to Reduce Lead Exposures and Related Health Risks.
In that regard, EPA researchers are: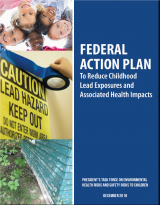 Developing, enhancing, and applying data, tools, and models to determine the key drivers of blood lead levels from environmental exposures. The work is strategically designed to provide data and other resources in ways that directly inform regulatory decisions and site assessments.
Creating a new generation of data-based maps and mapping tools to identify communities with high lead exposure. The work will help the Agency target efforts to reduce children's blood lead levels where they are needed most.
Reducing uncertainty in lead modeling and mapping by filling current scientific data and information gaps. The work will support the development of exposure and risk analyses estimates of population-wide health benefits of lead reduction actions.
Identifying and developing communications and other approaches that will prevent and mitigate lead exposures and risks in exposed communities.
Evaluating the effectiveness of actions (e.g., interventions, programs, policies, communication strategies, enforcement) designed to prevent lead exposure and mitigate related risks and health effects.
Improving drinking water quality across the United States, in collaboration with states, tribes, and municipalities, by:

Developing methods to help communities to locate lead service lines.
Evaluating corrosion control treatments for water systems that still have lead service lines or plumbing fixtures containing lead to help reduce the amount of lead leaching into drinking water. 
Providing technical support by reviewing corrosion control plans and providing recommendations to municipalities that have identified issues in their water distribution systems.
Read the "Science Matters" story A Year in Review: Progress on the Research Goal of the Federal Lead Action Plan.

Learn more about the Federal Action Plan to Reduce Childhood Lead Exposures and Associated Health Impacts. 
Learn more about Goal 4 implementations.
EPA-Supported Children's Research Centers Help Communities Tackle Lead
Together with the National Institute for Environmental Health Sciences (NIEHS), EPA established and jointly funded a network of Children's Environmental Health and Disease Prevention Research Centers. Between 1997 and 2014, they awarded 46 grants to 24 centers through a competitive process. The cumulative results have proved vital to demonstrating and halting the detrimental health effects of lead exposure to children at low levels. The centers have created knowledge essential for effective action and made use of existing knowledge to reduce lead exposure and protect children's health. Examples include:
EPA cited nearly 40 Children's Centers publications in its Integrated Science Assessment (ISA) of Lead in 2013, which serves as the scientific foundation for establishing National Ambient Air Quality Standards (NAAQS) for lead.
Several Children's Center studies provided evidence for a causal relationship between lead and the following effects observed in children: impaired cognitive function, poor fine motor skills, increased risk for criminal behavior, and altered brain structure and function.
The University of Michigan Children's Center collaborated with the Flint Water Task Force to create a training for community members and health workers who provide nutrition education to the community. The training provides nutritional information and guidance on nutrients and culturally relevant foods to reduce lead absorption in young children.
Reducing Children's Lead Exposure in Omaha, Nebraska
EPA researchers collaborated with the Douglas County Health Department to gather available information on lead exposure to young children for a large residential area in Omaha, Nebraska located near what was once the American Smelting and Refining Company. A preliminary analysis found that blood-lead levels in local children dramatically decreased over time as a result of several factors, including soil remediation. They are now working to evaluate the contribution that soil remediation had on the blood lead level decrease.
Read more in Reducing Children's Lead Exposure in Omaha, Nebraska.
EPA Research on Superfund Cleanups and Blood Lead Levels
EPA's National Center for Environmental Economics and Office of Land and Emergency Management have compiled a dataset that links two decades of blood lead level measurements from children in six states with EPA data on the location and characteristics of Superfund sites, as well as other determinants of lead exposure. The investigation uses advanced statistical methods to identify the relationship between proximity to Superfund cleanups and rates of elevated blood lead levels.
Preliminary results of the research indicate that Superfund cleanup lowered the risk of elevated blood lead levels by roughly 8 to 18% for children living within 2 kilometers (1.24 miles) of a Superfund National Priorities List (NPL) site where lead is a contaminant of concern.
Learn more about the Superfund cleanups and children's lead exposure.