Waste Management Decision-Making Process During a Homeland Security Incident Response
Although each incident response is different, many waste management-related issues and decisions are similar from incident to incident. The waste these incidents generate will require a comparable decision-making process regarding how the waste should be managed during and after the response. Typical waste management-related decisions include how waste can be minimized, collected and treated, as well as where waste can be sent for staging, storage or final disposal. Pre-incident waste management planning can help facilitate this process during and after an incident by providing preliminary information on how waste generated by an incident may be managed, although the needs and details of the incident response should guide the specifics of the decision-making process.
On this page:
---
All-Hazards Waste Management Decision Diagram for Homeland Security Incidents
EPA developed a flow chart that demonstrates the waste management decision‐making process during a response to and recovery from an incident. The flow chart has been divided into three stages - initial activities, on‐site activities and off‐site activities – at which waste management decisions are typically made during an incident, regardless of the specific nature of the incident. Many of these waste management considerations and decisions are part of every response. Having an understanding of the various waste management‐related considerations and decisions involved, and incorporating them into planning, can help expedite the cleanup process and help minimize costs during an incident, enhancing communities' resiliency.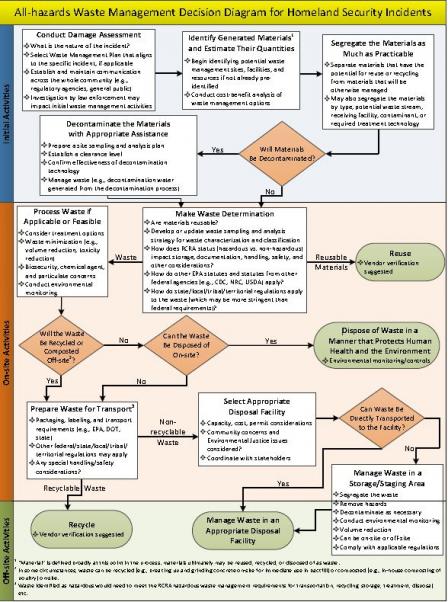 ---
Considerations for Managing Waste from Homeland Security Incidents
Throughout an incident response, communities may encounter many issues and considerations during waste management activities. Thinking through these issues when writing a waste management plan can positively affect the efficiency and effectiveness of a response and recovery. For example, the amount of times waste is handled, the number of transporters needed, waste management sites and facilities needed, the cost and environmental impact of the incident and the recovery timeline could all be minimized through thorough and detailed planning prior to the incident. Each step of the decision-making process influences others, requiring a holistic systems approach.
Below are questions that emergency planners, managers and responders should consider during a homeland security incident response: