Hazardous Waste Recycling
EPA developed the hazardous waste recycling regulations to promote the reuse and reclamation of useful materials in a manner that is safe and protective of human health and the environment. A hazardous waste is recycled if it is used, reused, or reclaimed.
On this page:
---
What is Hazardous Waste Recycling?
A hazardous secondary material is recycled if it is used or reused (e.g., as an ingredient in a process), reclaimed, or used in certain ways including used in a manner constituting disposal and burned for energy recovery.
A material is reclaimed if it is processed to recover a usable product or if it is regenerated (e.g., regeneration of spent solvents).
A material is used or reused if it is either employed as an ingredient in an industrial process to make a product (e.g., distillation bottoms from one process used as feedstock in another process) or if it is employed as an effective substitute for a commercial product (e.g., spent pickle liquor used as a sludge conditioner in wastewater treatment).
"Use constituting disposal" is recycling that involves the direct placement of wastes or products containing wastes (e.g., asphalt with petroleum-refining wastes as an ingredient) on the land. "Burning for energy recovery" is recycling that involves burning a hazardous waste for its fuel value (either directly or when it is used to produce a fuel).
---
What are the Benefits of Recycling Hazardous Waste?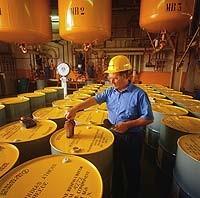 Hazardous waste reuse, recycling, and reclamation can avoid environmental hazards, protect scarce natural resources, reduce the nation's reliance on raw materials and energy and provide economic benefits.
Environmental Benefits
There are several, interrelated environmental benefits of recycling hazardous waste including:
reducing the consumption of raw materials,
reducing pollution,
reducing energy use and
reducing the volume of waste that must be treated and disposed of.
The extraction, refining, transportation and processing of new raw materials can have a significant impact on the environment. Recycling hazardous waste can mean less air, water, and soil pollution associated with these practices.
Also, recycling can reduce emissions of greenhouse gases (GHGs). When hazardous wastes are recycled, less energy is needed to obtain raw materials and to manufacture products. When energy demand decreases, fewer fossil fuels are burned and less GHGs are emitted into the atmosphere, which can help lessen the impacts of climate change and decrease air pollution.
Finally, by recycling hazardous wastes, less hazardous waste is sent for treatment and disposal. This means less need for hazardous waste landfills and incinerators, as well as a decrease in energy used for those systems, which leads to less pollution.
Economic Benefits
Hazardous waste recycling is not only good for the environment, but can benefit an organization's bottom line. Recycling hazardous waste can increase production efficiency and reduce costs associated with purchasing raw materials and waste management. By recycling hazardous materials, a business may be able to eliminate the generation of hazardous waste and avoid RCRA regulatory requirements altogether. A business may also benefit from the positive or "green" image associated with hazardous waste recycling efforts For example, a company who values strong corporate stewardship can increase goodwill with shareholders and consumers and further distinguish itself from its competitors.
---
How Much Hazardous Waste is Recycled in the United States?
EPA and states collect and report data on hazardous waste recycling as part of the National Biennial Report, which provides data on the generation, management, and final disposition of hazardous wastes regulated under RCRA. In 2017, over 1.5 million tons of hazardous wastes were managed by recycling (metals, solvent, or other recovery). Further breakdown of this statistic can be found in the Recyclers of Hazardous Waste report of RCRAInfo Web. The report also breaks this information down by state.
It is important to note that the National Biennial Report only captures regulated hazardous waste recycling. Hazardous waste that is excluded from regulation because of recycling exemptions or exclusions are not counted in the report. Additionally, it only captures information from those who report to the Biennial Report (e.g., large quantity generators and treatment, storage and disposal facilities).
---
How is Hazardous Waste Recycling Regulated?
The level of regulation that applies to recycled materials depends on the material and the manner in which a material is recycled.
---
Resources
EPA provides multiple resources on hazardous waste recycling including: