Table Noting Which States Have Hazardous Waste Generator Categories That Are the Same as the Federal Categories and Which Have Different Categories
EPA established basic hazardous waste management standards for businesses who produce hazardous waste and categorized these businesses based on the volume of hazardous waste produced in a calendar month. On the federal level, there are three generator categories:  very small, small and large quantity generators. 
Some states are authorized to establish generator categories that are different from those that federal EPA set up. To help current and potential hazardous waste generators follow the regulations in their state, below EPA lists the states that have regulations that differ from the federal regulations and which states have the same generator categories. EPA also lists links to rules or guidance for those states that have different regulations.
This list does not take into account differences in state accumulation limits, or generation rates for spill residues or contaminated media. Please check with your state for a complete list of requirements for hazardous waste generators.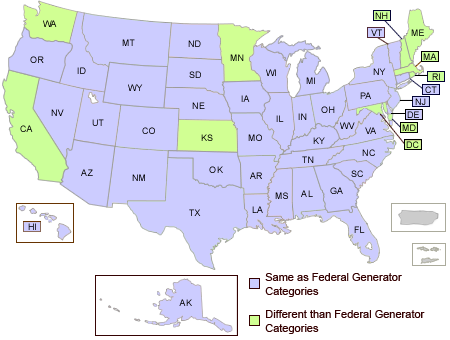 Table Noting Which States Have Hazardous Waste Generator Categories that Are the Same as the Federal Categories and Which Have Different Categories