Cargill, Eddyville Facility - 2019 P2 Awardee
Eddyville, Iowa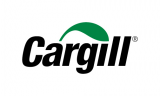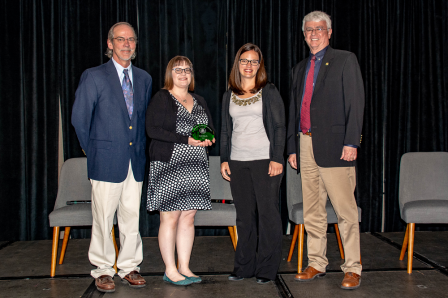 Mike Petefish, Business Unit Environmental Coordinator, Rachael Robertson, Regional Natural Resources Manufacturing Technology Engineer, and Kim Sullivan, Engineer III, Eddyville Plant Operations, accept a 2019 P2 Award from EPA Region 7 Administrator Jim Gulliford. (Click to enlarge)Cargill, Eddyville is a corn milling facility. In April 2016, Cargill joined the North American Energy Management Pilot Program, an initiative designed to help companies implement ISO 50001 standards to cut energy costs and reduce greenhouse gas emissions that drive climate change. As one of Cargill's largest energy consumers, the Cargill, Eddyville facility was tapped to go first to pursue the certification.
Cargill, Eddyville achieved certification for ISO 50001 in April 2018. ISO 50001 is based on the management system model of continual improvement. This makes it easier for organizations to integrate energy management into their overall efforts to improve quality and environmental management.
ISO 50001:2018 provides a framework of requirements for organizations to:
Develop a policy for more efficient use of energy

Fix targets and objectives to meet the policy
Use data to better understand and make decisions about energy use
Measure the results
Review how well the policy works
Continually improve energy management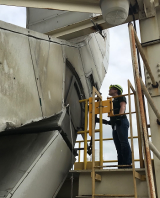 Drying systemImplementation of ISO 50001 at the Eddyville facility will also support Cargill corporate goals in greenhouse gas reduction by a minimum of 10% by 2025 against a fiscal year 2017 baseline, and an overall improvement in energy performance of 5% against a fiscal year 2015 baseline. After one year of implementation, the facility is not only operating more efficiently, but it's reduced its greenhouse gas emissions by nearly 15,000 metric tons. This is equivalent to taking 3,200 U.S. cars off the road or eliminating the use of electricity for 2,200 homes for one year.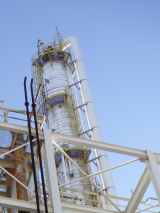 Distillation areaThe two areas of the facility most impacted by this new comprehensive approach were a drying system and a distillation area. After implementation of ISO 50001, these two areas alone witnessed a reduction in energy use, realizing savings of hundreds of thousands of dollars annually.
The facility has an energy policy that is a controlled document. In terms of employee engagement, operations staff are able to monitor energy consumption in real time and receive alerts to help focus efforts in maintaining goals and adjusting facility equipment to meet energy goals. All facility personnel (including contractors) are encouraged to submit energy saving ideas in a variety of ways, including verbally and online.
Due to the success of this project, Cargill now has four additional facilities working towards ISO 50001 certification, with a goal of having nine facilities across the U.S. and Brazil completed by the end of 2020.