Coordinator's Guide for Indoor Air Quality: Section 1
A Guide to Implementing an IAQ Program
Section 1: IAQ Tools for Schools Program and Kit Overview
Note: A PDF version of this publication is available.
Section 1: IAQ Tools for Schools Program and Kit Overview
The U.S. Environmental Protection Agency (EPA) created the Indoor Air Quality Tools for Schools Program to help schools assess and improve indoor air quality (IAQ). IAQ is becoming an increasingly important issue in our nation's schools. Approximately 20 percent of the U.S. population — nearly 56 million people — spend their days inside elementary and secondary schools. Good IAQ assists schools with their core mission — educating children. The background information and activities in this voluntary program are directed toward existing schools in the kindergarten through twelfth grade range, but other institutions that could benefit by applying the principles and activities presented include:
Colleges
Universities
Preschool
Day-care centers
In addition, architects and engineers could apply many of these principles when planning new schools or major renovations. For additional information on designing healthy learning environments for the next generation, visit EPA's Indoor Air Quality Design Tools for Schools.
The IAQ Tools for Schools Program, which can be implemented at a school or district level, provides a variety of resources including this IAQ Tools for Schools Action Kit and a variety of publications and brochures on the program and various IAQ-related topics. The annual IAQ Tools for Schools National Symposium brought together:
School board officials
Administrators
School nurses
Teachers
Facility managers
School and health association members
Parents and others
to learn how to develop and implement good IAQ practices in schools. As part of the Awards Program, EPA held a ceremony at the Symposium to provide national recognition to schools and districts committed to improving IAQ and implementing an IAQ Management Plan.
This Action Kit provides clear and easily-applied guidance that will help schools develop and implement an IAQ Management Plan, identify and resolve existing IAQ issues and prevent future IAQ problems. For questions on indoor air quality, look through our Frequently Asked Questions. A number of resources and publications provide additional guidance and information for schools interested in improving their IAQ.
---
Implementing the IAQ Tools for Schools Program
Individual schools and school districts can implement an IAQ Tools for Schools Program. Although many of the steps are similar, there are a few notable differences.
Individual Schools. To develop and implement an IAQ Tools for Schools Program, individual schools should take the following 11 steps:
Familiarize yourself with IAQ issues and the IAQ program. Review the IAQ Tools for Schools Action Kit and watch the Taking Action & Ventilation Basics Video and the IAQ Walkthrough Video.
Select an IAQ Coordinator to oversee your school's IAQ program.
Form an IAQ Team with representatives from various groups within the school.
Gather information on IAQ in the school through research.
Distribute and complete the IAQ Tools for Schools checklists.
Review the IAQ Tools for Schools checklists and list identified problems.
Complete a walkthrough inspection of the school.
Identify, prioritize and resolve problems, focusing first on health and safety and low-cost solutions.
Establish appropriate IAQ policies and develop an IAQ Management Plan for your school (see Section 3 of this Guide for a model plan).
Follow-up with inspections and assess your problem-solving performance. Develop a schedule for IAQ events and file all IAQ information. Also, communicate success of your IAQ efforts and serve as a mentor for other schools.
School Districts. Districts interested in implementing an IAQ Tools for Schools Program need to follow the same general steps as individual schools, with the following variations:
When the district selects an IAQ Coordinator to function at the district level, it is important to designate IAQ contacts for each school within the district. (Larger districts with numerous schools may prefer to have regional contacts.)
The district IAQ Coordinator should meet regularly with the school or regional contacts to keep everyone up to date on the progress of the IAQ program.
The IAQ Team is also at the district level and should represent a wide variety of backgrounds, including at least one individual with the authority to make district-wide decisions. In addition, individual schools can form IAQ teams.
When assessing school buildings throughout the district, the IAQ Team will prioritize schools, completing walkthroughs at schools with more pressing IAQ problems first.
The Team should ensure that IAQ policies and improvements are implemented consistently throughout the district and should also communicate the importance and successes of the district's IAQ efforts.
Districts can successfully implement the Action Kit in many ways.
---
Importance of an IAQ Management Plan
A well-designed IAQ Management Plan yields substantial benefits for schools, employees and students. Using this plan can also reduce or avoid the expensive process of investigating and mitigating suspected IAQ problems.
A typical school contains a variety of special use areas such as:
Kitchens
Locker rooms
Science laboratories
Technology education rooms
Darkrooms
Art rooms
Cleaning storage areas
Grounds maintenance storage areas
each with pollutant sources that can cause discomfort and health problems. Under detailed inspection, most schools will reveal some inadequacies of:
Design
Construction
Operation
Maintenance
Significant IAQ problems often arise from a combination of common minor problems, rather than from unique circumstances. For example:
A school is not getting enough outdoor air because a fan belt is broken or slipping and a seldom used drain trap dries out, resulting in sewer gases being drawn into the school.
The design of the school ceiling/roof allows significant air leakage through unintentional openings and stack effect (warm air rising) pushes indoor air out through these openings, causing radon to be drawn into the school through cracks and utility penetrations in the floor.
A housekeeping product is mixed at twice the recommended strength so it "does a better job" and the unused mix is placed in an inappropriate container and stored in a utility closet that is connected to the return air ductwork, which carries pollutants to other parts of the school.
IAQ problems may occur even in schools where a conscientious effort is being made to avoid such problems. Schools that can demonstrate ongoing efforts to provide a safe indoor environment, however, are in a strong legal and ethical position if problems do arise. Further considerations for instituting an IAQ Management Plan include:
Quick, cost-effective response if problems occur.
Peace of mind for parents, students and staff.
Occupant comfort, efficiency and durability of the physical plant and equipment.
Reduced need for crisis intervention involving upper-level management.
---
The IAQ Tools for Schools Action Kit
The Action Kit consists of:
A Road Map
Two guides
Various checklists
A problem-solving wheel
Background information on IAQ
A fact sheet on district-wide implementation
Videos
A companion piece on managing asthma in schools
This Guide, the IAQ Coordinator's Guide: A Guide to Implementing an IAQ Program, provides in-depth guidance for schools and districts just beginning their IAQ programs. This Guide describes how to launch, develop and implement a comprehensive IAQ program and highlights tips for schools and school districts. The IAQ Coordinator may find the simple steps presented in the Road Map helpful for implementing an IAQ program. The IAQ Reference Guide contains useful background information on the importance of IAQ as well as guidance on diagnosing and solving IAQ problems, effective communication and several important IAQ topics including:
Radon
Asthma
Mold
Secondhand smoke
In addition, there is a list of useful resources included in Appendix L of the IAQ Reference Guide, including resources available through:
States
Regions
Non-profit organizations
Associations
Unions
As well as a list of publications for various IAQ topics
The various checklists, accompanied by the IAQ Backgrounder, should be distributed to and completed by various school staff. In order to solve IAQ problems and learn more about the IAQ program and its benefits, schools will find the following resources helpful.
Although not included in this Action Kit, other valuable resources include the IAQ Tools for Schools Communications Guide [EPA 402-K-02-008], January 2003.
---
Why Follow This Guidance?
There are many important reasons to implement this guidance:
Save Money — The expense and effort to prevent most IAQ problems are typically much less than the expense and effort to resolve problems after they develop.
Utilize in-house staff — Schools can prevent many IAQ problems by educating staff and students about the factors that create them. When IAQ problems do arise, they can often be resolved using skills available in-house.
Work effectively with contractors or professionals — If you need outside assistance to solve an IAQ problem, being an informed customer will achieve the best results.
Improve IAQ — Some of the suggested practices and policies will not only help prevent problems but will also result in improved air quality in and around the school.
Refer to the Indoor Air Quality Reference Guide, for more information on the benefits of maintaining good IAQ.
IAQ Tools for Schools Action Kit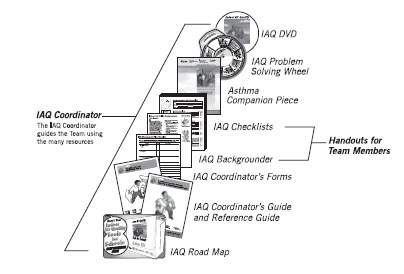 IAQ Checklists and Topic Backgrounders
EPA has designed 11 checklists to engage school staff and key stakeholders in the process of school inspections and sustaining an IAQ management program. Each checklist is accompanied by a Checklist Backgrounder that describes the purpose of the specific checklist. Checklists and Backgrounders are available for:
Teachers
Administrative staff
Health officials/school nurses
School officials
and for specific school functions, including:

Building maintenance
Food service
Waste management
Ventilation
Renovation and repairs
Walkthrough inspections
and pest management
Some Checklists are available in Spanish. Checklists may be downloaded in MS Word format and tailored or updated to reflect activities at a particular school.
---
Disclaimer
Any information gathered using this Action Kit is for the benefit and use of schools and school districts. EPA does not require retention or submission of any information gathered, and EPA has no regulatory or enforcement authority regarding general indoor air quality in schools. This Action Kit has been reviewed in accordance with EPA's policies. Information provides the current scientific and technical understanding of the issues presented. Following the advice given will not necessarily provide complete protection in all situations or against all hazards that may be caused by indoor air pollution.
Mention of any trade names or commercial products does not constitute endorsement or recommendation for use.
Warning
Please note the following as you prepare to use this Action Kit:
This Action Kit is not intended as a substitute for appropriate emergency action in a hazardous situation that may be immediately threatening to life or safety.
Modification of building functions, equipment, or structure to remedy air quality complaints may create other indoor air quality problems and may impact life-safety systems and energy use. A thorough understanding of all the factors that interact to create indoor air quality problems can help avoid this undesirable outcome. Consult with professionals as necessary.
In the event that medical records are used while evaluating an IAQ problem, maintain confidentiality.
Reproduction
This Action Kit contains public information that may be produced or modified in whole or in part without permission. If the Action Kit or its contents are reproduced or modified, EPA would appreciate knowing how it is used. Please write to: IAQ Tools for Schools Program, Indoor Environments Division, U.S. Environmental Protection Agency, 1200 Pennsylvania Ave., NW, Mail Code 6609J, Washington, DC 20460
For more information, see Indoor Air Quality.
---
U.S. Environmental Protection Agency
Indoor Environments Division, 6609J
1200 Pennsylvania Ave., NW
Washington, DC 20460
(202) 343-9370
American Federation of Teachers Exit
555 New Jersey Ave., N.W.
Washington, DC 20001
(202) 879-4400
Association of School Business Officials Exit
11401 North Shore Drive
Reston, VA 22090
(703) 478-0405
National Education Association Exit
1201 16th Street, N.W.
Washington, DC 20036-3290
(202) 833-4000
National Parent Teachers Association Exit
330 North Wabash Avenue, Suite 2100
Chicago, IL 60611-3690
(312) 670-6782
American Lung Association Exit
1740 Broadway
New York, NY 10019
(212) 315-8700