Find Local Indoor Air Quality Champions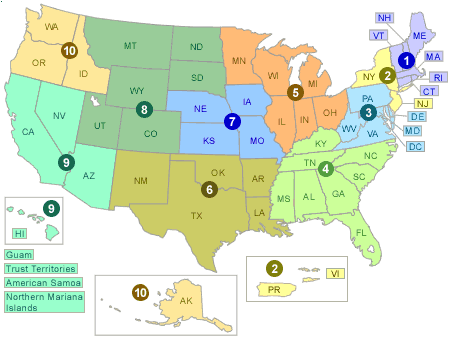 Is your school or district facing an indoor air quality issue? Are you interested in receiving mentorship and guidance from a school district in your area? Click on your state on the U.S. map or use the accordion menu to connect with an IAQ Champion in your area who may be able to offer you peer-to-peer learning and sharing. We encourage you to reach out to these exemplary programs to learn more about the strategies, challenges and commitments they have taken to protect student and staff health and safety.
These IAQ Champions, consisting of individuals, schools and school districts, have been recognized by EPA for their achievements in improving IAQ. They demonstrate an exceptional commitment to maintaining healthy educational facilities while institutionalizing comprehensive IAQ management practices. This list is periodically updated, so please check back.
IAQ Champions by EPA Region