The Framework for Effective School Indoor Air Quality Management: Key Drivers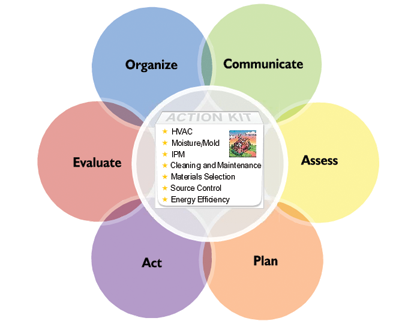 Efforts to create healthy school environments should encompass a variety of strategies and policies within schools. The Framework for Effective School IAQ Management: Key Drivers are the programmatic building blocks of sustainable health or safety programs, including indoor air quality (IAQ) management programs.
The Key Drivers give step-by-step actions and strategies that schools can take to create effective IAQ management programs:
Organize
Develop a Systematic Approach
Identify Existing Assets
Design Standard Operating Procedures
Empower an IAQ Leader
Build an Effective Team
Create Champions
Secure Senior Buy-In
Effective organization is critical to ensuring a successful and sustainable IAQ management program. To organize for success:
Designate a responsible and motivated IAQ coordinator to lead and track IAQ management activities in your school.
Convene a leadership team to assist the IAQ coordinator and engage senior management to support your IAQ management efforts.
Build an IAQ team that represents your district and community. To recruit program champions, communicate with school officials, staff and parents about how your program is organized. Many effective IAQ teams include union representatives, parents and teachers who initially lodged IAQ complaints.
---
Communicate
Share Your Goals
Make IAQ Meaningful
Be Transparent and Inclusive
Communicate Results
Communicate with everyone, all the time. Share your IAQ program's intent, activities, results and next steps with your entire school community to build understanding and buy-in. Making transparent and inclusive communication a priority will help your program engage participants and program supporters from your community.
Highlighting and sharing your successes and results can help make IAQ meaningful for your school.
---
Assess
Walk the Grounds
Listen to Occupants
Use Technology
Determine a Baseline
Keep Customers Satisfied
Identify and Prevent Risks
Assess your environment by developing an IAQ profile of your buildings. Make IAQ monitoring a standard element of maintenance and custodial practices.
Consider collecting information about facility IAQ from school staff using the Collection of Indoor Air Quality Checklists.
Communicate and share the walkthrough findings and action steps.
---
Plan
Prioritize Actions
Put Goals in Writing
Start Small
Work in Stages
Plan for the Future
Develop an IAQ management plan that includes goals, objectives and new standard facility management policies designed to prevent IAQ problems and respond to potential IAQ issues when they occur. Be sure to communicate your plan — including a proposed timeline for action items — to the school community to generate feedback and promote collaboration. Update your plan on a regular basis to reflect new goals, objectives and policies.
---
Act
Educate Staff About IAQ to Change Behavior
Train Occupants to Address IAQ Risks
Address the Source of Problems
Act to address structural, institutional and behavioral issues. Communicate the actions you will take to improve IAQ with all affected stakeholders including:
IAQ team members
facility staff
teachers and administrators
Be sure to address IAQ problems identified in the IAQ profiles of your buildings and priorities listed in your IAQ management plan. As you take steps to manage IAQ, tell your community what you have done and why it is important. This will help sustain your IAQ management program by institutionalizing IAQ policies and building community support for your program.
---
Evaluate
Solicit Feedback
Capture Return on Investment
Evaluate your results by assessing your progress toward your goals and your program's impact on student and staff health, productivity and performance. Measure your program's impact by monitoring metrics, such as:
the number of IAQ complaints
the cost of IAQ-related repairs
the difference in school nurse visits
attendance and student test scores over time
Assessing the impact of your IAQ management program on student health and achievement is a critical step to constantly improving your program and capturing your return on investment. Evaluation can also identify opportunities to decrease costs through preventative maintenance. Consider your results and the metrics for tracking the program as you continue to refine your program strategy.
Read examples of districts that have used evaluation to refine their program and showcase their successes, and learn how you can do the same.
IAQ Tools for Schools
resources.