Making the Business Case for Energy Savings Plus Health: Indoor Air Quality Guidelines for School Building Upgrades
Case Study
In Colorado Springs School District 11, the integration of energy efficiency and IAQ had remarkable benefits. The District's energy management program—built with the commitment of the superintendent, board of education and a full-time coordinator—has resulted in an estimated annual energy savings of more than $928,000 and significant IAQ improvements. IAQ goals have been accomplished through energy-efficient design, proper maintenance and commissioning of HVAC equipment, and the use of performance-based contracting for improvements in existing schools. Colorado Springs School District 11 won the ENERGY STAR® Partner of the Year Award in 2005.
On this page:
---
Economics of Integrating Energy Efficiency Retrofits with Health Improvement
Well-conceived and coordinated school energy and IAQ management programs can save money. A recent report, Greening America's Schools: Costs and Benefits, reviewed 30 "green schools" and concluded that green schools cost on average 2 percent more than conventional schools, but the financial benefits stemming from those investments are about 20 times greater from those buildings than the additional 2 percent in costs.1 By understanding the relationship between typical energy management activities and IAQ, and by following the recommendations in Energy Savings Plus Health: Indoor Air Quality Guidelines for School Building Upgrades, schools can potentially realize substantial improvements in IAQ and cost savings.
There also are measurable costs for not taking steps to promote healthy school environments. The costs imposed by environmentally attributable diseases—such as asthma—on children, families and schools are immense. According to the Centers for Disease Control and Prevention (CDC), the economic cost of asthma — including direct medical costs from hospital stays and indirect costs (e.g., lost school and work days)—amounts to more than $56 billion annually.2, 3
For states, a large percentage of these costs can be attributed to health care expenditures, lost school days and lost productivity (e.g., parents having to stay home to care for a sick child). Given the amount of time that children spend in school each day, high-quality school environments are critically important for ensuring that children are healthy and able to perform in the classroom.4 Using the Energy Savings Plus Health Guidelines will help energy managers, school officials, construction coordinators and others avoid these costs and health problems for the schools they serve.
---
How IAQ Affects Health and Student Performance
Studies have demonstrated that increased classroom ventilation rates are associated with improved student health and performance.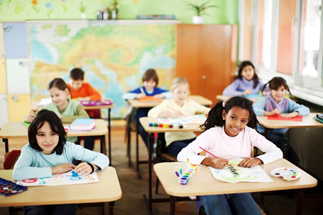 One study showed that doubling the ventilation rate from about 7.5 cubic feet per minute per person (cfm/person) to 15 cfm/person improved academic performance by about 8 percent.5
A U.S. study of fifth-grade classrooms in 100 schools used student performance in standard academic tests as the measure of performance and estimated that there was nearly a 3 percent increase in the proportion of students passing standardized math and reading tests for each 2 cfm/person increase in the ventilation rate across the range of 2 to 15 cfm/person.6

A detailed discussion of how IAQ issues can affect student health and academic performance, with supporting studies, can be located at the IAQ Scientific Findings Resource Bank website, hosted by the Lawrence Berkeley National Laboratory.
---
References
Kats, Greg: "Greening America's Schools: Costs and Benefits" (PDF) (26 pp, 1.8MB, About PDF). October 2006. A Capital E Report.
Landrigan, P., Schechter, C., Lipton, J., Fahs, M., and Schwartz, J.: Environmental pollutants and disease in American children: Estimates of morbidity, mortality, and costs for lead poisoning, asthma, cancer, and developmental disabilities (PDF) (8 pp, 569 K, About PDF). 2002. Environmental Health Perspectives, 110 (7), 721–728.
CDC Asthma in the U.S.: 2011. U.S. Centers for Disease Control and Prevention.
EPA State School Environmental Health Guidelines: 2012. U.S. Environmental Protection Agency.
Wargocki, P. and Wyon, D.: Research report on effects of HVAC on student performance. October 2006. ASHRAE Journal, 48: p. 22-28.
Haverinen-Shaughnessy, U., Moschandreas, D., and Shaughnessy, R.: Association between substandard classroom ventilation rates and students' academic achievement. 2011. Indoor Air, 21(2): p. 121-31.