North American Stevedoring Company
 U.S. EPA has been studying the air quality in Chicago's Southeast side since 2013 in response to residents' concerns about the area's long industrial history. North American Stevedoring Company, LLC (NASCO) is a bulk solid material handler located at 9301 South Kreiter Ave, Chicago, Illinois 60617. NASCO stores and handles, among other things, bulk solid materials, including manganese-bearing alloys.  U.S. EPA has inspected NASCO several times since October 2017.
U.S. EPA is committed to investigating sources of pollution, fugitive dust, and toxic metals in Southeast Chicago, including conducting inspections, issuing Section 114 Information Requests, and taking appropriate enforcement action. (Learn about EPA enforcement in The Clean Air Act in a Nutshell: How It Works (PDF) (23 pp, 250 K, About PDF March 22, 2013))
Air Monitoring
On October 5, 2018, U.S. EPA issued an information request to NASCO that requires the installation and operation of a Federal Reference Method (FRM) monitor to measure concentrations of particulate matter less than 10 microns (PM10) and several types of heavy metals and a meteorological station to measure wind speed and wind direction. The FRM monitor was installed on December 14, 2018 and began operating on January 1, 2019.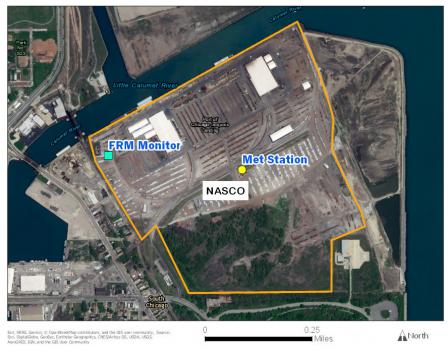 Air monitoring stations near North American Stevedoring Company
Air Monitor Locations
Monitor
Approximate Location
(UTM NAD83)
Monitoring Equipment
Northing
Easting
Filter-based Monitor
4619696.72
455253.26
Met One Inc. Model E-SEQ-FRM
Filter-based Monitor
4619957.51
455846.81
Met One Inc. Model 034B
Air Monitor Data
The minimal risk level (MRL) set by The Agency for Toxic Substances and Disease Registry (ATSDR) for manganese is 0.3 µg/m3. This is a health screening level for chronic inhalation exposure (12 months or longer) to manganese. The average manganese concentration for the month of April 2020 is 0.044 µg/m3. The 12-month rolling average manganese concentration is 0.051 µg/m3.
Exposure to a level above the MRL does not mean that adverse health effects will occur. ATSDR sets MRLs below levels that might cause adverse health effects in the people most sensitive to such substance-induced effects based on current information. Learn more about MRLs at https://www.atsdr.cdc.gov/mrls/index.asp.
EPA will continue to evaluate NASCO's operations and all monitoring data as it is submitted. EPA is committed to sharing the air monitoring data even when the data is preliminary with the community and other government agencies and to take action needed to protect public health.