University Park Drinking Water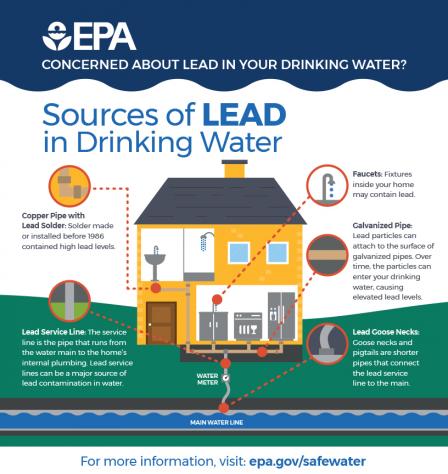 Full infographic of Lead in Drinking Water

July 2019 - On June 17, U.S. EPA learned from Illinois EPA that elevated lead levels were reported in drinking water at 15 homes in the University Park community. Since then, U.S. EPA has continued to provide oversight to Illinois EPA, the primacy agency, and is receiving regular updates as the state works with the water utility to monitor lead levels, adjust treatment and ensure that affected customers have access to safe drinking water.
U.S. EPA's Region 5 and Office of Research and Development are receiving data and sample results and are providing technical assistance to Illinois EPA. In June and July, U.S. EPA Region 5 attended public meetings to explain the role of the Agency as well as hear the concerns of the community directly. Agency experts are helping to understand the cause of the lead problems and what can be done to mitigate it. The water utility, Aqua Illinois, is providing bottled water and certified filters that remove lead to the residents in University Park. U.S. EPA, Illinois EPA and the water utility recently agreed upon criteria for lifting the "Do Not Consume" advisory. The water utility has also requested weekly calls with U.S. EPA, Illinois EPA and other experts to discuss technical issues.
EPA Resources on Lead in Drinking Water:
Basic Information about Lead in Drinking Water
Infographic: Lead in Drinking Water
Consumer Tool for Identifying POU Drinking Water Filters certified to Reduce Lead 
More Information