Watco Terminal and Port Services
Versión en español: Terminal y servicios portuarios de Watco
On this page:
Watco Terminal and Port Services (Watco) is a bulk solid material handler located at 2926 East 126th Street, Chicago, Illinois 60633. Watco stores and handles bulk solid materials, including manganese-bearing alloys. U.S. EPA has been studying air in Chicago's Southeast side since 2013 in response to residents' concerns about the area's long industrial history.  U.S. EPA has inspected Watco several times since June 2014.
U.S. EPA is committed to investigating sources of pollution, fugitive dust, and toxic metals in Southeast Chicago, including conducting inspections, issuing Section 114 Information Requests, and taking appropriate enforcement action. (Learn about EPA enforcement in The Clean Air Act in a Nutshell: How It Works).
Update-August 2020
Soil Sampling
In June 2020, U.S. EPA collected soil samples from the Hegewisch Babe Ruth Field at East 126th Place and South Carondolet Avenue in Chicago. This sampling was conducted in response to a request in February 2020 from the Chicago Department of Public Health and as a part of U.S. EPA's investigation into potential residential soil contamination associated with the nearby Watco Terminal operations. EPA compared the sampling results to EPA Removal Management Levels (RMLs), which help EPA identify areas, contaminants, and conditions where a removal action may be appropriate. Sample results showed lead and arsenic levels below EPA's RMLs in the soil of the baseball field. EPA's sampling did find, however, that an area located in the northeast corner of the field had manganese levels that were above the RML. EPA also analyzed the field for many other potential contaminants, which were either not detected or were below appropriate RMLs.
EPA has established RMLs of 5,500 mg/kg for manganese, 400 mg/kg for lead, and 68 mg/kg for arsenic in residential soil. Various factors weigh in when deciding whether a removal action is warranted at a property when sample results exceed RMLs. EPA will coordinate with CDPH, the Agency for Toxic Substances and Disease Registry, and the Illinois Department of Public Health on any next steps. In consultation with health agencies, EPA has published safety tips and contacts for health information on the right sidebars of this webpage.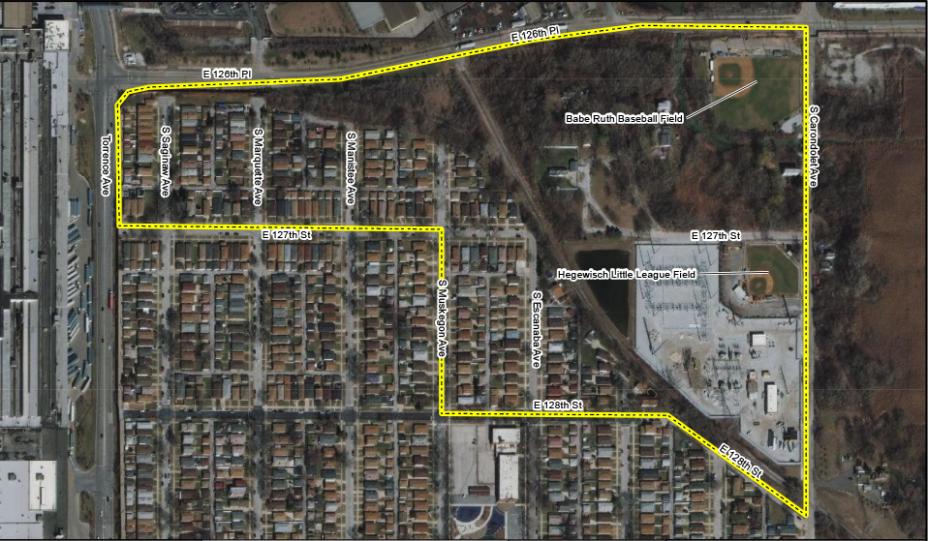 View full map in PDF (1 pp, 1.28MB, About PDF)
Background
Collecting soil samples near the Watco Terminal and Port Services facility in Southeast Chicago.U.S. EPA collected soil samples at residential properties near the Watco Terminal and Port Services facility in Southeast Chicago in the summer of 2019 to analyze them for manganese(PDF)(2pp, 91.86 K, About PDF) Exitand other metals that may have settled on the area's soil from the facility. The facility handles, stores and ships bulk manganese-containing materials. The investigation would help the Agency determine whether these elements in the soil posed an unacceptable health risk to residents and whether any follow-up action would be required. The targeted sampling area covered roughly between East 126th Place to the north and East 127th and 128th streets to the south, South Torrence and South Muskegon avenues to the west and South Carondolet Avenue to the east. (See map above.) Later, in September 2019, the Agency obtained access to sample soil in one of two baseball fields in the area, the Hegewisch Little League Field on 127th Street and Carondolet. In June 2020, U.S. EPA collected soil samples from the Hegewisch Babe Ruth Field on 126th Place and Carondolet at the request in February 2020 from the Chicago Department of Public Health.
The residential property sample results showed that manganese, lead, and arsenic were not present in soil at concentrations that exceeded the U.S. EPA removal management levels (RMLs). EPA sets regional management levels (RMLs) for many contaminants that are considered to be protective of humans (including sensitive groups) over a lifetime. Of this data, the highest level of manganese detected was 2,200 parts per million (ppm), which is below the RML of 5,500 ppm. The highest level of lead detected was 268 ppm, which is below the RML of 400 ppm. U.S. EPA notified homeowners of their results in September 2019.
U.S. EPA also collected soil samples in the right of ways adjacent to the Virgil Grissom Elementary School, which is a Chicago Public School at 12810 South Escanaba Avenue. These sample results were also below the RMLs for lead, arsenic, and manganese.
U.S. EPA did find that soil in portions of the Little League Field located at 127th Street and Carondolet Avenue exceeded the action level of 400 milligrams per kilogram (mg/kg) lead and/or 68 mg/kg arsenic and notified the field owners in November 2019. Because its contamination was found to not be associated with the Watco facility, U.S. EPA separated the Hegewisch Little League Field from the rest of the Watco residential soil site. The Agency refers to the field as the 127th Street Soil Site.
Update-November 2019
Air Monitoring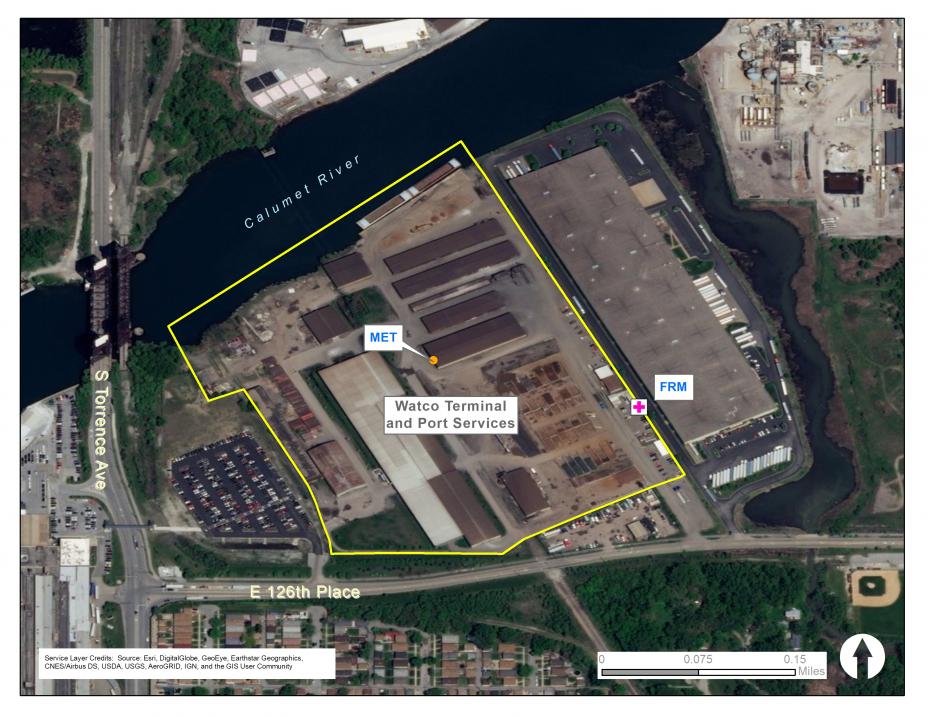 Aerial image showing location of MET and FRM monitors in relation to Watco Terminal and Port Services
On Nov. 7, 2019, U.S. EPA finalized an administrative consent order requiring Watco to limit handling, storing and shipping of bulk manganese-containing materials to and from its Chicago facility by Jan. 31, 2020. Bulk manganese-containing materials are those materials which are open to the air, non-packaged and able to escape as fugitive emissions. 
EPA's order requires Watco to remove all bulk materials containing 2% or more of manganese. The order also requires the company to continue air monitoring for small particles including manganese for six months after all loose manganese-containing materials are removed. Monitoring can end after six months if average manganese concentrations are below the conservative risk level set by the federal Agency for Toxic Substances and Disease Registry.
On May 15, 2018, U.S. EPA issued an information request to Watco that requires the installation and operation of a Federal Reference Method (FRM) monitor to measure concentrations of particulate matter less than 10 microns (PM10) and several types of heavy metals and a meteorological station to measure wind speed and wind direction. Watco previously installed a meteorological station in August 2017. The FRM monitor was installed and began operating on September 14, 2018. EPA inspected the facility on September 25, 2018 Clean Air Act Inspection Report to verify the installation of the monitor.
Monitoring Locations
Monitor
Approximate Location
(UTM NAD83)
Monitoring Equipment
Northing
Easting
Filter-based Monitor
4613090.99
453944.31
Met One Inc. Model E-SEQ-FRM
Meteorological Station
4613152.66
453754.62
Met One Inc. Model 034B
Air Monitor Data
The average manganese concentration for the month of June 2020 is 0.050 µg/m3. The 12-month rolling average manganese concentration is 0.053 µg/m3.
Exposure to a level above the MRL does not mean that adverse health effects will occur. ATSDR sets MRLs below levels that might cause adverse health effects in the people most sensitive to such substance-induced effects based on current information. Learn more about MRLs.
EPA will continue to evaluate Watco's operations and all monitoring data as it is submitted. EPA is committed to sharing the air monitoring data even when the data is preliminary with the community and other government agencies and to take action needed to protect public health. EPA has been in communication with Watco and Watco is committed to investigating its operations and manganese emissions.
Documents
Information request and inspection report documents