Building Air Quality Guide: A Guide for Building Owners and Facility Managers
A Guide for Building Owners and Facility Managers
EPA 402-F-91-102, December 1991 – The Building Air Quality (BAQ), developed by the EPA and the National Institute for Occupational Safety and Health, provides practical suggestions on preventing, identifying and resolving indoor air quality (IAQ) problems in public and commercial buildings. This guidance:
provides information on factors affecting indoor air quality
describes how to develop an IAQ profile of building conditions and create an IAQ management plan
describes investigative strategies to identify causes of IAQ problems
and provides criteria for assessing alternative mitigation strategies, determining whether a problem has been resolved and deciding whether to consult outside technical specialists.
Other topics included in the guide are:
key problem causing factors
air quality sampling
heating, ventilation and air conditioning systems
moisture problems
and additional sources of information
---
You can download the document in it's entirely, as well as in parts.
TAB I: Basics
TAB II: Preventing IAQ Problems
TAB III: Resolving IAQ Problems
Section 6: Diagnosing IAQ Problems

Overview: Conducting an IAQ Investigation
Initial Walkthrough
Collecting Additional Information
Collecting Information About Occupant Complaints
Using the Occupant Data
Collecting Information about the HVAC System
Using the HVAC System Data
Collecting Information about Pollutant Pathways and Driving Forces
Using Pollutant Pathway Data
Collecting Information on Pollutant Sources
Using Pollutant Source Data
Sampling Air for Contaminants and Indicators
Complaints Due to Conditions Other Than Poor Air Quality
Forming and Testing Hypotheses

Section 7: Mitigating IAQ Problems

Background: Controlling Indoor Air Problems
Sample Problems and Solutions
Judging Proposed Mitigation Designs and Their Successes

Section 8: Hiring Professional Assistance to Solve an IAQ Problem

​Make Sure That Their Approach Fits Your Needs
Selection Criteria
TAB IV: Appendices
TAB V: Indoor Air Quality Forms
Building Air Quality Action Plan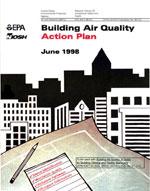 EPA 402-K-98-001, June 1998
– The Building Air Quality Action Plan meets the needs of building owners and managers who want an easy-to-understand path for taking their building from current conditions and practices to the successful institutionalization of good IAQ management practices. It emphasizes changing how you operate and maintain your building, not increasing the amount of work or cost of maintaining your building. The BAQ Action Plan follows 8 logical steps and includes a 100-item Checklist that is designed to help verify implementation of the Action Plan. This guidance is available here only as a PDF file.