Clean Cookstoves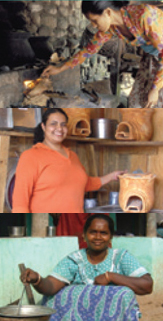 To address the increased environmental health risk faced by more than 3 billion people in the developing world who burn solid fuels (e.g. wood, charcoal, dung, crop residues and coal), EPA works to increase the use of home cooking and heating practices that are:
Affordable
Reliable
Clean
Efficient
Safe
Exposure to household air pollution (cookstove smoke) leads to roughly 4 million premature deaths each year and is the 4th worst health risk in the world so EPA works to improve health, livelihood and quality of life by reducing exposure to air pollution, primarily among women and children, from household energy use.
In 2002, at the World Summit on Sustainable Development, EPA and a handful of Partners launched the international Partnership for Clean Indoor Air (PCIA) which grew to more than 590 Partners, working in 116 countries, giving their time, resources and expertise to reduce exposure to indoor air pollution from household energy use.
In 2010, EPA Administrator Lisa Jackson joined Secretary of State Hillary Rodham Clinton, a number of other US Government Agencies and other household energy leaders to announce the launch of the Global Alliance for Clean Cookstoves, a public-private partnership led by the United Nations Foundation, which focuses on creating a thriving global market for clean and efficient household solutions. The Global Alliance for Clean Cookstoves is building upon the extensive network of organizations that comprise the Partnership for Clean Indoor Air. And in 2012, the PCIA and the Global Alliance for Clean Cookstoves (Alliance) formally integrated and EPA's cookstoves activities and initiatives are now conducted in close coordination with and to support the mission of the Alliance to achieve its target of '100 by 20' -which calls for 100 million homes to adopt clean and efficient stoves and fuels by 2020.