Applications Due Date Extended Two Weeks!
- Now due June 24, 2020 -
Winners to be recognized at EEBA Summit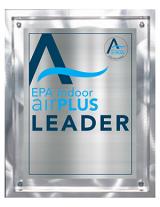 The Indoor airPLUS Leader Awards were created to recognize builder and rater partners who construct or verify Indoor airPLUS qualified homes and actively promote the Indoor airPLUS brand. Promoting the brand includes the use of Indoor airPLUS marks and other sales/marketing tools to educate homebuyers, trade professionals, and allied stakeholders about the importance of enhanced indoor air quality protections.
Recognition Opportunities:
The Indoor airPLUS Leader Awards will be publicly announced in August 2020 and will be presented during the EEBA High Performance Home Summit, September 29 - October 1.

EPA will also be presenting two Indoor airPLUS Leader of the Year Awards to an outstanding builder partner and rater partner, selected from the pool of Leader Award winners. The builder winner may be selected from any of the builder categories. The builder and rater Leaders of the Year will be chosen for their Indoor airPLUS contributions over the previous year, based on the evidence and quality of their Leader Award application. This is an excellent opportunity to showcase your great work at a nationally recognized conference for high performance building! These two Leader of the Year winners will be announced as part of the awards presentation during the EEBA Summit.
Applications and Key Considerations:
We are looking for your best Indoor airPLUS home. This section of the application is designed to give partners the opportunity to showcase a recent project they are most proud of and all the features contributing to the health and safety of the home. We also encourage you to submit a short video highlighting your work! See details in the applications below.
Eligibility:
Completed applications and supplemental collateral should be submitted to Indoor_airPLUS@epa.gov by 8 pm EDT, June 24, 2020.
To be considered eligible for the award, a partner must have participated with Indoor airPLUS at the following minimum levels:
*Builders of income-eligible housing designated for lower-income households whose construction is typically financially subsidized by federal, state, or local housing agencies, usually via grants, loans, tax credits, and/or tax-exempt bonds. Please contact Indoor_airPLUS@epa.gov with eligibility questions.
Eligible partners must submit a complete award application and be in good standing with EPA regarding compliance with all applicable regulations. Raters must also be in good standing with their applicable oversight organization (e.g. RESNET).
You may need a PDF reader to view some of the files on this page. See EPA's About PDF page to learn more.