Nutrient Sensor Action Challenge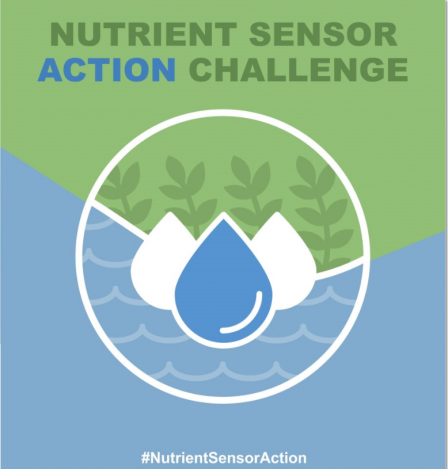 The Nutrient Sensor Action Challenge was a technology-accelerating water quality challenge launched in 2017 to demonstrate how nutrient sensors can be used by states and local communities to help manage nutrient pollution. Find out more about nutrient pollution.
The Challenge called for demonstrations showing:
The effective use of low-cost sensors 
Innovative partnerships to pilot the sensors 
How collected data and information can be part of state and local decision-making.   
Stage II
In this phase of the challenge, teams deployed the sensors and collected data as they competed for a share in $150,000 in prizes. Stage II launched March 1, 2018 and a public webinar detailing Stage II requirements took place on March 15, 2018. Participation in Stage I was not a requirement for entry in Stage II.  Due to the government shutdown, the deadline for submission of Stage II results was extended until February 28, 2019, at 11:59 PM UTC (6:59 PM ET).
The winners of Stage II, who identified creative ways to use low-cost nutrient sensors to understand local water resources and better inform nutrient management decisions, are:
League of Women Voters of Illinois (Jo Daviess County, Ill.), "Direct Data for Farm Nutrient Management" – The team demonstrated how an edge-of-field sensor system could support farmers in reducing nitrogen loss from their fields. The installed sensors provide real-time data to inform management decisions at the farm-scale.
South Platte Water Renewal Partners (Englewood, Colo.), "In-Plant Sensors for Nutrient Management" – This facility is using sensor data to optimize wastewater treatment to meet more stringent nitrogen standards and improve watershed health.
University of New Hampshire (Durham, N.H.), "Impact of Dam Removals on Nitrate Retention" – The team deployed low-cost nutrient sensors to assess amount and timing of nitrate loading associated with dams.
Stage I
In Stage I of the Nutrient Sensor Action Challenge, which closed September 20, 2017, teams submitted action plans detailing how they intend to deploy and use sensors to meet Challenge goals.
Partners and Collaborators
The Nutrient Sensor Action Challenge is a collaboration between the U.S. Environmental Protection Agency, the United States Geological Survey (USGS), the United States Department of Agriculture (USDA), the National Institute of Standards and Technology (NIST) and the National Oceanic and Atmospheric Administration (NOAA)-led U.S. Integrated Ocean Observing System (U.S. IOOS®).
Related Nutrient Challenges
The Nutrient Sensor Action Challenge is part of a suite of Challenges that aim to take a collaborative, data-driven approach to addressing nutrient pollution.  The first initiative, the Nutrient Sensor Challenge sought the development of an affordable, reliable sensor for measuring nitrate and phosphate levels in water. Later, the Visualizing Nutrients Challenge tasked participants with using open government data sources to create compelling, innovative, and comprehensible visualizations of the complexities of nutrient pollution. High school students then participated in the Visualize your Water Challenge that was a collaboration with USGS. The Advanced Septic Nitrogen Sensor Challenge Phase II is also underway seeking to identify and spur development of technologies to monitor nitrogen concentration in effluent from wastewater treatment systems.  With the Nutrient Sensor Action Challenge we can demonstrate successful strategies for incorporating nutrient sensors into existing water monitoring efforts, and help states and communities overcome the major barriers to taking action to prevent and reduce nutrient pollution.