Kansas Dairy Ingredients Facility - 2019 P2 Awardee
Hugoton, Kansas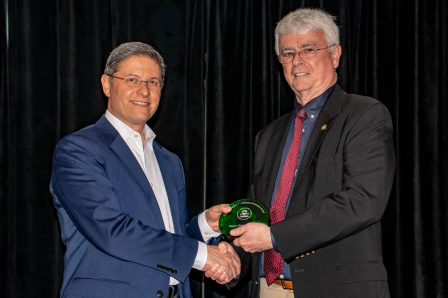 Joe Saitta, Chief Financial Officer, accepts a 2019 P2 Award from EPA Region 7 Administrator Jim Gulliford. (Click to enlarge)A 2018 and 2019 EPA Region 7 P2 Award winner, Kansas Dairy Ingredients (KDI) is a dairy manufacturing facility engaged in the production of liquid milk ingredients utilized in cheese and ice cream products. Initiatives recognized by the 2019 award include establishing an aerobic and anaerobic waste water treatment plant, changing the tanker truck washing protocol, and implementing a sustainability program.
Initiatives recognized in 2019 include:
Started new wastewater plant – KDI invested in a new wastewater treatment plant with dual anaerobic and aerobic technologies. The plant became operational in February 2018. The new plant completely eliminated sludge disposal; reduced and prevented pollution by improving process parameters; and prevented oxygen demand, which directly helps the environment.
Changed tanker truck washing protocol – Previously, finished product, milk load trucks traveling to New Ulm, Minnesota, would deliver and then divert over to Albert Lea, Minnesota, to be washed before returning to Kansas Dairy Ingredients. KDI's goal was to reduce the travel time of each truck which, in turn, would diminish emissions and bring cost savings. The idea that was implemented in March 2018 was to forgo the immediate wash in Albert Lea and return any soiled truck from New Ulm to KDI for washing. Implementing this new protocol saved 132.8 miles each trip, and with an average of 37-40 trucks per month, yielded significant emissions reductions and financial benefits for KDI.
Development of sustainability program to optimize, utilize and conserve energy - KDI's sustainability program set a vision for pollution prevention and established energy-saving programs for the entire operation. The program focuses on energy reduction, waste elimination, and optimized maintenance for the operation.
Wastewater and transportation are two important activities in any processing industry that collectively contribute to pollution on a large scale. Waste improperly disposed into the environment adds imbalance towards the pollution of air, soil and groundwater. Many opportunities are available in any industry if management sets its goal to be environmentally friendly.