Keeping Tabs on HABs: Research Reduces Risk

Milford Blooms Tank Research Project at the KU Field Station in 2018. (Photo courtesy of Ted Harris, KBS.)
– EPA Region 7 Feature –
By Alyssa Cole, Office of Public Affairs
Visiting freshwater lakes is one of the most refreshing activities on a sweltering summer day. These days often sap our willpower to leave the air conditioning behind, but outdoor activities are essential to human health. In Kansas, the presence of harmful algal blooms (HABs) produced by bacteria, known as cyanobacteria, can complicate an easygoing trip to the lake. These bacteria have thrived on our planet for 3.5 billion years.
Cyanobacteria and Harmful Algal Blooms
Cyanobacteria, also known as blue-green algae, are aquatic bacteria that can produce toxins in excessively hot environmental conditions. Over 2,000 species of cyanobacteria exist. These bacteria are believed to be the first to produce oxygen on earth. They live in both freshwater and saltwater and gain energy through photosynthesis. Harmful algal blooms occur in warm, stagnant water and are exacerbated by changes in the environment and weather patterns, which increase the prevalence and number of blooms.
Nutrient pollution, characterized by excessive amounts of phosphorus and nitrogen in the water, is also a significant cause of HABs. In Kansas, nutrient pollution is often caused by fertilizer runoff, which is washed into the lakes by heavy rain events. Fertilizers help crops grow but also contribute to uncontrolled growth of plants in nearby bodies of water. This is particularly problematic when considering the growth of harmful algal blooms.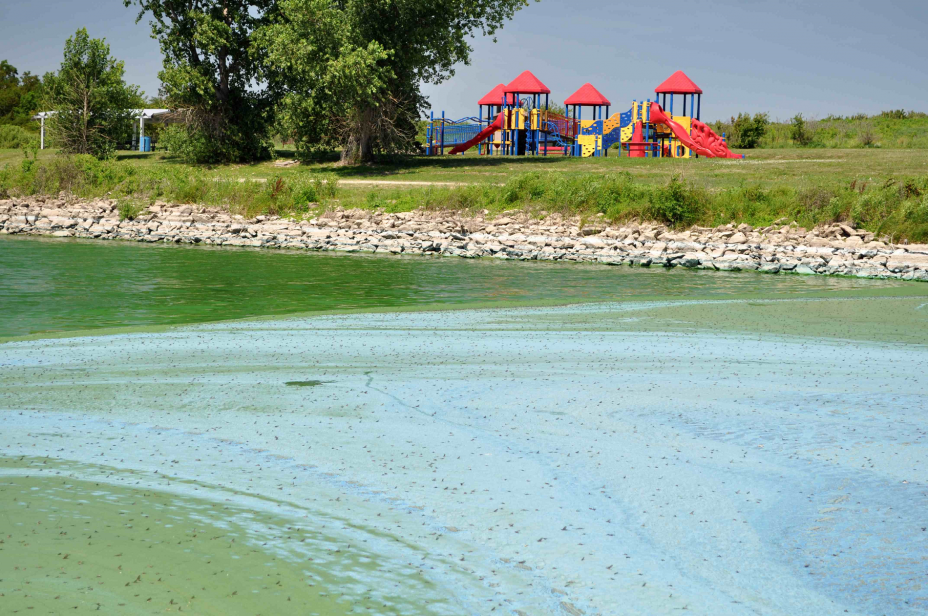 Harmful algal bloom at Milford Lake in 2017. (Photo courtesy of Ted Harris, KBS.)
Scientists at EPA are concerned about the increasing presence of HABs because they are poisonous to humans and animals and damage local ecology. When exposed, some toxins can cause gastrointestinal illness and liver damage. Eating shellfish contaminated by toxins from algae can also result in paralytic shellfish poisoning, which can cause seizures, diarrhea, vomiting, short-term memory loss, or even death when consumed at high levels.
In 2019, HABs affected 38 lakes in Kansas, rendering these bodies of water unsafe for use and resulting in the issuance of 27 warnings.
Partnering with University of Kansas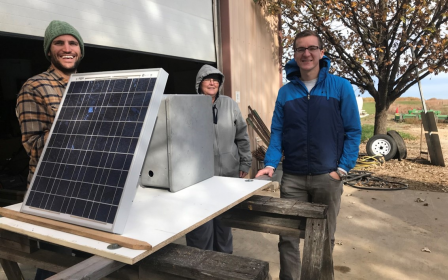 Ted Harris, KBS, Laura Webb, EPA Region 7, and Admin Husic, KBS, build a platform at the KU Field Station in 2018. (Photo courtesy of Ted Harris, KBS.)"Kansas, in particular, has some of the most toxic blooms in EPA Region 7," said Dr. Ted Harris, assistant research professor at the Kansas Biological Survey (KBS)Exitat the University of Kansas.
The increasing presence of blooms prompted scientists at KBS to conduct research on HABs at Milford Lake in 2017. Milford Lake, a federal reservoir in central Kansas and the state's largest lake, experienced recreational advisories for harmful blooms 41% of the time between the years 2010 and 2017.
Harris contacted EPA Region 7 scientists in 2017, hoping to partner with them to research these blooms. Together, in 2018, scientists from KBS, EPA, and the University of MissouriExitcollaborated on the Milford Blooms Tank Research Project at the KU Field Station in Lawrence, Kansas.
For this research project, scientists collected samples from Milford Lake, aiming to grow blooms in their tanks at the KU Field Station.
"We worked with the Kansas Biological Survey at the field station in Lawrence during 2018 for a couple of months," said Chemist Laura Webb, Laboratory Services and Applied Science Division, EPA Region 7.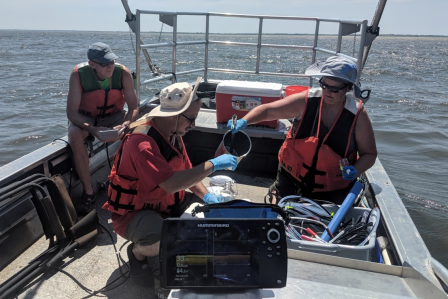 EPA scientists at Milford Lake in 2019. (Photo courtesy of Laura Webb, EPA.)"KBS filled the tanks with water from Milford Lake and then changed nutrient parameters for each of those tanks, adding extra nitrate, extra phosphate, or extra ammonia to the different tanks," she explained.
"EPA worked with KBS to collect samples to help produce data. We visited the field station seven or eight times collecting samples, which we then processed using EPA's advanced analytical techniques to help produce data for that study," Webb said.
One of their goals was to observe the blooms so they could better learn how to predict them in the future. Accurate bloom prediction helps scientists warn the public about potential health risks and increases the amount of time available for treating affected areas before blooms grow out of control.
"It is much easier and more cost-effective to treat blooms before they cover the entire surface area of a lake," Harris said.
Future Research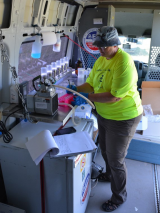 Laura Webb, EPA Region 7, filters molecular samples at the KU Field Station in 2018. (Photo courtesy of Ted Harris, KBS.)EPA scientists plan to continue their research on HABs. They are involved in a number of ongoing projects, including Regional Applied Research Effort (RARE) and Cyano HAB Evaluation and Prediction (CHEAP). Additionally, Webb and her team traveled to Milford Lake again in late July 2020, in coordination with the state of Kansas, for another research project.
"We visited Milford Lake to assist in a peroxide treatment with the state of Kansas. Peroxide breaks apart the cyanobacteria cells. The idea is to kill off the cyanobacteria but maintain the health of other species in the lake," Webb said. The team collected samples to characterize the microbiological community and evaluate the effectiveness of the treatment.
One of the difficulties in treating harmful algal blooms is that a solution that works for one lake may not work for any other lake in the region.
"Supporting teams of scientists across the region who are collaborating on this effort provides the best chance for successful research outcomes," said Harris.
Learn more about research on cyanobacteria
Download EPA's Cyanobacteria Assessment Network mobile app
Read more about nutrient pollution
---

As part of our 50th anniversary, EPA is celebrating research and science in August 2020 with the theme "Research for a Healthier Environment."
Learn more about research at EPA.