Developing a sustainable sewage treatment system for rural Alaskan villages
Project Overview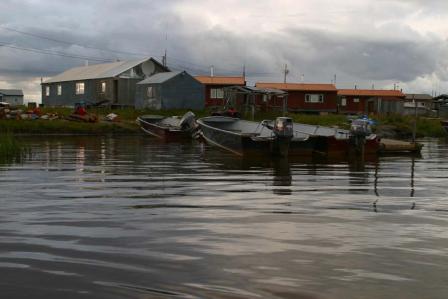 Image courtesy of Alaska Department of Environmental Conservation, Village Safe Water Program.There are currently some 3,300 homes across 30 villages in rural Alaska that that lack water and sewer services, including flush toilets. Managing human waste in those communities poses significant public health and environmental challenges.
Researchers with EPA's Office of Research and Development have teamed up with the Agency's Region 10 Office (serving Alaska, Idaho, Oregon, Washington, and 271 Tribal Nations), the Alaska Department of Environmental Conservation, and other partners to find solutions.
In one innovative project, researchers are exploring the development of a solar augmented anaerobic digester to turn fecal matter, along with cardboard and other waste products from the community into energy in the form of biomethane gas. The goal is to find an optimum waste stream mixture and methane yield under laboratory conditions, then combine the findings with available climate data (temperature and daily solar radiation) to determine how large a solar heating system would be needed to keep an anaerobic digester running in the cool Alaskan climate.
The researchers aim to answer three primary questions:
How much methane can be produced?
Can solar inputs provide the heat energy required to make anaerobic treatment feasible in arctic Alaska?
What are the optimum and minimal sizes of a community to sustainably operate an anaerobic digester?
Partners 
Learn More
Please check back periodically to learn about partnership opportunities, upcoming webinars, and research results. 
Technical Contacts
Max Krause, EPA Office of Research and Development (Krause.max@epa.gov)
Margaret McCauley, EPA Region 10  (McCauley.Margaret@epa.gov)