Engineering Technical Support Center (ETSC)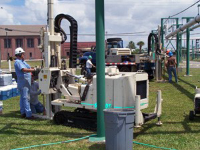 The Engineering Technical Support Center (ETSC) provides technical support for soil, sediment, groundwater and mining-related contamination.
ETSC is one of EPA's technical support and resource centers responsible for providing specialized scientific and engineering support to decision-makers in the EPA's program and ten regional offices. EPA's regional offices work with states, communities, and local businesses within their area. These decision-makers include remedial project managers, corrective action staff, and on-scene coordinators.
ETSC delivers expertise on the latest methods, approaches, and technologies to characterize, remediate, and manage pollution at contaminated sites. We supply scientific and engineering knowledge and expertise in soil, sediment, and mine waste. ETSC provides site-specific technical assistance at
Superfund,
RCRA,
brownfields, and
ecosystem restoration sites.
ETSC also develops and conducts
treatability studies, modeling support and site-specific document reviews;
workshops, seminars, and conferences on state-of-the-science issues; and
publications on remediation and treatment technologies for Superfund, RCRA, brownfields, and other contaminated site issues.
In fiscal year 2018, ETSC provided technical support for 105 Superfund sites, 99 of which are on the National Priorities List. The sites are in over 30 states from all ten EPA regions. ETSC provided support on several of the 13 sites on the July 31, 2018 list of Superfund Sites Targeted for Immediate, Intense Action. ETSC technical support is useful for EPA Regions to implement sound decisions that support EPA's goal of protecting public health and the environment. Technical support provided ranged from identification, monitoring, and remediation of soil and water contamination to assessing ecological effects from chemical exposures.
West Lake landfill in Bridgeton, Missouri
West Lake Landfill in Bridgeton, Missouri, is a Superfund site consisting of several inactive and unlined landfill units, some of which contain radiologically impacted material (RIM) associated with the Manhattan Project. The RIM material was mixed with soil and placed in the landfill as cover material. Currently, a subsurface smoldering event (SSE) is occurring in the Bridgeton Sanitary Landfill adjacent to the West Lake Landfill.
The EPA and potentially responsible parties (PRPs) have performed numerous investigations and actions on this complex site. These include site characterization and monitoring, data collection to support remedial options, and a pyrolysis study to better understand potential drivers for radon emanation at the site.
For the past several years, ETSC has provided extensive technical support for West Lake Landfill to Region 7, including commenting on engineering documents, summarizing critical data sets, and creating monthly and annual monitoring and analysis reports of landfill data. ETSC studies landfill gas and temperature data and uses a three-dimensional computer model to track the condition of the SSE, helping the Region evaluate the SSE's status in relation to the radiological materials located in the West Lake Landfill site.
Bonita Peak Mining District in San Juan County, Colorado
The Bonita Peak Mining District in San Juan County, Colorado, includes 48 historic mines or mining-related sources that release metals from acid mine drainage into the water and sediments of the Mineral Creek, Cement Creek, and Upper Animas River drainage areas. In support of efforts to remediate the site, ETSC assisted by reviewing various technologies proposed by numerous vendors for their potential applicability for remediation of mining-influenced water and solid mining wastes. ETSC is conducting laboratory studies to evaluate the use of mining-influenced water treatment residuals in mitigating leaching of metals from tailings.
Please note related research in collaboration with the Colorado Department of Public Health and Environment:Temperature and Conductivity Profiling in Mine Impacted Surface Water
Bay Road Holdings LLC (Romic) in East Palo Alto, California
Bay Road Holdings LLC is the site of a closed hazardous waste management facility. Historical facility operations included solvent recycling, fuel blending, wastewater treatment, and hazardous waste storage and treatment which contaminated the soil and groundwater beneath the site. The primary contaminants in the soil and groundwater are chlorinated and non-chlorinated solvents.
Biological treatment is frequently used to remediate chlorinated solvent-contaminated soil and groundwater. When working properly, the bacterial community degrades the solvent contamination into benign end-products. During pilot-scale testing, horizontal wells are circulating the groundwater and supplying a substrate to enable the bacterial community to degrade the solvents.
ETSC is providing support to Region 9 using expertise in chemistry, biology, engineering, and hydrology to evaluate the performance of the biological treatment currently underway. The ETSC scientists and engineers analyzed data to determine if the changes in contaminant concentrations are due to the treatment or possible dilution. They generated graphs to illustrate the effectiveness of the treatment process and better communicate suggested improvements to the Region.
Reports Highlighting Current Activities
ETSC connects regional staff with the specialized technical engineering expertise. Available resources include
a core team of scientists and engineers providing a readily available source of interdisciplinary support;
scientists and engineers with experience in a broad range of disciplines related to land and water remediation and pollution control available for consultation;
expert technical support from universities and research institutions; and
additional support from contractors, and specialized consultants.
Contact us to ask a question, provide feedback, or report a problem.
John McKernan, ScD, CIH
Captain, U.S. Public Health Service
Director, Engineering Technical Support Center
513-569-7415
Related Information
Contamination Clean-up Information: About Remediation Technologies
EPA Superfund Technical Support Centers
The above leads to a page that contains links to Superfund program research needs, Office of Research and Development research plans and results for Superfund, and sources of technical support for Superfund and RCRA Corrective Action program staff.