EPA Lead (Pb) Research: Land and Legacy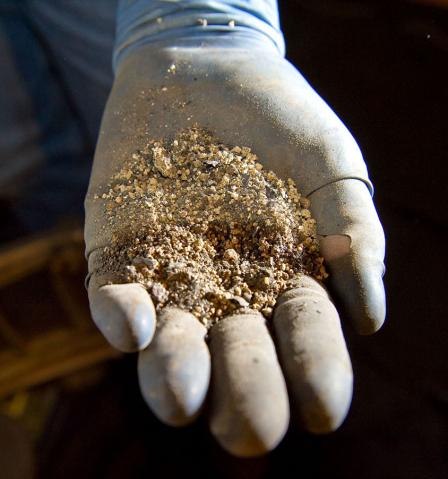 Studying bioavailability of lead in soil. EPA researchers are exploring how the presence of lead in Superfund and other contaminated sites can impact exposure and related health risks. Their work supports environmental remediation and clean up efforts that are protecting public health and returning formerly contaminated land back into community assets.
Agency researchers are also working to support remediation and cleanup efforts that target "legacy" lead pollution—contamination that remains in the environment from past practices such as lead processing (smelting), mining activities, and the use and production of lead paint and gasoline. Such pollution can still contribute to contaminated dust and soils that can lead to exposure risks.    
Examples of how EPA researchers are supporting efforts to reduce lead exposure risks from land and soil are highlighted below.
Developing New Methods for Assessing Lead in Soil
EPA researchers have developed and validated an innovative methodology—based on a "virtual stomach" that mimics human digestion—to guide the cleanup of contaminated soils. The new laboratory method estimates the bioavailability of lead and arsenic in ways that increase the accuracy of human health risk assessments and offers the potential to dramatically reduce remediation costs. Read more in New Testing Method for Lead and Arsenic in Contaminated Soil Saves Money and Protects Public Health.
EPA Research Guides Soil Remediation in Omaha, Nebraska
For more than 125 years, the American Smelting and Refining Company operated a lead refinery in Omaha, Nebraska, only a few blocks west of the Missouri River. Large amounts of lead were emitted into the air, contaminating the surrounding neighborhoods. EPA researchers are working in partnership with EPA Region 7 and local public health officials to help guide soil remediation and cleanup efforts that reduce lead exposure to children and others living in the area. Read more in Reducing Children's Lead Exposure in Omaha, Nebraska.
RARE Research Matches Lead Research Experts to Local Needs
EPA's Regional Applied Research Effort (RARE) program partners Agency scientists and engineers with colleagues from each of EPA's ten regional offices in ways that leverage their collective technical expertise to meet high priority, local environmental challenges. In addition to delivering locally-based solutions, the program provides EPA scientists and support staff with valuable insight into the ongoing science needs of regional offices and the local communities they serve. Several recent projects have been funded to address concerns about lead contamination. They include:
Innovative Ways to Keep Landfills Safe from Lead Leachate
Working with partners from EPA Region 6, which encompasses Arkansas, Louisiana, New Mexico, Oklahoma, Texas and 66 Tribes, researchers are exploring the long-term efficacy of treating lead-waste from automotive recycling, foundry sands, the disposal of old computer monitors, and other sources with phosphate to prevent lead from leaching into the soil once it is sent to solid waste landfills. Results are expected to provide a clearer understanding of the mechanisms involved with phosphate treated wastes and help EPA's Office of Emergency and Land Management and local communities handle such wastes.
Soil Amendments for Remote and Sensitive Sites
Working with partners in EPA Region 10, which encompasses Alaska, Idaho, Oregon, Washington, and 271 Native Tribal Nations to investigate the use of soil amendments to reduce the bioavailability and bioaccessibility of lead in abandoned hard rock mines and other contaminated sites across the area. The results will provide a science-based recommendation of minimal impact soil amendment techniques that can be used to reduce lead bioavailability for sites that are sensitive to heavy loadings of soil amendments and sites that cannot be physically mixed or disturbed.
New Ways to Identify the Source of Lead Contamination
A key component of addressing and remediating lead contamination is pinpointing where it came from. Working with local Superfund managers and EPA Region 7 (Nebraska, Iowa, Kansas, Missouri, and Nine Tribal Nations), Agency researchers are exploring the use of isotopic lead ratio analysis to determine what portion of contamination at Superfund sites is attributable to mining-related or other industrial sources versus anthropogenic or natural sources, and if those sources be effectively differentiated.