Oil Spill Research
EPA Oil Spill Research
One of EPA's top priorities is to help the nation be better prepared to respond to oil and fuel spills that threaten public health and natural ecosystems.  The work supports the high-priority, immediate efforts of emergency response teams, as well as decades-long monitoring of the impact of spilled oil.
Agency researchers and their partners are developing tools and methods to assess and remediate contamination from oil and fuel spills.  They are also researching ecological and human health impacts of spilled oils and fuels, and of agents used for cleanup activities, including dispersants, surface washing agents, and solidifiers.
The research includes:
Experiments to characterize the behavior, fate, and effects of various oils and products used to mitigate and clean up spills.
Determining the toxicity of oil types to different aquatic species.
Investigations into the effectiveness and potential impacts of oil spill dispersants, including their toxicity, physical and chemical characterization, and biodegradation properties.
Testing emergency response and clean up protocols.
Developing innovative techniques to guide response and cleanup activities, such as:

the use of computational toxicology to assess the potential environmental and health impacts of dispersants;
the use of spatial, temporal, and spectral resolution for satellites to guide response and cleanup operations;
developing innovative techniques using satellites and underwater sensors to detect oil when it cannot be seen.
Emergency Response Planning
What Agency researchers learn is made available to support EPA regional offices, states, and others involved in oil spill emergency response planning.  The EPA's role in oil spills is determined by law under the federal statute through the Oil Pollution Act and the National Oil and Hazardous Substances Pollution Contingency Plan. 
Recent EPA Oil Spill Research Publications
Faces of EPA: Meet EPA Researcher Robyn Conmy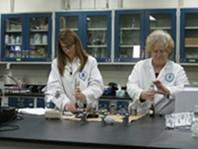 Learn more about EPA research ecologist Robyn Conmy—who leads oil spill and other research at EPA's Cincinnati lab—in this "Faces of EPA video profile." Robyn Conmy was also featured during the Oil and Water episode of "The Forum," a podcast produced by the Institute on Science for Global Policy. You can also download a transcript of the podcast.