Tools and Partnerships for Community Revitalization
Together, the Agency's Office of Research and Development and Mid-Atlantic Regional Office (EPA Region 3) have launched a project to advance community revitalization. The program is centered on a suite of science-based tools the Agency has developed that integrate information and data important to community revitalization in ways that facilitate decision-making and strategic planning to advance public health and sustainability.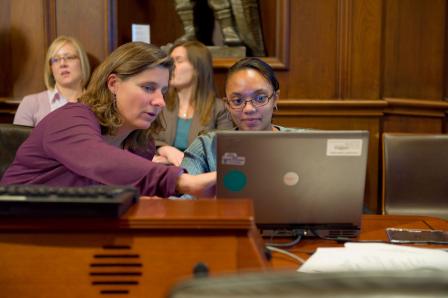 A key part of the program is to engage with Academic partners in ways that make the tools accessible for incorporating into curricula and useful for addressing local environmental challenges through campus-community partnerships.   
The tools highlighted on this page were selected through a collaborative effort among 60 specialists participating in the partnership. The following includes brief tool descriptions and website links featuring case studies, videos, and training webinars.
Revitalizing Communities

EnviroAtlas — including the Eco- Health Relationship Browser
Create interactive maps from hundreds of data layers, modeling results, field research and dozens of topics to look at the options and implications before a project gets underway. Discover, analyze, and better understand ways community revitalization can benefit public health, well-being and economic development by keeping or restoring natural ecosystems. EnviroAtlas helps users understand the benefits nature can play in making cities more resilient and more livable.
Protecting Public Health
Health Impact Assessment — Integrates data, health expertise, analytical methods and public input to assess the potential effects of a proposed program, plan, or policy on community health and well-being. 
EJSCREEN — Environmental justice screening and mapping tool that can combine environmental and demographic indicators using national consistent data.
Environmental Benefits Mapping and Analysis Program - Community Edition (BenMAP-CE) — BenMAP-CE is an open-source computer program that estimates the health impacts and economic value of changes in air quality. It is powerful enough to perform a full-scale benefits assessment, but easy enough for beginners to use.
Tapping Nature's Benefits
National Ecosystem Services Classification System (NESCS) Plus — NESCS Plus provides a framework for analyzing how changes to ecosystems impact human welfare. The system can aid in the analysis of different types of environmental management actions, policies, and regulations.
Selecting and Financing Infrastructure
Green Infrastructure Wizard (GIWiz) — GIWiz analyzes hundreds of EPA green infrastructure tools and resources to help find sound water management approaches for your specific needs. Potential applications include, but are not limited to, cost-benefit analysis of environmental programs, natural capital accounting, and measurement of "green" gross domestic product (green GDP). 
Watershed Management Optimization Support Tool (WMOST) — WMOST screens a wide range of potential watershed management approaches to identify the most cost-effective and sustainable options to meet specific needs.
Reducing Flooding, Improving Infrastructure
National Stormwater Calculator —The National Stormwater Calculator estimates the annual amount of rainwater and frequency of runoff in a specific area based on climate scenarios. Provides construction and maintenance costs of green infrastructure and low impact development.
Storm Water Management Model (SWMM) — SWMM Is used throughout the world for planning, analysis and design. The model can simulate a single event, or long-term situations, to understand the amount and composition of urban water runoff. There are also non-urban applications.
Visualizing Ecosystem Land Management Assessments (VELMA) — VELMA simulates a watershed for assessing trade-offs among nature's ability to provide clean water, flood control and other ecosystem services in response to changes within a watershed.
Reducing Waste, Emissions and Energy Use
Waste Reduction Model (WARM) — WARM estimates greenhouse gas emissions and energy use of landfilling, incineration, composting, recycling and source reduction of 54 types of waste materials.
Materials Management Wizard (MWiz) — MWiz is an interactive web application that connects communities to EPA materials management tools and resources to support sustainable materials management and community planning.
United States Environmentally-Extended Input-Output Model (USEEIO) — USEEIO is a national-scope environmental life cycle models of goods and services.  It can be used for many purposes, not limited to quantifying impacts of production and consumption, assessing organization-wide impacts, analyzing environmental impacts of policies, and performing streamlined life cycle assessment.
Air Sensor Toolbox for Citizen Scientists, Researchers and Developers — EPA's Air Sensor Toolbox contains information for citizen scientists and others on how to select and use low-cost, portable air sensor technology and understand results from monitoring activities.