US Environmentally-Extended Input-Output (USEEIO) Models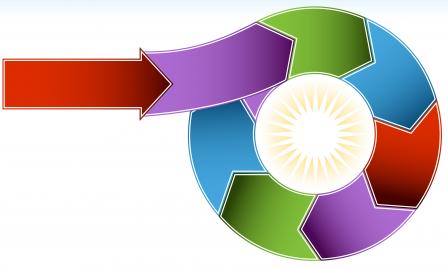 Input-output (IO) economic models look beyond the initial impact of new spending to capture increased economic activities, including direct, indirect, and induced spending. EPA-developed USEEIO models bridge the gap between traditional IO calculations, sustainability, and environmental decision-making.US Environmentally-Extended Input-Output (USEEIO) is a family of models designed to bridge the gap between traditional economic calculations, sustainability, and environmental decision-making. It provides a robust resource for estimating the potential impacts—environmental and economic—associated with the production or consumption of goods and services.
Developed by EPA researchers in support of the Agency's sustainable materials management program, USEEIO melds data on economic transactions between 389 industry sectors with a wealth of environmental information, including data on land, water, energy and mineral use, air pollution, nutrients, and toxics.
It is widely used by EPA program offices and other government agencies, corporations, nonprofits, nongovernmental organizations, and academia for applications such as calculating carbon footprints and environmental assessments. 
USEEIO In Action: Case Studies and Examples
Supporting EPA's Mission 
Sustainable Materials Management Prioritization Tools
Agency researchers are using USEEIO as the foundation for the development of a suite of Sustainable Materials Management Prioritization Tools. The tools provide companies, governments, and other organizations with accessible, easy-to-use resources to advance sustainable materials management and realize the multiple benefits it offers, such as reducing waste, increasing efficiency and profitability, and improving the environment.
Two such tools have been developed thus far: (1) A National Tool appropriate for federal agencies, trade associations, and non-governmental organizations needing an overall, big picture view of U.S. sustainability; and (2) an Organizational Tool that provides sustainability and procurement professionals with a the ability to produce targeted sustainability snapshots in support of their enterprises and organizations.   
The Recycling Economic Information Report
The Recycling Economic Information (REI) Report, a primary output of the Recycling Economic Information (REI) Project—relies on environmental and economic input-output methodologies for estimating environmental and economic impacts associated with recycling. The report states that a critical contribution is the development of a waste input-output model designed to capture the material inputs (production sectors like mining, energy, materials, parts and products) and outputs (waste and material separation and reprocessing, of products, services and wastes).

For more information and to download the 2016 report and methodology, see:  https://19january2021snapshot.epa.gov/smm/2016-recycling-economic-information-rei-report-and-methodology
Supporting Federal Agency and Community Partners
Green Purchasing in Alameda County, CA
Alameda County's Supply Chain Sustainability Report Exit, developed using the USEEIO, provides a guide for how government purchasing can be a catalyst for matching sustainability with advancing the health and wellbeing of its citizens.
The report notes: "This deeper analysis uses details contained within the U.S. Environmental Protection Agency's United States Environmentally-Extended Input-Output (USEEIO) model to highlight specific activities that occur within the supply chain of the goods and services procured by the County that drive the bulk of the impacts and to identify those impacts that are generated locally (e.g., particulate matter emissions from local vendor fleet operations). The intent of this detailed analysis is to provide information and recommendations on available opportunities to work with County vendors to improve environmental performance and advance the health and wellbeing of the residents of Alameda County and beyond."
US Department of Energy
Researchers at the National Renewable Energy Laboratory (NREL), with support of the Department of Energy's Bioenergy Technology Office (BETO), are using USEEIO as a key resource for the development of their Bio-Economy Input-Output Model. The model will support BETO's mission to "…develop technologies for producing cost-competitive advanced biofuels from non-food biomass resources, including cellulosic biomass, algae, and wet waste (e.g., biosolids)."
The National Energy Technology Laboratory (NETL) is using USEEIO to model the life cycle impacts of power plant infrastructure. Read more about NETL's work here.
US Department of Defense
EPA researchers worked with partners at US Department of Defense's (DOD) environmental research programs (the Strategic Environmental Research and Development Program and the Environmental Security Technology Certification Program Exit) to use USEEIO as the basis for re-creating an input-output model tailored to the specific needs of the DOD, such as life-cycle analysis for military equipment.
Learn more about the USEEIO framework to create IO models: application to the DOD and case demonstration on EPA's Science Inventory.
Community Sustainability and Prosperity in Georgia—and Beyond  
EPA researchers have partnered with the Georgia Department of Economic Development to work with volunteer software developers and designers to build web applications using the Georgia version of USEEIO for local communities looking to advance economic development in ways that spark both prosperity and environmental sustainability. The end products will not just benefit project partners in Georgia, but also include case studies and open-source resources for applying USEEIO in communities across the country. Learn more on the project website Exit.
Supporting Private Organizations

Amazon's Carbon Footprint
Amazon used USEEIO as a source for life cycle CO2e factors in their corporate carbon footprint calculation for estimating part of their carbon footprint related to purchased goods and services and their facilities. Read more in their carbon methodology, available on their carbon footprint Exit site.
General Motors Carbon Disclosure
General Motors worked with Climate Earth consultants to use USEEIO to calculate their Scope 3 GHG emissions associated with the purchased goods and services in their supply chain. Read more in their annual carbon disclosure report Exit.
Merck Corporate Responsibility Report
USEEIO was used by Climate Earth to calculate emissions associated with most purchased goods and services as part of Merck's annual corporate responsibility report Exit.
Current Versions of USEEIO Models and Other Technical Resources