Automobiles, Boats and Tires at Demolition Sites
Automobiles and Boats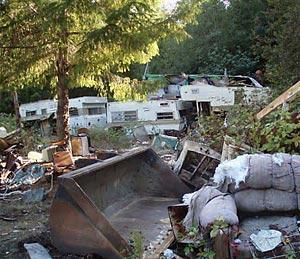 If you find automobiles or boats on the property of residences awaiting demolition:
Refrigerants used in motor vehicle air conditioning systems must be removed before recycling the vehicle.
Motor Vehicle Air Conditioning- legal requirements that apply when disposing of or servicing a motor vehicle
Various components should be removed and managed appropriately:
End of Life Vehicle Solutions Corporation (ELVS) Exit
Tires
You may find scrap tires in residential properties awaiting demolition.
Many states ban all tires or whole tires from landfills.