Household Hazardous Waste and Demolition
Household wastes that are toxic, corrosive, ignitable, or reactive are known as Household Hazardous Waste (HHW). Examples may include: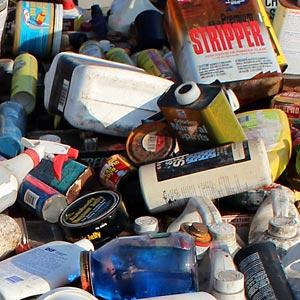 motor oil
automobile batteries
paints and solvents
household cleaners
drain openers
pesticides
compressed gas tanks (such as propane and oxygen)
These types of wastes are sometimes found in residential properties awaiting demolition.
How to dispose of HHW
EPA strongly recommends that you not pour household hazardous waste down the drain, on the the ground, or into storm sewers.
While federal law allows disposal of HHW along with other household wastes, your state may not. Check with your state.
Many communities have HHW collection programs to reduce the potential harm posed by these chemicals. EPA encourages participation in these HHW collection programs rather than discarding the HHW in the trash. Check with your local solid waste management district office to identify management options.