Core List for an Environmental Reference Collection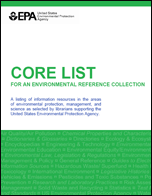 United States Environmental Protection Agency
Office of Environmental Information
EPA 260-B-10-001
March 2010
The Core List for an Environmental Reference Collection is a listing of information resources in the areas of environmental protection, management, and science as selected by librarians supporting the United States Environmental Protection Agency.  Each entry includes the title, author or editor, publication date and publisher or distributor of the resource. Many of the entries include a brief description of the resource as well.
Disclaimer
This publication has been prepared and reviewed by the US Environmental Protection Agency. Due to the rapidly expanding field of environmental information, EPA cannot guarantee that all relevant sources are listed. Publication does not signify that the contents reflect the views of the EPA or that EPA endorses the coverage and scope of the subject matter as comprehensive, complete or appropriate. At the time of this publication, all electronic links were accurate to the best of our knowledge. Please note that there may be subscription fees or other charges associated with some of the resources listed in this document.
A Note on This Edition of the Core List
This edition of the Core List is a complete revision of the second edition, which was published in 2002 as EPA 260-R-01-001. The original Core List was published in 1993 as EPA publication EPA 220-R-93-007.
The EPA National Library Network plans to update the Core List periodically, expanding it to include new information sources and new media formats. Previous editions of the Core List can be accessed via EPA's National Service Center for Environmental Publications (NSCEP).