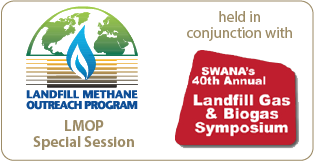 The LMOP National Landfill Gas Energy Special Session was held in Reno, Nevada, on March 29, 2017. The panel was held in conjunction with the Solid Waste Association of North America (SWANA) 40th Annual Landfill Gas and Biogas Symposium, and featured five presentations on landfill gas (LFG) energy projects and current trends affecting LFG energy project development and the solid waste management sector.
The presentations from the panel are provided below. If you have difficulty accessing or obtaining the information from these PDF documents, please contact LMOP.
You may need a PDF reader to view some of the files on this page. See EPA's About PDF page to learn more.