Project and Landfill Data by State
LMOP tracks key data for landfill gas (LFG) energy projects and municipal solid waste (MSW) landfills in the United States. The LMOP Landfill and Landfill Gas Energy Database (LMOP Database) contains information about projects in various stages such as planning, under-construction, operational and shutdown, and is also a data repository for more than 2,600 MSW landfills.
Select a state on the map or in the table below to access an Excel file of landfills and projects located in that state. This map also provides a snapshot of the operational project and candidate landfill counts by state.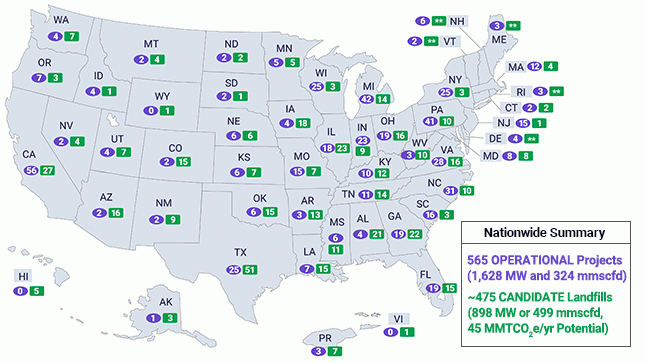 **LMOP does not have information on candidate landfills in this state.
Counts on national map are current as of August 2020.
The Excel files provided here are current as of August 2020 and contain all the landfills and all the project records (of any status) in the LMOP Database for the state you select. The 'Summary' tab in each file provides the count of unique landfills and the count of unique operational projects in each state, per the LMOP Database. Excel files can be viewed with the Free Microsoft Excel Viewer.
State-Level Project and Landfill Totals from the LMOP Database
This table shows the counts of operational projects, candidate landfills and all landfills by state, as contained in the LMOP Database. The LMOP Database is not purported to contain every MSW landfill in the country.