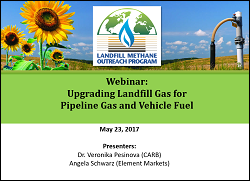 On May 23, 2017, LMOP offered a webinar to LMOP stakeholders about landfill gas (LFG) energy projects that involve the conversion of LFG to vehicle fuel. Specifically, the webinar focused on:
Background on the California Low Carbon Fuel Standard (LCFS) Program and the federal Renewable Fuel Standard (RFS2) Program.
How LFG-derived biomethane is currently participating in the LCFS and RFS2 programs.
Requirements for documentation and reporting under each program in order to generate LCFS credits or renewable identification numbers (RINs) under RFS2.
Current pricing data for LCFS credits and RINs.
The following experts presented during the webinar:
Dr. Veronika Pesinova, California Air Resources Board (CARB), Transportation Fuels Branch
Angela Schwarz, President & CEO, Element Markets
You may need a PDF reader to view some of the files on this page. See EPA's About PDF page to learn more.