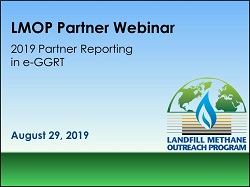 On August 29, 2019, LMOP hosted a webinar to recap the success of 2018 LMOP Partner Reporting and to discuss how Partners can prepare for voluntary data reporting in 2019. In 2018, LMOP transitioned to using an LMOP-specific module within EPA's Electronic Greenhouse Gas Reporting Tool (e-GGRT) to make the LMOP Database even more robust and to more effectively showcase voluntary landfill methane reductions.
LMOP covered the following topics:
Successes of 2018 LMOP Partner Reporting
Data reporting responsibilities of LMOP Partners
Planned timeline for reporting in 2019
How to prepare your organization before reporting begins
A question-and-answer session followed the presentation.

View video on YouTube: LMOP Partner Webinar: 2019 Partner Reporting in e-GGRT Exit
You may need a PDF reader to view some of the files on this page. See EPA's About PDF page to learn more.