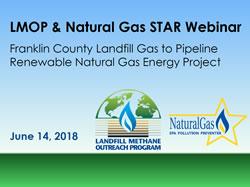 On June 14, 2018, LMOP and EPA's Natural Gas STAR Program hosted a webinar about a successful landfill gas (LFG) to energy project that upgrades the LFG into pipeline quality renewable natural gas (RNG).
In February 2014, the Solid Waste Authority of Central Ohio, in a public-private partnership with Aria Energy, established a landfill gas to RNG project at the Franklin County Landfill in Grove City, Ohio. The project was expanded in 2015 to process 6.8 mmscfd of LFG. The LFG is collected, processed, and refined at Aria's high-Btu gas upgrading facility. From there, it is injected into a Columbia Gas of Ohio (a NiSource company) pipeline for sale in the vehicle fuel markets.
Two speakers—representatives from the project developer and the natural gas utility—shared their perspectives on how they collaborated to successfully develop this project, followed by a question and answer session.
Jay Hopper – Vice President of Business Development, Aria Energy. Aria Energy, an LMOP Partner, has developed more than 50 LFG projects over the last 25 years.
Mike Anderson – Director of Supply Development, NiSource Gas Distribution. NiSource, a Natural Gas STAR and Methane Challenge Partner, serves nearly four million natural gas and electric customers across seven states through its local NIPSCO and Columbia Gas utilities.

View video on YouTube: Franklin County Landfill Gas to Pipeline Renewable Natural Gas Energy ProjectExit
You may need a PDF reader to view some of the files on this page. See EPA's About PDF page to learn more.