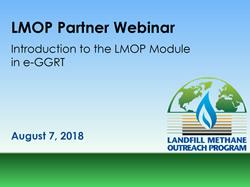 On August 7, 2018, LMOP hosted a Partner webinar to introduce a new module in EPA's Electronic Greenhouse Gas Reporting Tool (e-GGRT) to collect voluntary data on landfills and landfill gas energy projects. LMOP reviewed the following topics:
How to access e-GGRT
About the LMOP module
Where to find help
What to expect in the first week
A question-and-answer session followed the presentation.

View video on YouTube: LMOP Webinar: Introduction to the LMOP Module in e-GGRT Exit
You may need a PDF reader to view some of the files on this page. See EPA's About PDF page to learn more.